It was breakfast with the champ for Royal Ramblings this week. Over eggs and oatmeal we grilled the current TNA champion about the show, his MMA efforts and his goals. Lashley showed us that not only is he a master of the ring but of the business. Thoughtful, intelligent, creative and passionate, TNA have a star of which they can and should be proud. You can see him in action as TNA work across the UK this week. Tickets are still available from here.
TNA viewer numbers in the US have nearly doubled in the shows second week. Can you get back to over a million viewers?
I'm sure of it. The viewership has already jumped up within a week of us being on, so I think it's going to continue to grow. Right now Destination America is putting a lot behind us. Between them marketing and us on social media and with the product that we have, it will go up. I think our shows are just getting better and better, we just have a great roster and a great group of people and when you have the kind of energy that we do, things happen.
You left TNA for a while then returned. Was there any tension when you came back and went straight to the top?
I'm sure there was a little bit of tension but I'm a very humble person. I work hard and I show people my worth as opposed to telling people and I definitely wasn't demanding a title shot when I returned. I did spend some time working in the independents and honing my craft and getting my work rate up. So when I came back and started having matches the guys saw what I was able to do and started thinking "ok this guy has it, he's going to do great things for us in terms of ratings". I'm also not hurting people in the ring and I'm having good matches with everyone, so they had to respect that.
Which up and coming star do you most rate in TNA locker-room?
There's a bunch of people that we can work with. I'm still such a big fan of Gunner. I think there's so much untapped potential with him. I've worked with him before and they were the kind of matches that I like. I like to get physical, to go against guys that aren't just going out and talking about it and walking around with a big ego. Some of those guys are out there busting their ass on a regular basis and that's what he does. Gunner trains his butt off, I know he does, he goes out there and has intense matches and if we have to go an hour long in a fast paced match, he can do it. That's what I like about Bobby Roode - there's a few people that can do it. Some people, they just can't. Some are still hungry and you can tell Gunner is, there's no doubt about that. So I think he has something going for him. I think the whole roster just has potential, I think no matter who you put that title on, its justified.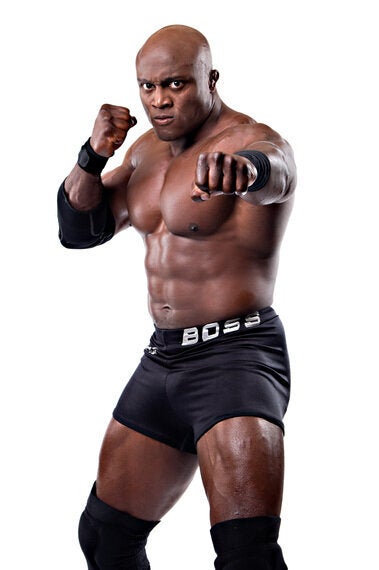 Mark Andrews won British Boot Camp and is the newest addition to the roster. What's your advice on what he's got to do?
Make a name for himself. He's big in the UK and I've watched some of his matches and he's really flashy. In order to be that breakout star, he just has to run with it. That's the good thing with TNA - nobody's going to try and hold him down. I've been in different promotions where you've got to strategically work your way up because if you get too hot, then someone is going to want to pull you back down but in TNA we welcome it. We want anybody to step up, so if he has an opportunity to do that, he should. He should make some waves and really show himself off.
You left TNA to do MMA. What brought you back and how hard is it doing both at once
Well, first of all, I never wanted to leave wrestling. When I left it was a question of circumstance. The plan was to wrestle and fight at the same time but we couldn't work it out so I had to step away for a little bit and focus on fighting. Ultimately, once you get to a certain level with wrestling, you don't have to hit the grind so much. The guys coming over from fighting to try and wrestle have a lot of work to do so it's hard for them to fight and wrestle at the same time. I've got to the point with wrestling where I don't need to train and train anymore so can focus on fighting but when I started I had a lot of training to do and couldn't manage both. Six years later, I have a lot of training experience under my belt, so now I can do both. It is tough and I don't get a lot of sleep but like I say you only have one life to live. Hopefully I can hold both titles and I think there's a possibility that I can hold both this year.
What is the best rib [practical joke] that was played on you?
There was one I had in the ring with Booker T. One thing that I hate doing is posing. People ask me how I can hate it and tell me I have one of the best physiques in the business but I tell them it's just not me, I don't like doing it at all. Well, Booker overheard this and I was about to have a match with him. In the ring, he grabbed the microphone and did a long promo about my build and finished by dropping the microphone and doing a whole elaborate Booker T posing routine. I'm staring at him with a blank look on my face, thinking you mother... He finishes his routine, picks up the mic and says "what have you got on that, dog?". The crowd were hyped and pushing me to do it, so I just put my hands up and did a double bicep pose. The crowd went crazy and I smiled thinking, that's all I've got to do! I teased him a bit about it backstage. The next day, he pulls the same stunt and I was thinking all I have to do is put my arms up, it doesn't matter. He challenges me like the night before, I do the pose - then he points behind me and says "what about them over there?" So I turn around and pose and he punches me in the back of the head! When we got back to the locker room he was telling everyone that I fell for the oldest trick in the book! We did it the fun way, he always used to get little cheap shots in on me and it was hilarious.
You have to be brave to rib Bobby Lashley. He'll be showing why across the UK this weekend. Lashley and the stars of TNA IMPACT WRESTLING are in Glasgow (Jan 29), Manchester (Jan 30) and London (Jan 31). Tickets are still available from here