For most people, a WWE run would be the crown jewel in their career but Drew Galloway continues to lead the wrestling world. His roots are in the mighty Insane Championship Wrestling (ICW) and as one of its MVP's he's helping add to the companies international fan base which includes Olympic hero Kurt Angle. Galloway is soon to be leading 'Team Black Label' into battle at a record-making ICW show at Glasgow's Hydro on November 20th in front of thousands of fans. To see him in action, alongside the aforementioned Angle, Team 3D and of course WWE's Finn Balor make sure to get your tickets here
In the first of a series of ICW specials we asked Drew about the show, what makes ICW special, his thoughts on TNA and more, read on!
Last we met you was strong time for Drew Galloway, since then things seem somehow to get bigger. How are you and what does it mean to you to be a part of ICW's forthcoming biggest ever show at the Glasgow Hydro?
I don't know how to put it into words. Im just so thankful and fortunate to be in the position I'm in. I've been able to sustain a living since I was 15 and living my dreams since I was 21 and signed to WWE. I was using a promo for ICW tonight to make fun of the crowd for following their dreams but that's what I do. I'm so, so lucky I've been given these opportunities and it was ICW and Evolve that gave them to me initially. With ICW, the first big show we had at the Barrowlands it was myself and Jack Jester main-eventing in front of 2000 people. Then last year myself and Grado in the main event and we had 4000 people. Then this year Team Black Label vs Team ICW for 100% control of the company is one of the featured matches and although we're estimating 5000 I'd reckon it will be more like 7000 people. Either way last year's show was the biggest show for 34 years for British wrestling, this year its 100% already broken and I think we're going to get an incredible number. I'm just so lucky to be a part of this charge.
Well you said you'd put ICW on the world stage, that certainly appears to be the case.
People looked at me like I was insane when I did my original promo because I was still this '3MB' guy. Some remembered I was Vince's guy and the IC champion and the tag-team champion but a lot of people thought "that 3MB guy thinks he can put British wrestling back on the map!?!". I made some bold statements about the world knowing about ICW and it going from strength to strength but it was because of the team. We legitimately grew up together most of us. We're mates, we have a laugh after the show, it's a family and the promotor, Mark Dallas, is a genius.
You and Noam Dar have both saluted Mark Dallas' talents. You've worked with him and Vince McMahon, are there similarities?
Absolutely, where people see impossible they see possible. There's a lot of similarities with Heyman also, that's his hero. Me and Dallas were the original Scottish wrestling guys. We met when we were 14. I had my big dream of going to America, he had his of being a promotor and both of us are standing together at ICW laughing, looking at each other and wondering what's going on! We're living our dreams, we're doing it together and we're breaking records. You can't put it into words.
For people that don't yet know, can you explain the Black Label and Team ICW story?
Well as "Mr. Fite TV" (that's what people are calling me with Evolve, ICW and TNA on the app) I recommend people watch ICW on the Fite App to understand it! On the Black Label, it started when the crowd turned on me at home. We took and extended that. Jester mimicked my initial promo - taking his hood off for a big reveal and we joined with some ICW originals and others. We've taken true memories and made it more personal. Through true stories, Dallas and I have been able to tell our history and it makes the match mean so much more. Their team has their inter-group problems, we as the Black Label are a collective unit. We've been able to build these stories and there'll be more personal, real stories coming up.
How's your recovery from injury progressing?
I was lucky the way things happened. Everyone's been saying it's my neck but it's my back. I took a nasty landing but was very lucky with the diagnoses. Had it have been the neck, I may have been out for longer, or required surgery or worse. I was told it would be 8 weeks and there was a miscommunication with the doctor but in order to be exactly how I was before the injury I thought it best to wait - so I'll be at the RevPro shows I was advertised for, just not wrestling. I'm cleared on the 16th, four days before the hydro. I missed TNA TV tapings but you'll see me back there.
What do you think of the current situation with TNA?
It's not ideal, obviously. I don't know everything so I can't comment on it, I just wish things weren't so public. Nothings more embarrassing than when things go public. The visuals are so strong, everyone's worked so hard including the office. There was a time where, considering other things that were happening, it could have been the nail in the coffin if the show was bad but everybody really came together. They pulled together and found their characters. They were given opportunities because people were leaving and took those opportunities and made them mean something. We put together this incredible show. If you watch the show, you know how good it's been. Things are going to be fine it's just very unfortunate going through the process and obviously it's not something you want people to see. If you love wrestling, you want somewhere like TNA to thrive and survive because the more places there are, the more opportunities there are for people to work. Not just to have a job but to keep wrestling. If there's only one place and one system, where's the future in wrestling? Having returned to the UK after 8 years, I think we have the best talent, the best crowds and audience participation. So there's certainly future talent here.
He's certainly right. If you want to see the most talented roster in the world on their biggest show to date, get your Hydro ticket pronto! You can also see ICW's show list here and watch them on demand here. Check out ICW on the Fite App where you can also watch Galloway's 'On the road with Mr. Fite TV' and see him prove why he's the busiest guy in the world!
Stay tuned for more exclusive ICW interviews...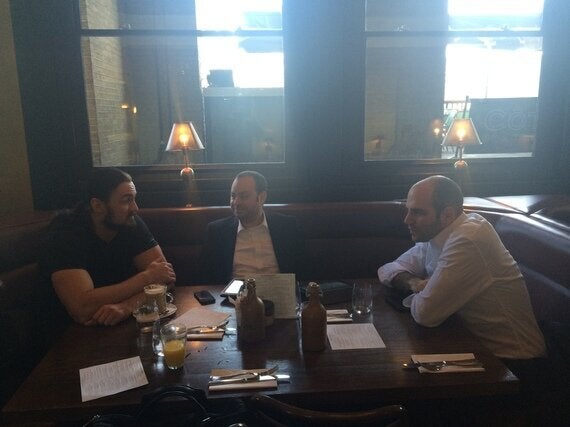 Related