In a major wrestling news, TNA has announced that it is moving networks in the US to Pop, starting with a live two-hour broadcast event on Tuesday 5 January 2016 and then airing weekly on Tuesdays at 9m (ET/PT). Of course, later that month fans in the UK will have the opportunity to see TNA up close and personal as the Maximum Impact 8 Live tour rolls into Manchester, London and Birmingham (tickets here). Not only this but the tour just got better with the addition of one of Britain's most exciting rock bands, Chasing Cadence. The rock quintet will play their first ever acoustic sets for fans before TNA's double TV taping events
One key star who fans will be clambering to see is the legendary Kurt Angle. On a tour of the UK to promote TNA's tour and to do his own speaking tour with Triple M Promotions (see here), Kurt proved to us that the three 'I's' which he used to invoke - intensity, integrity, intelligence - were not just a storyline gimmick but rather a true reflection of this incredible man's character.
Angle was keen to talk politics with James Cleverly MP and Tulip Siddiq MP and you can listen to his thoughts on politics our podcast including his revelation that "perhaps someday I want to run for mayor - maybe Senate" but if wrestling is your interest then read on!
I'm in the UK because I have a tour which I think is phenomenal. It's kind of a Q&A with the fans. You go and see a city, we're doing six cities, sign autographs, take pictures and then the fans get to ask you any question they want. I've never done it before but some of peers have and it's going to be pretty cool. I've never had fans able to ask me anything! We've never done it in the United States and for the first time ever Jim Ross (JR) and I are going to do it together at Wrestelamania weekend. Hopefully it works out because I'd love to do it in the states. If it works with me, he wants to tour it worldwide. You guys are ahead of the game and we have to catch up.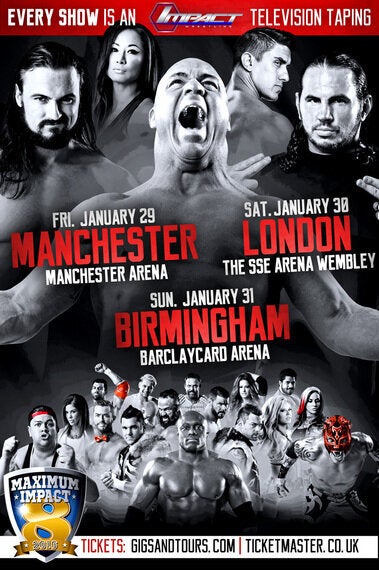 You'll be at TNA in London where last year EC3 and Rockstar Spud had an amazing hair vs hair match. What's your recollection of your hair match?
Oh with Edge! The great thing about it - Vince McMahon came to me and said "listen, you're going to lose cos you're going bald. Your hair is receding so we're going to go ahead and just shave it off tonight but don't tell Edge! We're going to make him think he's losing". Poor Edge. He had this long beautiful hair all the way down and he was real stressed out all day. He was even in the stands at one point almost crying and I couldn't tell him because Vince didn't want him to know. So we didn't change the finish until right before the match. He went from the saddest kid in the world to being happy. He kept coming up to me saying "I don't think I look good bald, I don't know why they want me to do this". It was pretty cool, to play a rib on Edge the way we did. I was all for going bald, so I was willing to do the job that night so I could get rid of my hair - what hair I had left.
You fought Lashley at Wembley on the last tour, how was it working with him?
That was the first time we had ever touched in the ring and I had such magical chemistry with him. He's a beast too. I was scared to death. I had just come back from my knee surgery and they wanted me to win the title. I'm said "I've been out of here, what are you guys thinking". What happened was, I believe, the network wanted me to be champion. I think that's the reason why. Because at that point in my career, I didn't need another world title but they wanted me to have a run on our new network and get it going. I was glad to drop it to EC3 a few months later. The kid deserved it. He's a brilliant kid and he's going to have a big future.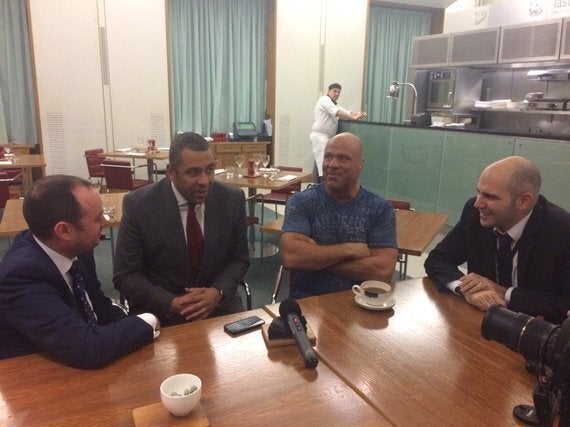 If not him, who's your pick for the TNA world title series?
Lashley. I feel bad for him, because he was picked as unbeatable for a good year and then we had him do 5 or 6 'jobs' after I beat him. This kid is a beast. He looks like he's 300 pounds, he can wrestle, and he's unbeatable. He's an MMA fighter, he's I think 14-2 and we had this guy doing jobs? Its like "revamp this!" But I think Lashley will end up winning it. I don't know who wins but it would be nice to see Lashley get up on top. Then him and EC3 can have a little programme. For ratings that would be our best pick.
Will we see you in an MMA match?
I just signed with Bellator. I'm real happy with those guys. I got to commentate Bobby Lashley's match but no, I'm 46, they tease the hell out of it. Being an athlete for 36 years - I can't fight. I wish I could. Maybe six years ago but not now.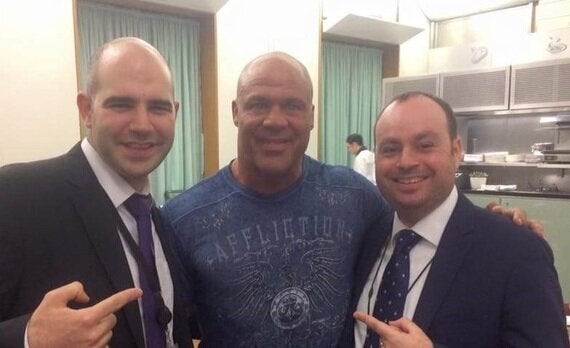 Did you see the Ronda Rousey fight? Tazz said it was fixed. What do you think?
I've seen highlights. Tazz is out of his mind. It's about as pre-determined as he was a wrestler! Ha! I love Tazz - but Ronda, she didn't scout her opponent. It's not her fault, it's her camp, coach and her trainer. The poor girl was going after Holm like she was a pro boxer and shes not - Holm is. Ronda should have been staying away from her, waiting for Holm to punch and then leg dive her. Rhondas a bronze medallist in Judo, leg dive her! Either that or crowd her and not let her throw punches. Holm was a South Paw I don't think Ronda's ever fought a left handed fighter. That whole fight was just a mess for her. I feel bad for her. She was real arrogant about it but she deserved to be as she's the greatest female fighter of all time. When girls grow up and they want to be fighters, they're going to compare themselves to Ronda Rousey. Nobody else. So I think she should retire, just keep her legend as it is. If she does come back, the only choice is a rematch. You can't go down, you got to go for the title. I don't know if she wants to do that. I think she'll go to WWE but what is she going to do? Wrestle a Bella twin? Come on, that's gonna be a 50/50 match? You can't wrestle guys any more so what are you going to do with a Ronda? She'll end up dominating the female class. We all know wrestling isn't real but how much do you buy into someone beating Ronda?
Acting, Wrestling, MMA and more. Kurt Angle is multi-talented. Make sure to see him live when TNA hit the UK in January.