World Heavyweight Champion, Olympian, Icon. Kurt Angle is all these things and more. One of the most impressive and talented individuals to grace a wrestling ring, Angle will be coming to these shores in January 2016 as part of TNA's recently announced UK tour (tickets will be onsale here). He'll also be at the London Film and Comic Con this summer to meet and greet fans. We were very lucky to have had the opportunity to speak at length with the champ, so knuckle down for some revealing insights in the first part of our interview trilogy with the one and only Kurt Angle.
We witnessed you win your title in London and TNA has just announced you're coming back for a UK tour in January. What does visiting the UK mean to you?
The reason we like coming to the UK is because we have more appreciation from the fans and it's a great crowd. We always do well in terms of how many fans come and it's a lot of fun! We don't go outside the US very often but we've made it a priority to go every year to the UK and next year's no different. We have our best matches there. It's like our biggest event of the year, so we all rep up for it and give everything we can for the UK fans.
Who do you rate on the TNA roster?
Well, you can look at talent that's been around there for a while and haven't quite had the opportunity yet. Then you look at new talent, like Bram, Drew Galloway, you look at a guy like MVP that stepped in last year and underrated talent like Kenny King. I think he could do anything, win any title and hold it as good as anybody. You look at guys like Eric Young that's stepped in this past year and he's been around for a while. He changed his character and he's become a serious contender for the world title every week. I love Austin Aries and EC3 is a great talent. There's just so many. The roster in TNA is as good as it gets and every time I go to work it's exciting to see who I'm going to get to work with next because it could be anybody and I know that it could possibly be a 5 star match. I don't have any concerns and I love working with all of them. From ones that have been around like Bobby Roode - I'd love to have another programme with him to newer talent like Bram. I'd love to go round with him before I retire
Do you have any plans to retire!?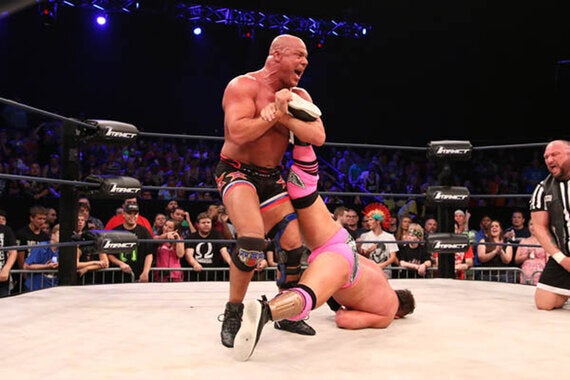 Do you have concerns about Destination America moving Impact's broadcast day?
I don't know. I know that they [originally] decided to have Friday nights on Destination America. Personally, I don't think that's a good night to have TV but I believe they thought that, since no other wrestling was on, it would be the best night. I know that Wednesday was an option when we started with them. I talked to Dixie Carter and she said it was between the two and I told her I like Wednesday. I don't know who decided to go with Friday but I think that Wednesday will be a better night. I think in our demographic, there's a lot of young males 18-34 that like to go out on Friday nights, so I think during the week is always the best time. There's a reason why WWE has always aired Raw on Monday nights and Smackdown moved from Friday to Thursday. So I think Wednesday is a better decision and I hope that our ratings start to see the difference.
Rumours about the network started on the wrestling sites. Do you read them?
I don't read them much, no. You find out that some of them are true and some of them are completely false. What I heard about the network having a break-clause in the contract? I don't know. I'm not part of that and I wouldn't know but I like what they've done for TNA and the effort they've put in. They wanted us to do live TV every couple of months and keep it fresh, so we can interact on Twitter. They've done a tremendous job with promoting and airing our shows - including the repeats. They've done a great job with graphics, I remember spending a whole day doing those. We never got that before, not with the other network. So I feel like they jumped in with both feet and wanted to make this work and I don't see why they wouldn't want to continue to make it work. They made the effort, they may as well see it through and see how it goes. I think they will.
What's the strangest interaction you've had with a fan?
I started wearing my gold medal, for a month, at the beginning of my career in WWE (then WWF). I was outside a show, in Baltimore and there wasn't very good security. So there were about 5000 fans in the wrestler's parking lot. I was making my way over to my car and signing autographs and I put my gold medal down - it was in my bag - and a fan stole it. When I looked down and it was gone, I didn't think I was going to get it back. So I freaked out. I mean I feel bad for the fans that were around me. I was threatening them, telling them "I'd better get my damn gold medal back" and that I was going to get the cops. I even called Vince McMahon. The reason I did is because the same night, someone threw a baseball at Stephanie (McMahon) during the show and he had security go out and find out who it was. He was willing to pay money to find out and to have them arrested. And he found out because when they started raising the money from two, to three, to 4000 dollars everybody pointed at the one person that threw the baseball. So I thought, you know what, Vince can get me my gold medal back. So I called him but what happened was, when the fan took it, he thought the bag was full of Kurt Angle t-shirts. One of his friends called him and said "hey man, I think Kurt Angle's gold medal is in there, you might want to bring it back". So he did and he told me he found the bag over near a bus. I think he was lying but I was more grateful for getting the gold medal back than actually wanting to beat the c**p out of the kid. That's the worst and the best thing that a fan has done to me. Stole my gold medal and given it back.
Stay tuned for Part 2 in which we'll discuss Angle's injuries, his thoughts on TNA's British talent, his views on the WWE Hall of Fame, memories of ECW and take on Jack Swagger.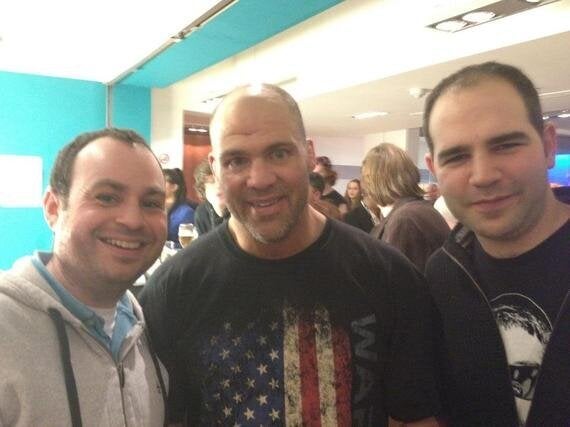 Popular in the Community