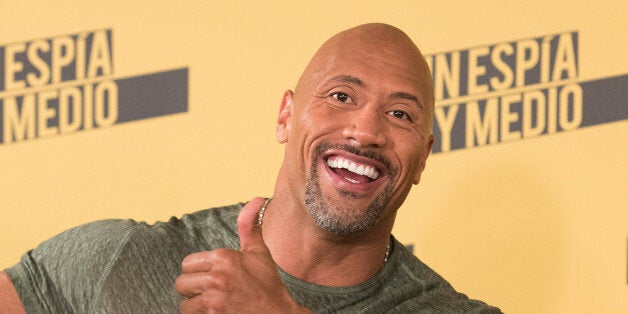 Adult and child alike, no-one is immune to the magic of Disney. From childhood films to exciting holiday adventures its reach and impact is near limitless. To cite just one example, wondering through St Pancras station recently, I stopped near the freestanding piano and listened as a man played Disney movie musical scores as a number of passers-by hummed along.
Wrestling too has wide reach and many magical elements. Strong characters, compelling storylines and great tunes for fans to hum along with. As sports entertainment proceeds into a new age with new characters, the legacy of the 'PG Era' and the embrace of a younger audience remains a key marketing strategy.
In Disney's Moana, these two worlds collide, principally through one of its key characters played by Hollywood megastar Dwayne Johnson but to loyal readers best known as The People's Champion, The Rock. So surprising though it may be, here are our top three reasons Rock fans can be excited for Disney's Moana.
In his last WWE run, the Rock revisited one of his most popular segments, the 'Rock Concert'. In 2012, he took his acoustic guitar to the ring to poke fun at Sacramento. In 2014, he again sang out, this time at the expense of WWE 'baddie' Vickie Guerrero. Well, it's another two years on and this time, the Rock's displaying a different strain of musical talent. Those that have watched his DVD's will know the Rock has a musical family and so it is little wonder that he chose to opt-in to the score for the movie. The tropical themed soundtrack with input from New Zealand's Opetaia Foa'I is a joy to the ears and those that have already heard a sneak peak of the Dwayne Johnson fronted 'You're Welcome' will know that Disney have struck gold again. A far cry from 'It Doesn't Matter', this is a soundtrack that will have Rock fans wishing there was another Rock concert on the horizon.
2) The Rock will do what he does best....
There are certain indicators that one is witnessing 'The Great One' in action. First, of course is his presence but that is inextricably linked to his mastery of comedy. Who can forget the Billy Gunn prayer promo, the shirts over Michael Cole's head or the introduction of pie and strudel. The Rock is one funny guy and as the Disney production team have stated, his comic timing is once again on point in Moana. Johnson's Maui and the adventurer Moana have a complex and interesting relationship and so, suspicion, warmth and yes, comic interactions are all important factors. There will no doubt be laugh out loud moments for Rock fans. Moreover, there'll be some insider pointers too. Having seen advance clips of the movie, we know the people's eyebrow will be on display as will of course, the Rocks characteristic self-confident persona. It's little wonder that DJ was picked to play this part if an egotistical demi-God was the pitch. An icon to many, the Rock will have something for all of his wrestling and movie fan 'Millions' alike in the film.
Why do most of us get so drawn in to wrestling? It boils down to characters and storyline. Moana delivers big on both of these aspects as you'd expect from Disney. The producers of the film have spent some five years in the Pacific researching the heritage, the culture and the land and use it to paint an amazing backdrop for the movie. For Johnson, his culture and family heritage is of central importance. His grandfather was one of, if not the first Samoan wrestler to become known on a global basis. He is covered in culturally significant tattoos (as is Maui) and he uses his cultural background and inspiration in interviews. Moana weaves the culture and history of the pacific magically into a hugely engaging story. Moana, a frustrated, passionate and adventurous lady sets off on an epic journey. At the heart of the adventure is Moana's discovery of her true self - "know who you are" is the message. A fabulously entertaining adventure twinned with a personal journey of discovery and a strong leading woman alongside an ever-entertaining male companion. This has all the elements of a great story, well told. Wrestling and Sports entertainment fans will not be disappointed. The Rock is on form but there's much more to the movie besides.
Moana will be released in the UK on 2 December, make sure you get along and judge for yourselves.