The Advocate of Extreme, Manager of no less than five WWE Heavyweight Champions and one of the most successful and impressive sports entertainment figures of all time, Ladies and Gentlemen, his name is Paul Heyman. We were lucky to be granted some time with the man himself shortly before he entertained questions from fans in the first of a three city tour with Inside the Ropes, the company which has quickly become known for hosting the best Q&A sessions in the business. Follow @inside_theropes to find out what you missed and make sure to follow agent to the stars and Showmasters wrestling guru Steve Lynskey to ensure you don't miss out next time.
With Brock Lesnar having won his match at UFC 200 will we see the UFC-WWE relationship continue? Will he fight again?
I don't believe there is a WWE-UFC relationship. I would suggest there was the decision by Brock Lesnar to exercise the option to fight in UFC and WWE had to deal with it. On the question of whether Brock Lesnar will fight again, the answer is - as Brock Lesnar said in the post-fight press conference at UFC 200- Brock Lesnar does what Brock Lesnar wants to do.
On another former 'client' of yours, Curtis Axel, do you think he's reaching his full potential?
Curtis Axel is a tremendous talent who is exactly where his character is slated to be under the current presentation and if Curtis Axel wishes to excel at a different level or a different speed then it's up to him to change the perception of his persona and present to WWE a viable option that demonstrates his abilities even more.
Make sure to listen to the Inside The Ropes podcast, an example of which is above
As Jewish boys we were wondering whether your Jewish background has effected your business or life decisions?
Well, I'm the son of a Holocaust survivor so along with that comes the understanding that there's nothing I'm ever going to go through that compares to what my mother went through. So a lot of people mistake the fact that I was always willing to take enormous risks as being brazen when instead it was fearless because nothing ever really scared me since I had a keen understanding as to the limits of the suffering that I would be subjected to.
People say you're the man to learn from about wrestling or how to do a promo. Who do you see as having the most potential?
This is going to sound like a lot of bull**** and hype but I don't think that people have yet had the opportunity to see the very best of Brock Lesnar. I think Brock Lesnar is still just entering his prime and he demonstrated that at UFC 200 and he demonstrated that in the main event of Wrestlemania 31 against Roman Reigns. Brock Lesnar is just now hitting his stride, he's the healthiest he's ever been in his life. I would dare suggest that the most untapped potential in the entire sports entertainment industry is Brock Lesnar.
What was the best rib [practical joke] you played on someone or they played on you?
I have intimate knowledge of some ribs that were pulled even twenty, twenty-five years ago of which the statute of limitations has not run out and therefore - even though I'm doing this interview in the UK - I respectfully invoke my Fifth Amendment right not to incriminate myself.
You recently challenged Donald Trump to a debate. Do you have desire to run for office?
A desire to run for office? No. Whether the world needs me to run for office or not may be another question.
Some people compare current WWE viewing figures with those of the 'Attitude Era'. As a former show writer, do you think the current scribes could do something different to increase viewership or has the world changed?
I just appeared at a Wrestlemania that drew a live gate of 18 Million dollars and over 100,000 fans in a single place at the same time to witness one show. I find it very difficult to believe that the numbers from the Attitude Era dwarf the numbers that the company can achieve today and those that would suggest that the Attitude Era was bigger than the business is today are sadly misinformed.
You're in the UK - the big news here is Brexit. Do you have a view?
I have many views on Brexit and should have been asked my views in advance. I would have saved this part of the world a tremendous deal of stress had they paid me for my wisdom. They chose not to or didn't think of doing so, so they will have to deal with this on their own.
Paul Heyman is a man that deserves to be listened to. Be it politics, wrestling or business we hope he'll come back to bless us with his insight.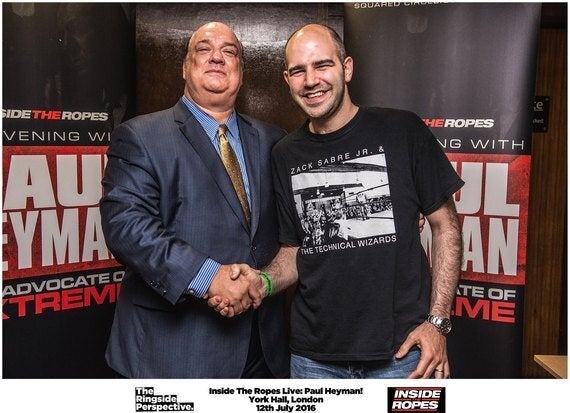 Paul Heyman seemingly pleased with RR's line of questioning....