If you haven't seen the magnificent Bad Bones in a wrestling ring, you're missing out. A regular international visitor (and champion!) at IPW:UK, this phenomenal talent has proven himself at home in Germany, on our British shores and in the USA. If he weren't such an intimidating figure, we might go so far as to say that Bad Bones is the nicest guy in wrestling but he isn't called the German Psycho for no reason! In the UK for the aforementioned IPW, he sat down with us to talk about his past, present and future...
What got you into wrestling?
That's a funny story. My parents switched on the television and there was wrestling on and it got me right away. I told them, "That's what I want to do". They were like "... oh, well"... I told my mum I wanted to rip my shirt and I couldn't, so she had to take scissors to it. I ripped it off and was like, "Yeah! Come on! I'm like Hulk Hogan now!" Yeah, maybe not! But I had a dream and I set myself a goal and now I'm here.
How did you come by the name Bad Bones?
That's actually a tragic story. My aunt, who passed away, we were searching for names together that I could use in wrestling and that was the last name she came up with before she died in a car accident. So I take it as a tribute for her.
Do you have any 'bad bones' (injuries)?
I had a few injuries but none of them kept me out of the ring - I would never stop. My motivation, my dedication to the fans and for myself, I give 110% all of the time.
You've worked in TNA, might we see you back there or in WWE?
We'll see what the future will bring us! But you haven't seen the last of Bad Bones on that scene, so be sure you'll see me again!
With GFW launching are there too many major wrestling promotions now?
No, definitely not! The more promotions you have out there, the more opportunity for them to fight against each other. They can battle over who has the better promotion, who has got the better talent.
How do the British and German scenes compare?
Well, we had a joint show with IPW:UK and wXw (German Promotion) in December and we had some German fans coming over for that. With wXw, we're touring around now, week for week for week. We'll have like 2 or 3 shows a week. In the scene here, you've got so many companies going on its - wrestling is hot at the moment!
Who has been your favourite opponent to date and who would you love to wrestle?
There are a couple. I'd say Claudio Castagnoli (WWE's Cesaro) and Bryan Danielson (WWE's Daniel Bryan). I wrestled him (Bryan) twice and I learned in those two matches more than some guys learn in a couple of years. I worked with X-Pac last week in a tag-team match. That was awesome. Even though we were teaming together, his music hits ..."break it down" and the crowd shouts, you feel like a 5 year old kid! I'd definitely love to work with two guys who aren't wrestling any more. The Macho Man and Shawn Michaels. Those would be dream matches for me. I know it will never happen but that's something I've had on my mind since I was 4 years old and I started to watch wrestling.
What's the best rib [practical joke] that has been played on you?
The jokes on me are always linked to the English guys mentioning the war....! But seriously, I love Fawlty Towers! There have been a couple of them but nothing that was done in a bad way - just light hearted. I love playing ribs as well, it's just part of the business.
What's the strangest interaction you've had with a fan?
I don't know if I can tell you that! There was a girl and she shook my hand and said "ah, that was like the best moment for me, I've actually wet my pants". I was like, "are you serious?" I just walked off because I was... I just shook her hand. You know she was clearly really happy at that moment, a bit excited but perhaps way too over-excited! She shouldn't have told me that! I was like "so, let's go now..."
You've trained a number of other wrestlers, would you set up a school?
Maybe, if I stop wrestling at some point. I'd do everything I could to help people evolve and get better because that's how I got taught. When I started, I had so many guys to help me, who wanted to help me to get better. So why shouldn't I do that? If I stop wrestling at some point, I'd start a training school, sure.
Let's hope Bad Bones doesn't retire any time soon. You can see him at IPW:UK (tickets here) in the coming months and follow him on Twitter @TheGermanPsycho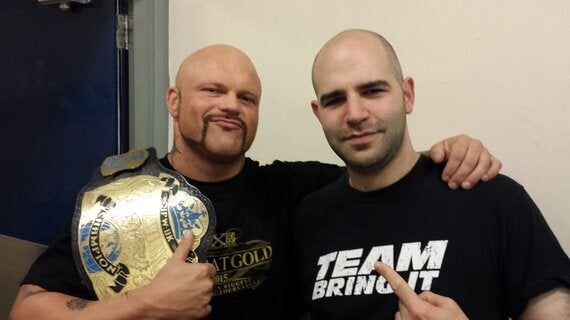 Popular in the Community