In less than a year Wardust or as it is now known WWL has been making its mark, emphatically, on the British wrestling scene. In less than a month, the company takes its next step and plans to deliver a new concept to these shores. On October 11 2015 in Colchester, WWL's 'Stars of the Squared Circle' will bring together a wrestling convention and a full wrestling show for the first time - and what a convention it looks to be. Quite aside from Animal, Hall of Famer Tammy 'Sunny' Sytch and Gail Kim, fans will be able to meet and greet the Icon Sting in full face paint and get 2 autographs for the price of one.
The brains behind this unique venture are promoter Mark Young and Convention Organiser James Ford. We sat down with them both to talk about WWL's evolution, the event and their future plans. "Wardust was just something I had on my own before we got into wrestling" said Mark. "Obviously I've always been a wrestling fan and I tried a few avenues with the name but I was always selling to the wrestling crowd because of the fan base". "I've got a few good friends in America who happen to be with WWE, so they just helped me out - it was a natural fit" he said. "When they started wearing my t-shirts and stuff I just fell into wrestling and then, when I started promoting shows it was natural to use that name"
Whilst Mark was the front runner with Wardust, his union with James has been particularly fruitful. "It all changed when I met James" says Mark. "He came on board and helped with the shows we were doing, as a volunteer" but a bond of mutual trust and respect was built. The result is 'Stars of the Squared Circle' which according to Mark "was a cross between our two ambitions" and somewhat of an inevitability given that "we're both very much doers. Once we've said we're doing it, we're doing it!"
For James, it's all about the fans. "I went to the recent convention in London and that's where I first thought about doing this". "I saw what was good and bad from a fans point of view and we'll try to work on it". Thankfully, James is working with the best in the business when it comes to booking advice. "It comes down to our good friend Steve Lynskey". "He's working his magic and doing great for us" James told us. "He ended up MCing on a Wardust show and when we explained our plans he stayed in touch". "He's been involved from day one and is responsible for 99.9% of the names". Fortunately, fans hoping for more of these names are in luck as James told us "we're hoping for at least another six or seven. Every other day Steve is popping up with names".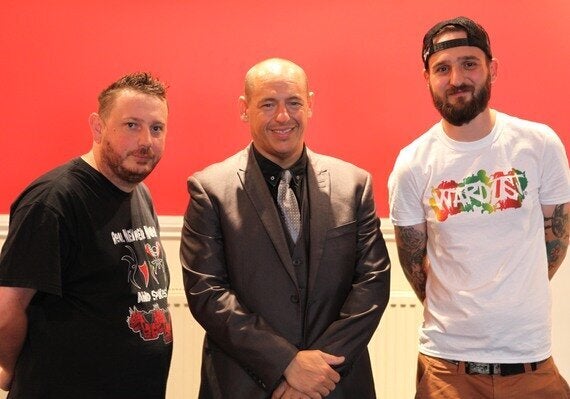 From L-R: James Ford, Steve Lynskey, Mark Young
Of Sting though, James couldn't be prouder of what was in truth a somewhat opportunistic inquiry. "I was in touch with his agent around the same time that he was in discussions about coming over for some Q&As. It was all on the off-chance - we got lucky!" he said. "I didn't really expect it would happen but it's worked out pretty well in terms of his current role at WWE"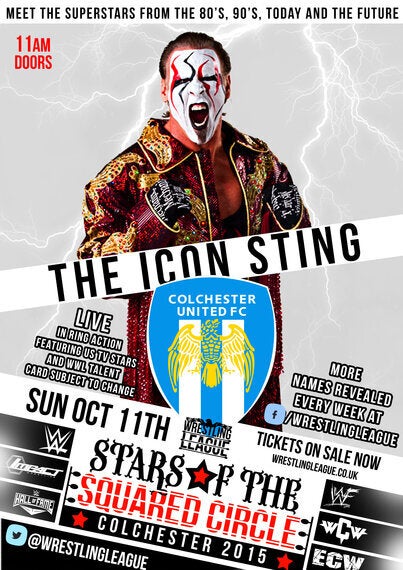 It's not just international talent but the best of British that will be on show in Colchester. James and Mark explained that as part of the general entry price, fans will get to meet the WWL roster and there will even be the opportunity to pose with the promotion's belt in the ring that will already be standing ready for the evening's card. What makes this all particularly exciting is the addition of that evening event. The convention will be running from 11am until 4pm in the brand new suites and football stadium at Colchester, and then the show will begin. For those only able to make the latter, Mark teases that "we've got a few international stars on the show too, facing our WWL roster". Already announced is an in-ring segment with Sting and TNA's Eric Young in action.
Mark may have "fallen" into wrestling but things have certainly gone well. With the first show having only taken place in November 2014, the promotion is already looking to the future. "We're hoping 'Stars of the Squared circle' will kick-start us into frequent tours. We're looking at running Harwich, Colchester, Ipswich and maybe Southend with three events a year in each. It's all on this event really - we hope to buy a ring with the profits and so we hope it goes well!"
Royal Ramblings is hoping so too. Tickets sales are good and the gents expect a sell-out. Make sure to get your tickets here and follow Wardust on facebook and Twitter.
Related