In the first half of our exclusive two-part interview with Insane Championship Wrestling (ICW) MVP Wolfgang, we learned about his past, his passions and his aims. In this second half we get insight into his role as a trainer, his thoughts on ICW and why he's not a man you want to be on the wrong side of. Make sure to read on and then head over to ICW's site and get tickets to see him in person. A full list of ICW's forthcoming dates follows the interview.
ICW is on iPPV, touring multiple times a year and even has its own game. What's next for the company? Can it or does it rival TNA, GFW.... Ring of Honor....?
ICW is the BEST WRESTLING promotion in the WORLD. It showcases world class talent and features the biggest names in the industry. ICW can rival any company, pound for pound. We might not have the same exposure as TNA, ROH or even WWE, but you can put any ICW Roster member on any of their shows and they'll blow you away. The next step for ICW would be regular exposure on TV in the UK. We're heading into Fear and Loathing where up to a mind blowing 10,000 capacity crowd will pay witness to the show of a lifetime. It's clear we can do what the big boys do just as well, if not better.
What's the best rib [practical joke] you've pulled on someone or they've played on you?
I love winding people up. I'm very good at it and on a good day, I've had folk get so angry at me they chase me round the building. The best one I've ever pulled in wrestling was on the way back from a tour down south, I was driving the people carrier we had hired from one of the guys we knew that worked at the dealership. Guys like Grado, [Jack] Jester and Noam [Dar] were egging me on. He starts to message me asking when the van is going to be back - wrestlers on the way back from a tour are notorious for being late and after a while I start to have fun with it and tell him something bad had happened. I told him the van we were driving was an absolute wreck. I said that everyone had been sick, there was no way I could return it in such a state and I was getting my cousin Boab to 'take care of it'. I'd managed to convince him I was about to torch the van in a field in England somewhere and it'd be easier to claim the insurance than deal with the damage costs. Needless to say he was relieved when the people carrier returned unharmed.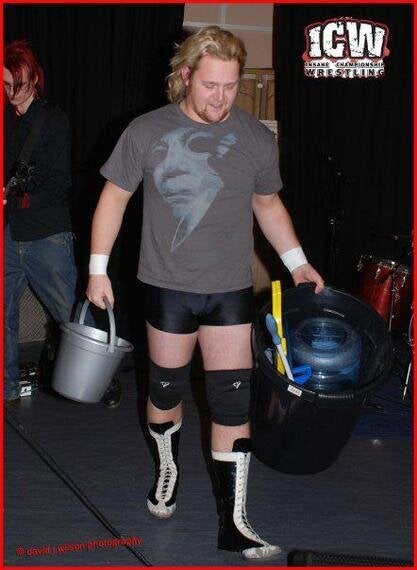 Since opening the Glasgow Pro Wrestling Asylum in 2014 along with BT Gunn, Jack Jester, Red Lightning and Lionheart, I've been able to see wrestling from a whole new perspective. I'd often thought of opening a school and when the opportunity was presented to me I jumped on it and almost two years later I can say it's one of the best decisions I've ever made. I get to wrestle all week long in a world class training facility, coaching students from 16 - 34 years old all with a great passion for wrestling, along with some of my closest friends in the business. I enjoy going to my job. I've learned that the more you do this, the more you enjoy it. Fully committing yourself to professional wrestling has its rewards. We have some great talented up-and-coming wrestlers in the asylum, and to be able to help them realize their dreams is very satisfying. There are too many to list but if you check out any GPWA show or watch some of our shows on our Youtube page you'll see what I'm talking about when I say we are full of future stars.
You've hit the top. What's next for Wolfgang?
I've been to the top before, and I know there's only one place to go. In 2007 I was the first ever Triple Crown champion, holding the BCW, SWA and PBW heavyweight titles all at once. I lost that and it's taken me nine years to be crowned king again. Now, as the ICW Heavyweight Champion Of The World, it's time to branch out and defend my title against anyone, anywhere in the world. I can go toe to toe with the best in the world and come out on top, and now it's time to prove that fact as World Champ and The Last King of Scotland.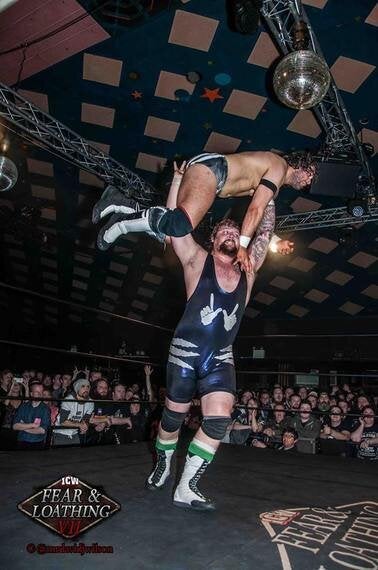 That is quite the claim but if anyone has the skills to back it up, it's Wolfgang. Make sure you get yourself along to an ICW show (or subscribe to ICW on Demand) and see the man in person. Whatever the outcome, you can guaran-dam-tee he'll deliver a spectacle.
ICW will hold tapings in Glasgow on 11 September, 9 and 23 October
They will be at the MCM Comic Con on 24/25 September at the Glasgow SECC
Sheffield O2 Academy, 28 October
Southampton Engine Rooms, 29 October
Bristol Marble Factory, 30 October
Cardiff Tramshed, 3 November
Wolverhampton Wulfrun Hall, 4 November
London, Brooklyn Bowl, 5 November
Leicester O2 Academy, 6 November
Fear and Loathing IX takes place on 20 November 2016 at the SSE Hydro in Glasgow - you and 10,000 others can see ICW stars alongside Mick Foley, Kurt Angle, Ricochet (Prince Puma) and many others. Tickets for all the events are available here.