I'm not looking for sympathy - why set myself up for a disappointment? - but my wife's morning sickness has also left me feeling awful.
Before I explain, let me give you some background.
I am not a couch-dwelling oaf of a man. I was a trainee chef for a couple of years and still do all the cooking at home. One of the first things my wife said as soon as we found out she'd fallen pregnant was "you're going to have to show me how to work the washing machine," as her mind quickly switched to having nine months off work on maternity leave.
I'm also a man that is quite prepared to admit his wife is a better driver, which has led to me being awarded the status of "Site of Special Scientific Interest" by the Natural History Museum.
But I like sport and I have a "you've just got to get on with it," attitude to illness and this has made life difficult in the Smith household of late.
The weekend that my wife's morning sickness kicked in I was absent having gone to Twickenham to watch a rugby international between Australia and Argentina. I have no connection to either country other than having a tolerance for Fosters and corned beef but it was only £20 a ticket.
I spoke to my wife on the phone, she said she'd started being sick and I said this was actually a good thing because it meant baby was developing as it should.
I couldn't remember where I'd heard this but it sounded reassuring. Further research showed it was on a message board thread entitled "things I'm sick of hearing about my morning sickness."
By the time I got home my wife had gone to her mum and dad's because she was feeling unwell all the time and wanted company. She asked me to come and pick her up but I sent her a text saying I couldn't because I'd had a couple of pints and didn't want to risk it.
This was untrue, due to the regular weekend shutdown of the majority of Britain's train lines as Network Rail bring the system gradually into the 20th Century (that's not a typo - they've still got a way to go before we can talk about a 21st Century railway) I'd had to drive part of the way so hadn't touched alcohol all day.
But Saturday night is a regular battleground for the TV remote in our house between my wife's Strictly and my wish to watch anything that's on Sky Sports. I suddenly saw the opportunity to switch between three live football matches on three different continents between some teams I'd never heard of without the accompaniment of a constant whining sound coming from the armchair next to me and I took it. It wasn't guilt free watching but one of the games was a 4-3 thriller so I got over it. I went and picked her up in the morning before I had to rush off to play football.
She has continued to be ill in the weeks since, morning, noon and night (whoever called it morning sickness has got a wicked sense of humour) and I've begun to feel like Taylor Lautner must have done on set of the Twilight movies - a major part of the plot to begin with but not really key to the main action after that.
All I can usefully do is pat my wife on the back and offer some sympathy as her body rejects my cooking.
"I feel partly to blame," I said at one stage. I think this was on a message board thread entitled, "The one thing the other half absolutely should not say under any circumstances."
As last weekend approached my wife told me she'd arranged to meet a friend for lunch on Sunday at Westfield shopping centre in Stratford. This happened to coincide with the kick-off time for an American football game at Wembley that a friend had offered me a ticket to see.
I should point out that I'd been to Twickenham the week before to watch another game of American football and had thought consecutive Sundays was pushing it (I'm not completely without a conscience) but with the match and the shopping centre only being a few miles apart this gave me the perfect opportunity to not only see the match but earn a few brownie points at the same time. So I told my wife that due to her delicate constitution I'd accompany her to Westfield "to do some shopping" in the morning and would then "return home (sic)" when her mate turned up. I then sent my mate a text saying I'd have the Wembley ticket.
I should have remembered that it's a trait with women never to stick to an arrangement to scupper the best laid plans of men and it turned out my wife's friend couldn't get to the shopping centre at 12.30pm as originally scheduled and text as we were on the way to Westfield to say she wouldn't be able to get there until two o'clock - or half an hour after kick-off.
This forced me to come clean about what I was actually up to at which point my wife said she felt sick - sick of me going to watch sport every weekend and leaving her on own that is.
When we got to Westfield she said she was going to be physically sick so we went to the food hall and I bought her a ginger cookie - I felt it was the least I could do in the circumstances.
I then said I needed to go because the boys were waiting for me outside the ground and I had the tickets. This can be filed in the same folder of dishonesty as the "two pints" lie.
I stayed with her as long as I could and then I got up and left her. But as as I made my way towards Wembley on the Jubilee Line a feeling of disgust gradually came over me. There's no way I should have left my wife like that. Alone. Feeling sick. All because she was carrying my child.
Her late-running friend should be ashamed of herself.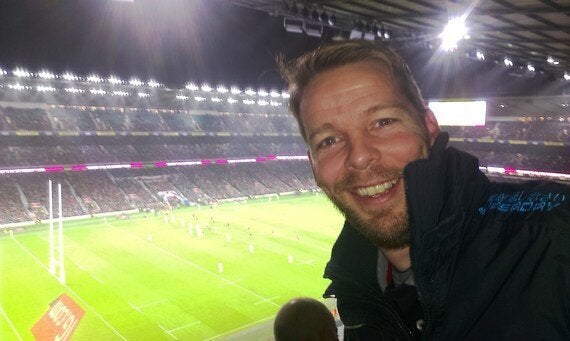 A guilty Darryl soaks up the atmosphere at Twickenham