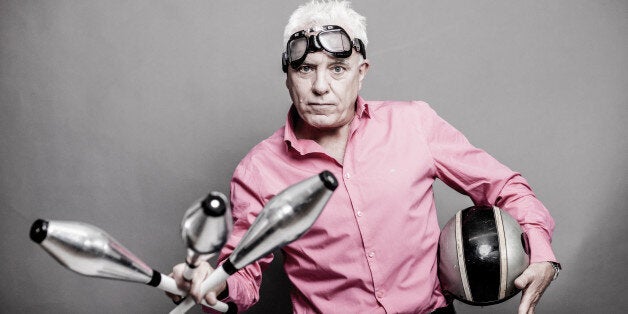 I've had a rotten week. I went to my Grandad's funeral on Monday and caught the bouquet - that's bad right? He was 96 and died making love to my Gran on a Sunday morning. Apparently it was a regular thing because he needed the church bells to pace him. The sad thing was that the doctor said he'd probably still be alive if the ice cream van hadn't gone past.
That was my first ever gag on stage in 1987 at a talent contest at the Grand Theatre Scarborough - it's not there now it's the World of Wicker. I went to Scarborough because a nurse friend of mine told me after seeing me in the hospital pantomime (I played one of Snow White's diminutive friends Cosmo - based on the late great Les Dawson character Cosmo Smallpiece - "Knickers, Knackers, Knockers" - all that); anyway she said, "You're really funny, you should be a comedian" and for some reason I believed her! So I travelled to the east coast figuring that if she was wrong at least nobody at home would know that I'd taken her seriously and tried and failed. I won the contest. I won £800 which in 1987 would buy you a small terraced house in Burnley. I then travelled down to Torquay and won the "Stairway to the Stars" national talent contest. Larry Grayson, one of the judges told me that it was a close run thing but what sealed the win for me was my routine about a juggler on a motorbike. I thought this comedy lark (My agent insists I stop keep calling it that) was easy; that I was so a natural. Poor naïve misguided fool that I was.
But as a wise nun once said, let's start at the very beginning. Or at least almost twenty years before when I started work as a junior biomedical scientist after abandoning my dream of studying medicine when my father, a self-employed painter and decorator (no job too small/ estimates free) had an accident at work which forced me to leave school to become the bread winner. He was painting the hands on the town hall clock in Bolton when he slipped and fell off - it was half past six so he had nothing to hang on to - quarter past he would have stood a chance. I worked in microbiology at first and hated it - they call it "bugs" for god's sake! Then I rotated into biochemistry and the overwhelming smell of Old Spice and vision of that sea of corduroy will live with me forever. Unsurprisingly it was a biochemist who invented the dipstick. I found my spiritual home in haematology - Blood, sex and rock and roll and over the next few years worked hard and in 1975 became a fellow of the Institute of Biomedical Science. So next step? Stand-up comedy obviously. Over the years I'd written, directed and eventually performed in the Hospital Am-Dram society's revues and pantomimes in the hope of having a laugh, having a drink and meeting nurses; one of whom uttered the immortal words that sent me to Scarborough.
From 1987 to 2000 I led a double life, progressing steadily in haematology, introducing new technology and acquiring expertise in genetic abnormalities of haemoglobin (oh aye) while at the same time dying on my arse in any number of social clubs whose audiences couldn't understand why I didn't have an overbearing fat mother-in-law or had never met an Irish gardener called Paddy O 'Furniture. I was about to jack the comedy lark (sorry boss) when I attended a comedy workshop organised by the great Agraman (The human anagram) and discovered that the new world of conversational, observational comedy had arrived. I became a regular at his ground-breaking Manchester club "The Buzz" and worked with and learned from the wonderful Caroline Aherne, John Thomson and Henry Normal and went on to support Lee Evans, Jack Dee and Eddie Izzard down there whilst at the same time getting a taste of working big theatres, supporting Cannon and Ball and Max Boyce and schlepping three hours back and forth to London after my hospital shift to do open spots for promoters who only occasionally bothered turning up.
I won the NW Comedian of the year in 1992 the year after Caroline and hosted the final which included Johnny Vegas and Peter Kay amongst the ten finalists. Peter went on last and took the roof off the place and we immediately hit it off and started writing together. We collaborated on Mad for the A6, The Services and with Neil Fitzmaurice That Peter Kay Thing and of course Phoenix Nights. At the same time I became established on the London circuit after the great Don Ward at The Comedy Store took a shine to me and meanwhile in my parallel universe I became chief biomedical scientist!
I took my allotment of annual leave in six weeks of afternoons to co-write and appear in TPKT which went down well at the hospital - not and so when Phoenix was commissioned I'd arrived at the crossroads, well T junction and had to turn right or left. So it was, that on Friday 13th 2000 I switched off my microscope for the last time and found myself the following week on a makeshift stage on a rain-swept, windy car park only a mile down the road from the Hospital dressed as a giant berry, singing "Walking on Sunshine" while a huge cock and balls inflated behind me.
After the second series ended I embarked on the first of my seven UK tours - The Overnight Success tour and I've been touring ever since. It's all been a bit of a blur to be honest; this second, surreal career and I've been incredibly lucky that one opportunity has followed another since then.
It's not all been plain sailing of course, there have been serious lows as well as the highs. My first marriage ended after ten years because I was a rubbish husband, immature and selfish and well rubbish. On the positive side I have two fantastic (and I mean proper fantastic in every sense), kids; my son is a top musician and my daughter a deputy head teacher and they are both lovely people. My brilliant kid brother Pete lost his battle with cancer while I was filming 8 out of 10 cats and it sort of knocked me for six and I lost the funny for quite a while and seriously considered calling it a day but hey, life goes on and Pete would have wanted me to carry on - he was cracking jokes right to the end. On the day he was admitted to hospital for the last time a nurse asked him for the hundredth time if he had any allergies and he told them yes - penicillin and wasps. The nurse looked puzzled and asked "Wasps? Do you mean when they sting you?" He stared at her for a second and said "No, when I stroke them I come out in a rash". That is the honest truth.
Highlights have been That Peter Kay Thing and Phoenix Nights, winning The Overall Best Show in Town award from the readers of the Manchester Evening News for my Overnight Success Tour after ten years plugging away on the circuit; then receiving a Gold Disc for DVD sales. Playing the Royal Albert Hall and the London Palladium then appearing on The Royal Variety Show in front of HM The Queen and later that same week guesting on the iconic Parkinson show with one of my absolute greatest heroes Paul McCartney. Team captain on 8 out of 10 Cats where I had one of my comedy heroes Joan Rivers on my team twice! Hosting Bullseye, the best game show on television - ever. Writing and co-starring in my own sit-com Dead Man Weds for ITV and Magnolia for BBC1 Comedy Playhouse and last but not least marrying my best friend, the ginger lass out of Blood Transfusion who I went to school with fifty years ago.
So as I embark on this 30th anniversary tour I still pause for thought occasionally and wonder if I would still be looking down a microscope today if it hadn't been for the juggler on a motorbike.