One month on since the first Nepal Earthquake hit, and millions of children are still in danger. Although their heart-breaking stories are disappearing from the headlines, they still need the support of Unicef, and the international community.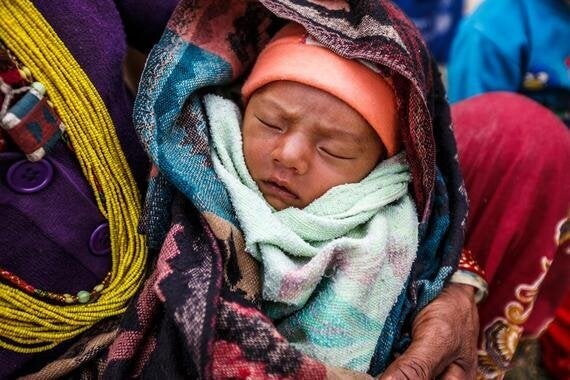 An infant sleeps in his grandmother's arms at an informal settlement for internally displaced people who have been affected by the two Nepalese Earthquakes in the city of Bidur, Nuwakot District.
Children and new born babies have been hit hardest. We estimate that the lives of almost 18,000 mothers and babies could be at risk, unless urgent action is taken to restore healthcare systems. In addition, the latest statistics show that around twelve babies are being born every hour without access to basic healthcare. The earthquakes have destroyed birthing centres across the 14 districts and caused massive damage to other maternal facilities. With surviving facilities overwhelmed, many pregnant women have been left without access to the healthcare they need to ensure the safe delivery of their babies.
Unicef is doing all it can on the ground, working around the clock to protect babies and mothers in desperate need. As well as distributing emergency health kits to up to 300,000 people and supporting hospitals, we have been setting up emergency medical tents, shelters and maternity facilities, to make sure mothers and children are getting the healthcare they need in areas where facilities have been completely destroyed.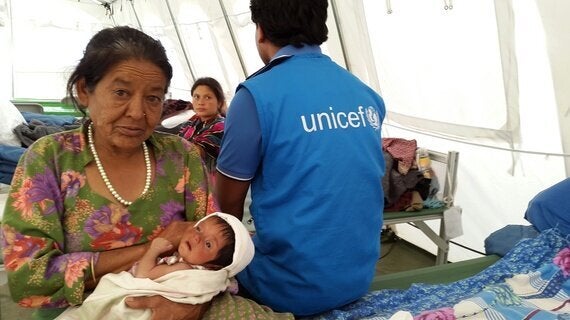 A baby girl, born four days before the first earthquake in Nepal, which killed her mother, is cared for by her grandmother in Unicef hospital tent serving as a maternity ward in Sindhupalchowk.
In areas like Sindhupalchowk, which was heavily damaged by the earthquakes, Unicef has set up a medical tent that serves as a maternity ward for expectant mothers, newborns and babies requiring special medical attention. In Dolakha, where the epicentre of the second earthquake was, staff have been carrying out nutrition assessments of children to ensure that they continue to receive all the nutrients and food they need.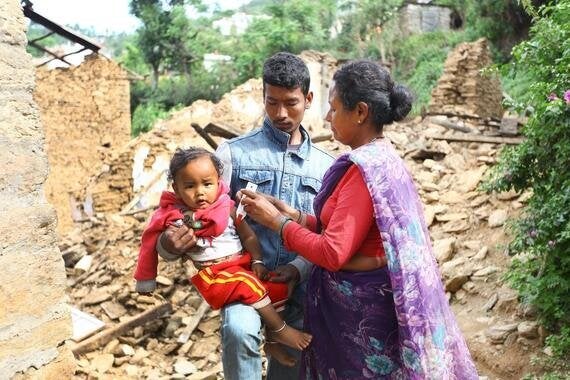 Urmila Shrestha, a community health volunteer, uses a MUAC tape to measure the upper arm circumference of a young child in Dolakha as part of a nutrition assessment being carried out by Unicef.
We also cannot underestimate the psychological impact of two earthquakes on the children of Nepal and. Our staff in the field describe scenes of children crying and hugging each other for hours as the earthquakes struck and people fled their homes. They report that many children have been suffering from nightmares ever since and that some are so extremely stressed they cannot sleep. It is crucial that we offer these children ongoing psychological support as well as a safe environment to live in.
In this regard Unicef is working tirelessly to help children cope with their experiences. Over the last month, we have set up dozens of child friendly spaces in informal settlements where children can access psychological support as well as space to play and take part in activities such as art therapy classes. We are also running a special programme on Radio Nepal - Bhandai Sundai - that offers call-in counselling to children in more remote parts of the country, to ensure that we are reaching as many children as possible.
It is clear that one month on from the first Nepal earthquake there is still much more to do to support these children who have gone through such traumatic experiences. The recent second earthquake only exacerbated the problems caused by the first and put more children in danger. Unicef needs your help to keep these children safe.
Popular in the Community