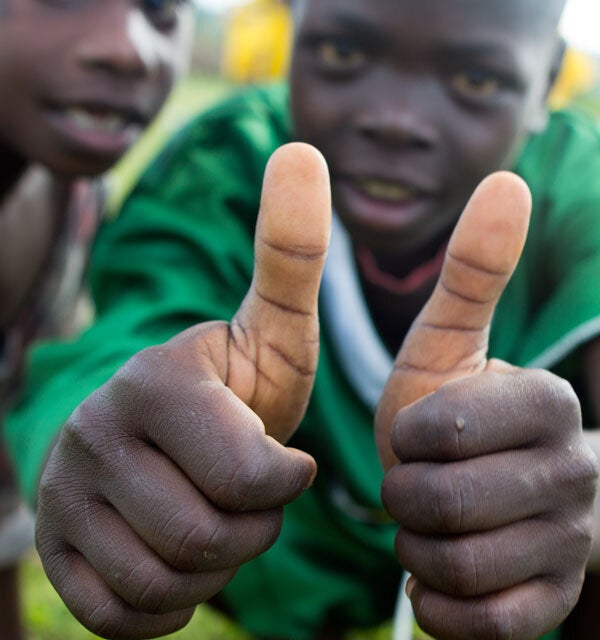 In the USA company giving rose by 12% last year to reach an epic $18.2billion. UK companies, by contrast, have shown a sharp decline in giving, down 27% this year - according to a recent report by the Directory of Social Change.
So what's the story - why aren't Britain's bosses backing charity?
It's not a trend we can simply blame on the recession. Over the same period, the pre-tax profits of companies studied for the report rose by 55% - so it's not necessarily a lack of cash driving giving down. And it's certainly not a course of (in)action supported by the UK workforce. Recent research by Give as you Live revealed that 50% of employees think their bosses should do more for charity - so why aren't they?
The main difference I see is that corporate leaders in the US get 'good business' a little better than their UK counterparts. They understand that doing good isn't just a nice add-on; it is totally essential in building a global brand, and they're happy to discuss it in such commercial terms.
On my last trip to the States, one investor nearly exploded (in a good way) when I described Givey's plans to help brands reward their employees and customers for doing good. He completely understood that by rewarding good, brands can build deeper relationships with people that are important to them. And that this is good for business. In the UK, too many companies seem afraid to have this discussion - to openly discuss the commercial returns of CSR and charitable giving. But that's crazy - if we make sure that doing good is good for business, then more people will do it, and everyone wins!
Before you cry out at the injustice of this, I'm not saying that companies should give to charity for commercial gain; just that the two things needn't be mutually exclusive. Of course, if a company wants to build a reputation for being good, then it must be good to the core. And surely the best people to authenticate this goodness are employees - arguably the most precious set of relationships for any business. Employee engagement is really big business, with a proven impact on turnover, profitability, retention rates, and just about every other valuable success metric. Just see the stats pouring out of the current Engage for Success campaign.
Employee giving schemes in the States - as part of overarching engagement strategies - are pretty much the norm (65% of Fortune 500 companies offer matching schemes). But here less than 0.2% of businesses run our equivalent of payroll giving, and often fewer than 10% of employees get involved. This contrasts with 33% staff participation in the USA (according to a recent survey by America's Charities.) Payroll giving is simply nowhere near being considered 'the norm' in the UK, either by employees or bosses.
There are lots of valid of reasons for this. Payroll giving schemes are only enabled by HMRC endorsed payroll giving firms, and can take a lot of time and effort to setup and administer - especially for smaller businesses. The system is also pretty transactional, and unless the company works hard to run campaigns and drive awareness, then there are few additional benefits such as improved brand awareness, reputation and engagement. Where Payroll giving works it can be awesome, engaging up to 20-30% of the workforce but with just a tiny percentage of the overall UK workforce engaged something different.
American company leaders for example seem completely in tune with the challenges of workplace giving, and are already using new technology and brand-thinking to fix things - 80% of companies are integrating their brand into their giving activities; and the same number have engaged tech companies to make giving better. More than half are looking to at ways to get more social, and they all (well, 92%) completely understand that giving needs to evolve to embrace a younger workforce - a growing challenge for us Brits.
So where does this lead us? If company giving is growing in the USA, and is also massively ingrained in corporate culture, then surely these two things are linked? Surely it's time for us as leaders and company directors in the UK to shoulder a big chunk of responsibility for the decline in UK giving? Let's use our understanding of technology and human engagement to develop and support new ways of giving - and make it the norm for British bosses to back charity!