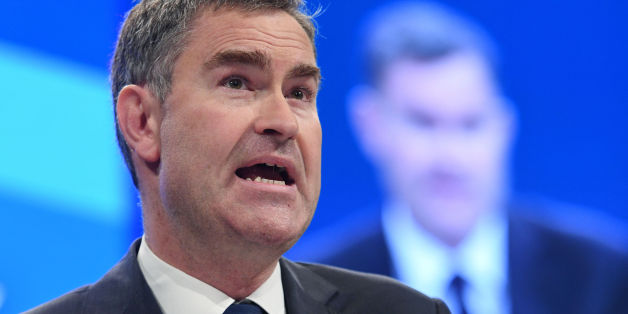 Stefan Rousseau - PA Images via Getty Images
It is not news that at least one in four of us will experience a mental health issue at some point in our lives. What's slightly less well known is that one in five working adults are dealing with some form of mental health problem. Experience tells us that these people also have a high risk of falling out of work. In 2013/14, 357,000 people with mental health conditions moved onto Employment Support Allowance, with a quarter of these leaving work to take it up.
That's a large number of people who may not have got the support they needed to stay in work. We need to change this - for those individuals, for their families, employers, and for the economy.
Mental health is complex and can impact on any - or every - aspect of the lives of those affected. Environment, housing, relationships and, crucially, work can often be intrinsically linked to the problems associated with mental health issues. But that also means they can be a vital part of the solution. We are already spending more on mental health than ever before - an estimated record £11.6billion last year with a further investment of £1billion every year by 2020/21. But to build on this support, employment has got to be part of the picture.
It's been widely proven that the right work can benefit mental health and we are committed to tackling stigma, supporting recovery and unleashing the potential of those affected. For some it may be as simple as finding the right job, an understanding employer or the right support. Some barriers can be tackled via our Access to Work scheme's dedicated Mental Health Support Service. But for many it's inherently more complex than that.
We need to realise that mental health is not just about one big idea. What it needs is a sophisticated and compassionate approach to creating policy that takes into account the complexities. We received thousands of responses to our Work, Health and Disability Green Paper telling us how we can improve support. We are continuing to analyse these as well as listening to those affected by mental health problems and their representative groups so that we can co-design support with them.
One of the most crucial times for this support is during the setbacks many people face whilst looking for work. That's why we're testing a Group Work initiative to help people build resilience, improve their employment prospects and their wellbeing. The trials started in January 2017 and will report in September 2019. As I announced earlier this month, we have trained 1800 Universal Credit full service work coaches in how to support claimants with mental health issues. Following testing, we expect it to be made available to all those work coaches who would benefit from it later this year.
We know there is no one size fits all solution when it comes to mental health so we are also more than doubling the number of employment advisers within talking therapies services to help people retain, return to and secure employment. To complement this, we continue to work closely with employers and our Disability Confident scheme offers the tools they need to recruit, retain and support new talent, including people with mental health issues.
We are already making good progress but we know we can go further. Over the coming weeks and months we will carefully consider the recommendations from experts Paul Farmer and Lord Dennis Stephenson in their independent review of mental health and employment, due to report shortly. We'll continue to gather evidence from trials on employment support and, alongside this, carry on working directly with people affected by mental ill-health and other experts to understand how we can best meet their needs.
We owe it to everyone affected by mental ill-health to get this right, so this requires much more than any short-term, sticking plaster solutions. I passionately believe work can form part of successful, long-term recovery for people with mental health conditions. As an issue that increasingly touches nearly all of our lives I am determined to maintain momentum so that no-one needlessly loses out on satisfaction and stability of a good job.
David Gauke is the Secretary of State for Work and Pensions, and Conservative MP for South West Hertfordshire