Football clubs in administration: rather like someone being declared bankrupt, a club on its uppers no longer has the stigma it once had. For some it's just been a way out of a hole with the added inconvenience of a league points deduction.
Of course, for others - Rangers a topical case in point - it represents far more; a cock-up of the greatest magnitude and the embarrassing ignominy of the club's coach driver setting his satnav next season for destinations as unlikely as Annan and Elgin.
For me also, administration is a painful reminder of how quickly things can go wrong, and of a time not that long ago when my club, Bradford City, were in the Premier League.
Yes it's true, for two years we graced the 'Best League In The World' (copyright Sky Sports' bombast department), even qualifying for Europe - that classic Intertoto Cup match against Dutch side RKC Waalwijk in July 2000 lives long in the memory as much for the sunburn as for the result.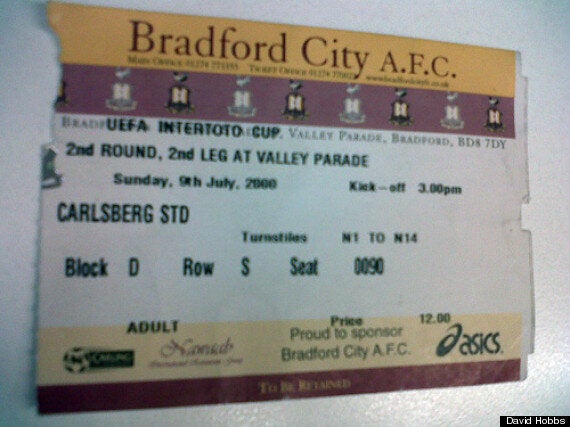 The heady days of City in Europe
When proudly talking to 'Big Club' fans about our two years in the sun (and reminding them of the score against their lot), most still remember us, some sympathetically ask where we are now and a few, mainly Man Utd and Chelsea 'fans' (you know the sort), just ask where Bradford is.
But, 10 years after City worryingly first met the administrators, I'm thankfully able to still catch up on the news and new signings at Valley Parade over the close season.
Of course, the days of wonder when Dean Saunders, Benito Carbone and Stan Collymore (don't laugh, his legendary goal celebration against L***s Utd will be passed down through the generations) lined up in the claret and amber are long gone, so it's no surprise that the new signings at a struggling Division Four club (that's League Two, kids) raise little more than a blip on the recognition register.
City manager Phil Parkinson reckons new signing Alan Connell from Swindon Town is "a proven goalscorer". Thirteen goals with last season's Division Four (see, I still can't do it) champions must mean he's a bit handy? Or is he? Who knows? I don't but I'm praying he and the other crop of mostly free transfers are, because God knows Bradford needs some good news - and fast.
With a rugby league club possibly going to the wall and a football league club ending last season just six points off the drop to non-league, the city is not in great sporting shape. Surely we don't have to rely on Park Avenue (kids, ask your grandparents) for a success story?
When David Wetherall headed the winning goal against Liverpool at VP on the last day of the 99/00 season, it not only secured City's Premier League survival but it gave an unfashionable club hope that it could compete. Hell, it meant so much there was even an open-top bus celebration through the city - for finishing 17th! David Wetherall in full flight after keeping the Bantams up
Wetherall's goal also ensured Liverpool didn't qualify for the Champions League. Five years later though, the Reds were organising their own street party as kings of Europe whilst the Bantams 'celebrated' six months out of another administration. And things have not been any better since.
But still, just like for many City fans and thousands of supporters of other lower league clubs with nothing in the bank and even less in the trophy cabinet, each new season brings me hope that maybe, just maybe, this one will be ours. It's 13 years since our last promotion. Does that number always have to be unlucky?
*Tip of the hat to David Hockney, one of Bradford's greatest sons