Three years ago, sportscar driver Allan McNish had a huge crash at Le Mans that destroyed his car and left many at the scene fearing for his safety before he was helped out by the marshals.
Two years ago, Anthony Davidson had another huge crash at Le Mans that left him 'happy to be alive' and in hospital with broken vertebrae. Months of recuperation followed.
One year ago, Allan Simonsen crashed at Le Mans and was killed by the impact.
Last Sunday, Mark Webber crashed in the final round of the FIA World Endurance Championship in Sao Paulo and ended up in hospital.
Unsurprisingly, all four accidents attracted widespread coverage across the media; each crash was spectacular in some way and as motorsport is inherently dangerous such incidents drew attention either out of concern or morbid curiosity. Frustratingly for sportscar racing though, it is only these incidents that tend to make the back, or in some cases, front pages. Compared to Formula 1, sportscars are non-existent in the mainstream media, which considering the UK has produced two of the most recent world champions, is unfortunate to say the least.
Last year, long-time Audi driver McNish won his third Le Mans 24 Hours and went on to take the FIA WEC drivers title alongside Tom Kristensen before hanging up his helmet for good. Davidson followed suit just three weeks ago with team-mate Sebastien Buemi and their Toyota team picked up the constructors crown two weeks later in Brazil whilst Webber was taking all the headlines from his hospital bed.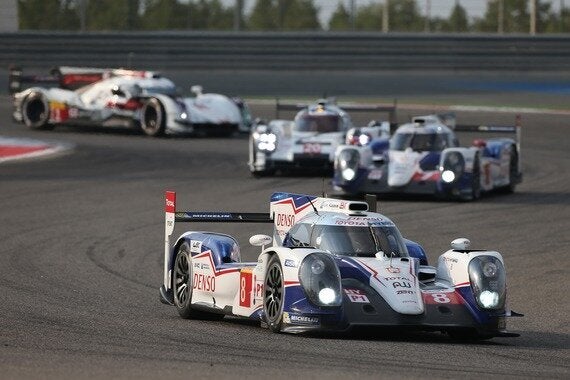 On the day of Davidson's success, BBC News' evening bulletin completely ignored his achievement; a complete contrast to the following weekend when the airwaves were flooded with Lewis Hamilton's second F1 championship. No prizes for guessing which one also made the BBC Sports Personality of the Year shortlist.
To be fair, the non-coverage is nothing new. Getting the media to cover motorsport beyond F1 is as easy as getting McLaren to make a decision between Jenson Button and Kevin Magnussen but that just makes it all the more galling when they jump on crash stories followed by the usual 'is motorsport too dangerous' navel-gazing.
Sure, F1 is the pinnacle of motorsport but it is also flawed and keeps disappearing up its own backside as its boss finds new ways of alienating the fans in ever-more desperate ways to make it more 'exciting' for casual viewers. But you don't have to look far beyond Bernie's world to find exciting racing accompanied by British success. Davidson won four of the eight races in this year's WEC but perhaps more importantly was the fact that seven of the eight races produced racing down to the wire with the top two cars never finishing more than a lap apart whilst the closest was at Spa where just 13 seconds separated first and second. All this after six hours of flat out racing.
Currently, there is plenty of speculation surrounding Button's F1 future and his possible transfer to the WEC next year. He would be following in Webber's high profile footsteps but for someone who a year ago rejected Le Mans because it didn't "tick the boxes" for him, any move would look like a second best option; and sportscars is much more than just a haven for ex-F1 drivers. More interesting is Button's colleague Nico Hulkenberg's decision to combine his Sahara Force India F1 duties with a Le Mans drive for Porsche. In this day and age of motorsport that is distinctly 'old school' and a refreshing change.
2014 has been a stellar year for motorsport, especially for home grown talent. A few months ago, I predicted a season that could be a classic in many disciplines and the year didn't disappoint. Hamilton's second F1 title was the climax of a title race that gripped throughout the year but there was so much more to celebrate. Davidson's victory was long-awaited and hugely deserved while the F1 feeder series, GP2 and GP3, were won by Jolyon Palmer and Alex Lynn respectively. When much of the sports sections of mainstream media are regularly filled with inches bemoaning the state of the national football or rugby sides, isn't it time some national heroes were offered the recognition they deserve?