A bus takes me from the centre of the Rioja region, north, on a 70-minute journey to San Sebastián. We pass through small farming villages where donkeys graze on the sloped hills, and cross bridges that stretch across great empty ravines. Water flows north over rocks below, before reaching the River Uruma in San Sebastián.
I spot the expanse of ocean in front of me from the motorway height, and then it disappears from view as we track the roads downwards, and into the city. The River Uruma pierces through the city centre, creating two banks, and the Concha and Ondarreta Beaches mark the city's northern perimeter, and the northern edge of Spain.
There are Belle Epoque buildings, elegant and kept pristine. As you enter the city, the sun bounces off the polished gold and marble of the hotel Maria Christina into my squinty eyes. There are palm trees, as with all imagined paradises, and off-shot alleyways and narrow passages filled with balcony apartments and pintxo bars.
Pintxo bars are proof that late-night dining can be cheap, delicious, and straightforward, something we've failed at in this country. Here we're punished with midnight kebab shops, where unrecognisable meats and orange sauce are served to the straggle of post-club yobbos in polystyrene boxes. Drink options are either Coke or Spite.
The pintxo bars and all-night spots of San Sebastián offer something quite different. They create an environment of appreciative gluttons, rejoicing in the bounty of grilled prawns, seared mackerel, and morcilla (blood sausage), each presented on cocktail sticks. I'd give up all of the faux meat in Finchley to be able to leave a club and fall into a classy pintxo bar, order a tumbler of sparkling Txakoli, all the while sucking the jamón fat off my fingers.
Locals will mark-off several pintxo bars in one evening, dropping their cocktail sticks on the floor when finished. Staff tell me that it makes clearing up after closing much easier. Indeed, I find most bars have a significant build-up of sticks on the floor, surely a positive sign as it suggests a lot of food consumed and therefore, the high standard and popularity of a particular bar.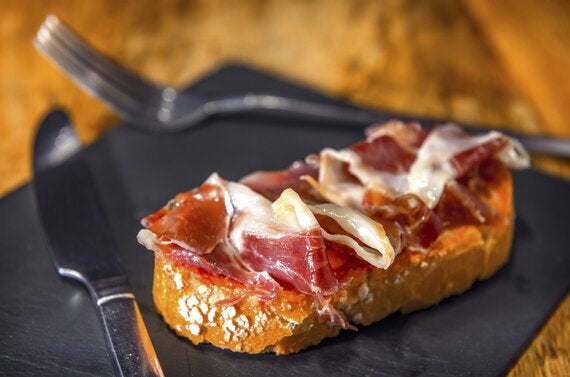 Jamón pinto. © Eduardo Huelin | Dreamstime.com
There are far too many pintxos to mark off, however I indulge myself wholeheartedly and skip merrily through the set, starting in Goiz Argi on Calle de Fermín Calbetón, behind the Plaza de la Constitución. There are prawn skewers, clam croquetas, and seared Padrón peppers; white asparagus topped with red peppers, and plump, green olives with salty anchovies. At Borda Berri on Fermin Calbeton they serve succulent and delicious veal cheek sliders and a local cheese called Idiazabal.
At Bar Astelehena one has an excellent view of the open kitchen, where the likes of steak and caramelised onions, and pork and prawn crepes are churned out to order.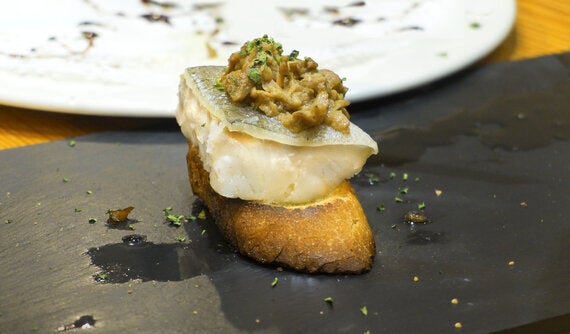 Mackerel baked in fish sauce with clams. © Alvaro German Vilela | Dreamstime.com
For a true and traditional taste of the city, I load-up further on brine-cured anchovies and tortilla de patatas, the Tortilla Española, and sip easily through a bottle of Juvé y Camps right before a dry Gonzalez Byass.
Eventually I end up at the bar in A Fuego Negro ("A Black Fire"), the Michelin pintxo within the Old Town, known locally as Parte Vieja. It's as if I've chronologically planned my culinary tour, starting with the rustic favourites of tortilla de potatoes and brine-cured anchovies, and ended here, in this neon-lit new-wave pintxo, with just a hint of the molecular.
Most of the pintxos at A Fuego Negro are needlessly and elaborately designed, such as "shaking" salad of duck which arrives in a plastic hamster ball for absolutely no reason at all, and several other dainty, finger-picking creations served on slider plates and in shot glasses. There's "Kositas", cod with pepper pips; "Txupitos", a shot of Ajoblanco soup with plenty of garlic, apple, and tuna; and finally mini Kobe burgers with banana chips that taste great, but are on the steeply priced.
Indulging both my ravenous appetite and Hemingway fixation further, I finished up in the Plaza de la Constitución, an elegant square designed in 1723 for bullfights by Hércules Torrelli. If there's anything that brings you closer to the Hemingway spirit in Spain, then it's bullfighting.
A fire in 1813 destroyed many of the arcaded buildings around the Plaza, however the original numbering on the balconies and private boxes has been preserved. Now bereft of its practical purpose, where parading bulls where once intimidated, picked-on, and bullied, today it's filled by an ageing populous and tired American tourists, who sit in the open air in a comatose state - their own death in the afternoon.
Part three of David's Culinary Adventures in Bilbao and San Sebastián will follow shortly.
Recreate David's San Sebastián pintxo crawl:
Address: Calle Fermin Calbeton 4, 20003, San Sebastián, Spain. Tel: +34 943425204
Address: Fermin Calbeton 12, 20003, San Sebastián, Spain. Tel: +34 943430342
Address: Inigo, 1/ Plaza de la Constitucion, 20003, San Sebastián, Spain. Tel: +34 943425245
Address: Calle 31 de Agosto, 31, 20003, San Sebastián, Spain. Tel: +34 650 13 53 73
International Sherry Week runs from the 2nd - 8th November 2015. Find out more from González Byass including events in the UK.
Related