There are many reasons you might want to visit Barcelona, but one that continues to top the list is the awe-inspiring architecture of Antoni Gaudí.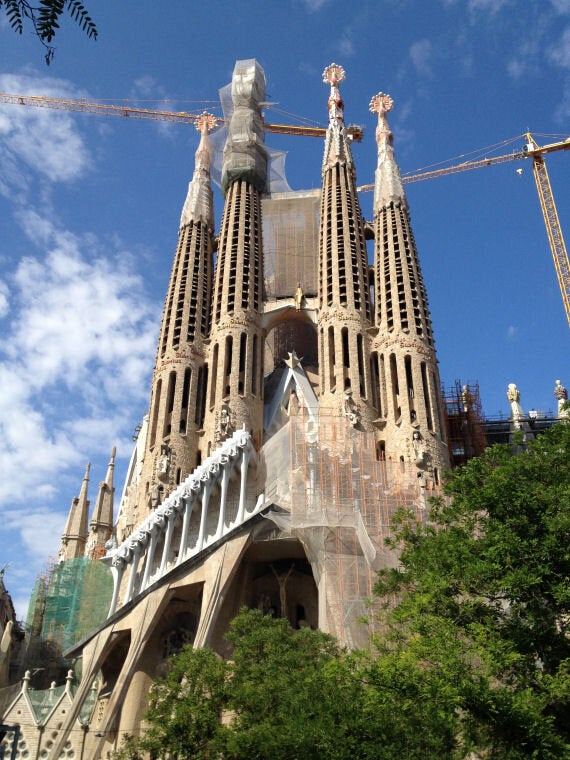 Sagrada Familia by the author
His best-known work is the Sagrada Familia church, famously unfinished 90 years after the architect's death and whose spires are an icon of Barcelona's skyline.
You can visit most of his most emblematic works using the "Barcelona Bus Tourístic" to get around the city. This official hop-on/hop-off tourist bus provides an easy way to see just about everything on the tourist trail for €28. There are discounted rates for children and pensioners. In a single day you get a great overview of the city with time to explore the sites that really interest you.
There are three different routes, but we're interested in the blue route. There is also a night tour of Barcelona at weekends during the summer if you'd like to see some of Gaudí's works illuminated.
If you're staying in the city centre then Plaça Catalunya provides a useful start point for the blue route.
Casa Batlló
On Passeig de Gràcia there are two must-see Gaudí buildings. The first of these, Casa Batlló, is the stop after Plaça Catalunya. It really shows off Gaudí's imaginative designs, with the roof said to represent the dragon from the legend of St George.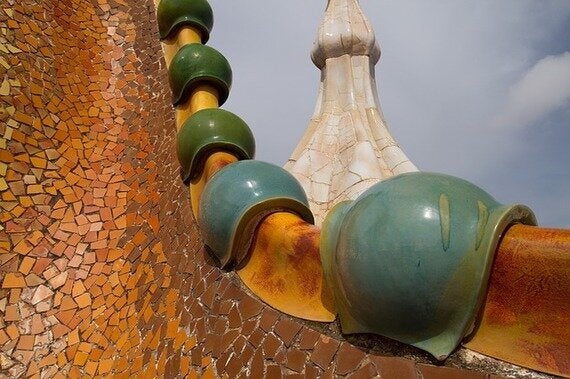 While you may wonder why England's patron saint is represented in Catalonia, the reason is simple. Catalonia's Sant Jordi is one and the same as St George. You'll notice a red cross on a white background appears on many official emblems, including FC Barcelona's crest.
While many people see Casa Batlló from the outside only, it is worthwhile visiting to see Gaudí's interiors. The roof is interesting to see up close too.
Casa Batlló is located in the so-called Manzana de Discordia. Here you can also see buildings by Gaudí's contemporaries, Lluís Domènech i Montaner, Josep Puig i Cadafalch and Enric Sagnier.
La Pedrera
The next stop on Passeig de Gràcia is Casa Milà, often known as La Pedrera. The latter means "the quarry" in Catalan, which it what the facade reminded locals of when constructed in the early 20 century.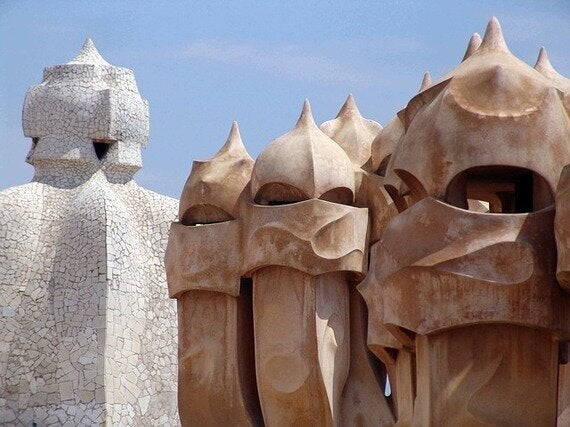 Here you can learn more about Gaudí's innovative design methods and go out onto the rooftop. It's chimneys are one of the most iconic images of Barcelona.
Sagrada Familia
The bus next stops at Sagrada Familia, the unfinished church in the Catalan architect's inimitable style.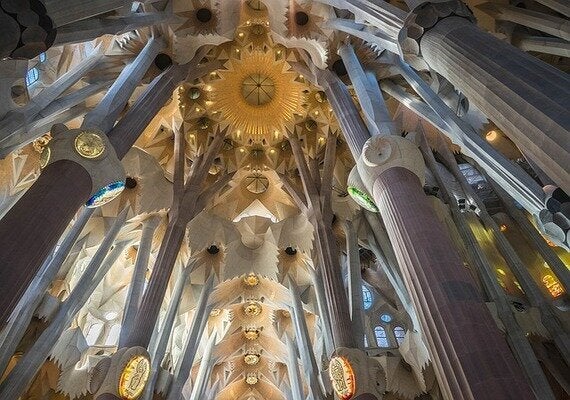 Gaudí took over responsibility for the church after the original architect resigned. The original design was neo-gothic, but when a large donation was received Gaudí proposed an audacious new design using innovative construction methods.
Although Gaudí died in 1926 when a fraction of the project was complete, work continued over the years that followed in fits and starts, as donations allowed. Today work continues at a tremendous pace and Sagrada Familia is scheduled for completion in 2026, a full century after Gaudí's death.
Extraordinary to look at from the outside, Sagrada Familia is definitely worth visiting inside. As well as the central nave, inspired by the branches of trees, you can take an lift up to the top of two of the towers. As you may have to queue for an hour or more for the lifts you may consider your time better off spend elsewhere, but a tour of the museum and Gaudí's workshops is recommended.
Park Güell
Two stops on from Sagrada Familia is Park Güell. It was conceived as a housing estate where the wealthy would benefit from the fresh air and get away from pollution in the city created by their smoky factories. But ultimately just two houses were constructed there and instead it opened as a public park in 1926.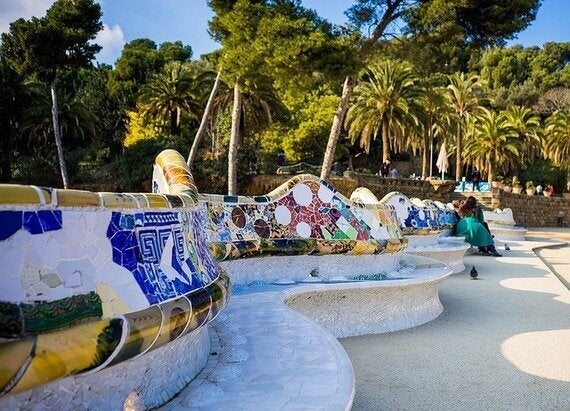 Park Güell shows many of Gaudí's hallmarks, such as the organic looking support columns of the market, the broken ceramic "trencadís" used on seating, statues, ornamental fountains and the "gingerbread" pavilions inspired by Hansel and Gretel.
One of the houses is now a museum devoted to Gaudí. Designed by Gaudí disciple Francesc d'Assís Berenguer i Mestres as a show house, Gaudí lived there from 1906 until his death, originally with his elderly father and frail niece.
As well as the museum it's worthwhile spending some time just wandering the paths before getting back on the bus and enjoying Barcelona's other sites.
You might want to hop off at Palau Reial though. Here you can see a wrought iron gate with a dragon design at the entrance of the Güell Pavilions, next Barcelona University's law faculty.
Palau Güell and Plaça Reial
For our final stop on the Gaudí tour we're going to take things easy. If you finish at Plaça Catalunya you can walk down the Ramblas towards the seafront. To cut down on the walk take the metro one stop to Liceu.
Walk 200 metres southeast towards the harbour until you see Carrer Nou de Rambla on your right. You don't need to walk far to find Palau Güell, a mansion built by Gaudí in the late nineteenth century.
On the opposite side of the Ramblas is Plaça Reial. One of Gaudí's first commissions was to design the lampposts for the square, distinctive for its tall palms.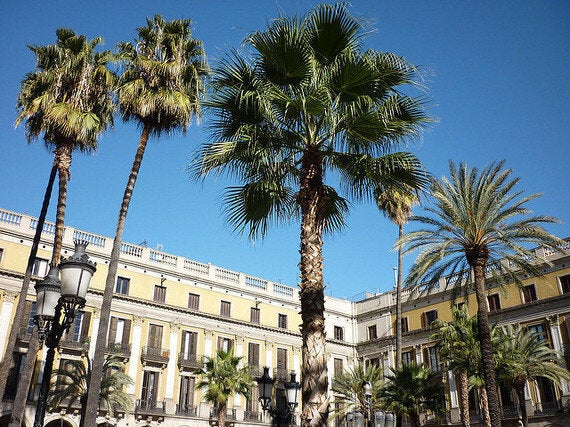 I'd recommend going here for a late night drink after a leisurely dinner but if you're feeling more energetic there are a number of music venues too. Sit at a table outside one of the bars to people watch. And as you sip something cool take a look at Gaudí's cast iron lampposts.
Now that's the way to do architecture.