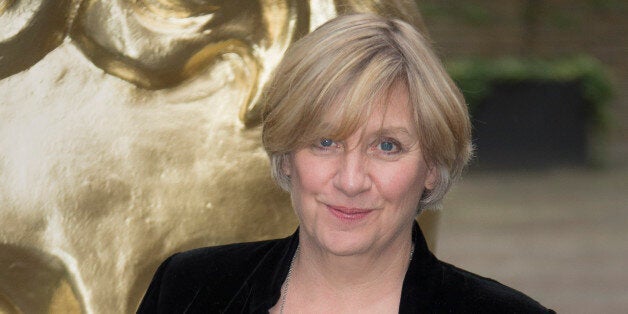 "You can have me in a hammock with an instant whip. You're paying!"
The impression I get is that she was one of the finest, one of the greats. The wit was a reading wit: funny, intelligent, observant realism with a twitching sting. It was subdermal: deeper than language and timing; it fluttered in her stomach and it caught in her giggles. It knew pathos and pain. She understood her country, and helped to explain it.
I don't think anybody identified with Alan Bennett's observations as much as Wood. They often used the same actors. She recognised the voices of his Talking Heads (1988/1998) and extended our time in their company. Whilst Bennett's were twitching curtains, and having solicitous affairs with Hindu shopkeepers, Wood's were elsewhere.
They were in the leotard and handbag department, transport cafes, northern hotels, "I'm afraid we don't accept faces," factory canteens, on international cruises with their own teeth, "Standing up for ten - lying down for twenty," backstage at the BBC, revisiting bad television and condescending presenters who "certainly wouldn't put yoghurt on it."
She performed her own material and shared it with others. She created memorable moments for many actors. Across the years, I would see some become enormously successful, and think, "Oh there's another one of Victoria's."
I also got the impression that motherhood represented a dark material with which she sharpened her observations. Thora Hird, Julie Walters and Shirley Stelfox all portrayed her unflattering mothers, "I've seen you on the telly wi' Prince frigging Philip!" Her writing described them in ways that made me wonder at her personal experience.
Yet, her pregnancy and birth routine was as empathetic as women viewers needed a woman to be, in an industry where men were the perceived geniuses and the women were quite good. Wood understood women and explained them in a way that the feminist academics of her generation couldn't quite. She ruptured her bit of glass ceiling inarguably and impressively.
There was something special about An Audience With Victoria Wood - wasn't there. Was it really 1988? What she achieved, performing to a crowd of "peers," was a moment of astounding TV transcendence. It culminated with the song The Ballad of Barry and Freda; so good, so triumphant. Enough to make you laugh until you cried; enough to make you weep at its sheer perfection, "Bend me over backwards on me hostess trolley..."
She was sparing in her self-consciousness. She was barely self-conscious at all. Madge in her new leotard showed the depth of her comedic courage - and the audience her body. In the aerobic period, she invited the audience's laughter at her expense. Yet, she owned it, and celebrated it. She prevailed because she made us look. I still recall "Miss Berta's" visible crotch in Acorn Antiques with a mixture of shock and admiration?
Everybody will have a favourite, but give me Pat and Margaret (1994) every time. For me, that was the moment where her stature in British entertainment became indelible. I probably quote it as often as I do All About Eve (1950) (1950). If I watch either today, I'm bound to think at some point, "Ooh. So that's where I nicked that from."
She wasn't politically correct, not really. What would today's digital audience make of her treatment of Parkinson's in Two Soups? She was democratic. The "Tony Blair" punch line in dinnerladies (1998 - 2000) was indicative of a character's tunnel vision, but simply reiterated an unequivocal political point, week in week out: he had/has a lot to answer for.
I get the impression that she went to work and went home. She didn't feel compelled 'to keep her face in', as it were. She didn't trouble the public with her private life; it was all there in her graphically honest comedy. The only ad I remember her doing was a head lice treatment for kids.
I'm loathe to start saying things like "the best post-war comedienne," because I don't like comedy enough to make an astute judgment. But I must be in the ballpark. She was definitely the governor - well I can't call her the governess now, can I. I just believe that she was great, and I'm grateful to her for making me crease with unbridled laughter in "This sod of a life."
Thank you so much Victoria. You still crack me up.
Related