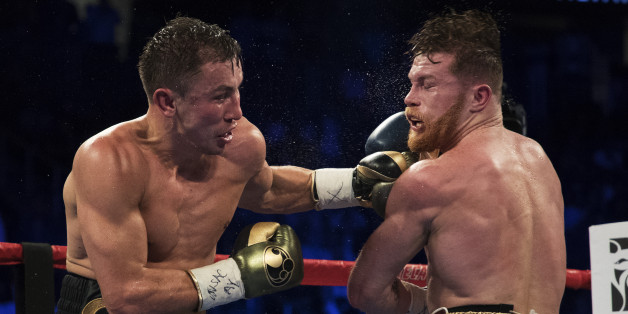 Al Bello via Getty Images
On Saturday September 16th at the T-Mobile Arena in Las Vegas, two of boxing's greatest fighters Gennady Golovkin 'GGG' and Saul 'Canelo' Alvarez went toe to toe in what was deemed 'Supremacy'. The winner of the fight would take home the WBA (Super) WBC, IBF, Ring magazine and lineal middleweight championship titles currently held by GGG and become the undisputed middleweight champion of the world.
After a thrilling contest the fight was declared a draw, and this left many boxing fans who watched the bout with a feeling of anticlimax, questioning the decision of the judging panel.
Judge Adalaide Byrd scored the bout 118-110 in favour of Canelo, Dave Moretti scored it 113-115 in favour of Golovkin with the final judge Don Trella scoring the contest 114-114 a draw.
After the match, Golovkin quoted that the scorecard that Byrd gave was "bad for boxing", he has a point.
Just one decision can have a big impact on a boxer's career as it is forever present on their record. Golovkin despite remaining unbeaten, now cannot match the likes of Floyd Mayweather Jr and Andre Ward in being able to boast a perfect winning record to his career.
The decision doesn't really work for either fighter. Golovkin the older fighter at 35 felt that he had done enough to win the fight throughout the match. Should the two agree a rematch, he will be a year older, perhaps reaching the twilight stage of his career. The decision as far as Canelo is concerned means that he still has no claim to the titles that Golovkin holds despite not losing. Yet a rematch would suit Canelo in the sense that he could still be learning as a fighter at the relatively young boxing age of 27, still progressing and getting better after his sole loss to Mayweather Jr. He showed that he could cope with the power of Golovkin and even come on strong at the end.
A rematch between the two now looks likely to happen with a potential date set for March or May next year. There certainly remains public interest for the fight to happen again and boxing fans would like a conclusion as to who the best fighter of that division is and arguably the best pound for pound in world boxing.
Boxing is in need of a superstar and certainly GGG looks able to fit the mould, a go-forward fighter with both power and accuracy in his hands and possessing a phenomenal record of 37 wins with 33 by knockout.
I gave GGG the edge in this fight with Canelo. I was impressed with both boxers and Canelo fought admirably in the opening and closing rounds but GGG I felt controlled the fight without being truly hurt by Canelo's punches. I don't think the same can be said for Canelo who I felt was feeling the pressure throughout.
The match stats after the fight however would suggest that a draw was the correct outcome, with Canelo landing a larger percentage of his punches at 33.5% with Golovkin surprisingly managing to land just 31% of his punches, with his power punches averaging less than in his previous fights.
With Andre Ward having recently announced his retirement, the vacancy for the no.1 pound for pound fighter in the world looks open to either Canelo or GGG, but there are other world level fighters who can certainly take that position. More unification fights across the divisions is what boxing needs in order to find its superstar.