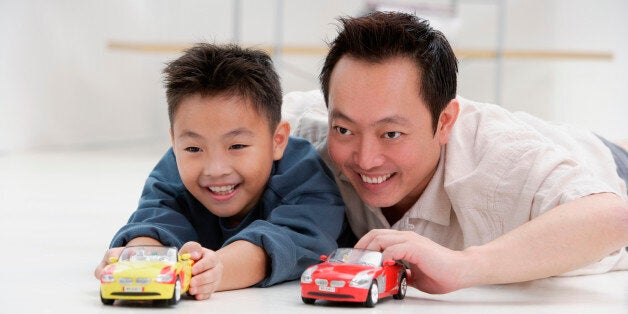 The one thing I would like to change about my dad is 'his temper'. So said one eight year old in Donegal, Ireland. He was not alone. Several hundred boys were asked what they would like to change. The majority of them said 'his temper'. The boys also talked about what they liked about their dads as well. 'I can tell my dad loves me by the way he looks at me...I love my dad more than anything else in the world.' At the same time fathers, in focus groups, were saying that their main concern was to be 'good enough' fathers to their sons.
Promoting Fatherhood, a Donegal based independent training and consultancy agency wanted to support fathers to build and maintain close relationships with their sons as a preventative measure against suicide. They created 'Fathers and Sons - Staying Connected'. The course was designed to support men in their fathering and in their relationships. As boys grow up and enter teenage years a distance can develop between them and their father. Boys will tend to talk, if they talk at all, to their mothers. Some boys have said there is no point in talking to their fathers as he will only come up with 'playground solutions' to problems. Boys need to be able to talk to their fathers. Knowing you are connected to your father will bring a sense of belonging which can help prevent young men feeling lost.
On Staying Connected the fathers were appreciated for what they were already doing. The approach was to keep it safe, keep it simple and keep it real.
Each evening started with the fathers being asked 'How was your week as a father?' One father has said that a distance had started to grow between him and his middle son. They talked less. They hardly hugged any more. He had tried going to the sons football match and cheering his son on. But his son said: 'Look dad, I know what you are doing. I know you are on that course but please don't come and scream and shout like that when I am playing. I don't like it.' The father was devastated as he felt he had made a bad situation worse. We encouraged him to find other ways to be there. The following week he took a plate of orange segments to the match at half time and stood while his sons team cleaned the plate. His son gave him a big smile. That evening at home his son gave him a spontaneous hug. The father told us that their relationship went on improving.
This kind of openness from the fathers was a common characteristic of the course. It was a product of setting the group up so that the men felt safe. Given the right space men will talk about their worries and concerns. One group described a safe space as a place where the men take it as read that we all loved and respected our wives and families, that you wanted to take your jacket off, relax and get on with talking and listening to each other. We did not use over heads or power points. We did not ask them to write anything at any time. And we tended to avoid training type exercises and activities. One father described the course as 'focussed chat'.
Towards the end of the course we asked the fathers to think about what makes you mad? This led to an open honest discussion. Then we asked them to sit quietly and think about what they do when they are angry and to think about whether it might scare their children.
We then offered the space for any father, who felt able to, to share some of his thoughts. Along with common ideas on preventing and handling your anger we also spent time looking at how to reconnect to your child. Getting that connection back in whatever way worked for the child.
The Staying Connected course acknowledged what the fathers were already doing. Each evening was safe, simple and real. It encouraged them to bring out the love and liking that they already feel for their sons. Approaching the fathers in this way meant that they were more able to connect with their sons from that place. Fathers love their sons. Boys love their fathers. Life sometimes gets in the way. The course offered the fathers skills to help them keep that connection open.