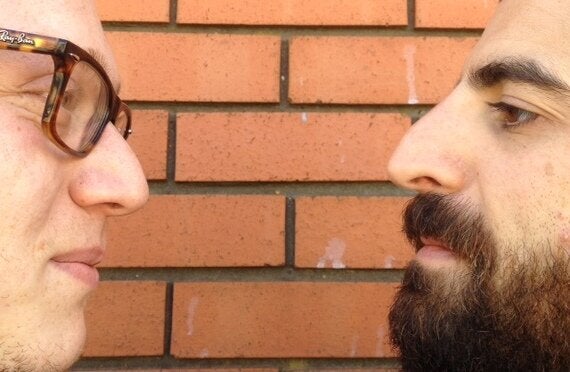 Six months of house-hunting in London and I still haven't sealed the deal. But I have met estate agents. Dozens of them. And it is almost unsettling; they have not been the rude, arrogant, cretinous benders-of-the-truth that the generalisation might suggest. They are different. Or, more accurately: indifferent. I have signed up to countless agencies and not once has an employee got back to me. Agents, in my experience, simply don't seem to chase would-be buyers. Why? Because, as the capital's property market continues to boom, they simply don't have to. For countless punters like me, this adds to the gloom. But I wanted to interview one of these guys to see what the market looks like from their end...
I convince Hayden Grossman, a burly 21-year-old Sales Negotiator from north west London firm Paramount to meet me for coffee and a chinwag. He arrives slightly after our agreed time. A thin film of sweat clings to his forehead underneath pricey tortoiseshell frames. He is distracted. "So sorry I'm late," he offers a big paw. "I just agreed a flat £48,000 above the asking price on the way up here. Shall we sit inside or out?" I glare at him and mouth 'outside'. I suppress the desire to scream HOW MUCH FUCKING MORE?! and we slip into seats in the dappled spring sunshine.
I start by telling Hayden about my own experiences of the London property scene. I treat him like my mother. Or a therapist. I complain about the vortex of spiralling prices, of unforgiving open days. About the existential despair and panic and gloom. He nods patiently. I turn the tables: what's it like selling homes in 2014? "It's chaotic," he explains. His voice is level. "When I started a couple of years ago we had to call prospective buyers all the time. Now house-hunters are chasing me on a daily basis. I mean, this weekend I've got five open days and 120 applicants to get through the door. It's manic!" he guffaws. I contemplate his phalanx of fellow prospective buyers. My nemeses. His meal ticket. As our lattes arrive my mood is blackening.
But how do buyers get ahead in this market? Can he share any tips? Am I doing something wrong? He sips his coffee. "Some people are desperate and try and bribe me. They think they can chuck me a backhander and I'll take a flat off the market for them." And does he think about taking it? "Never. It's unethical. But anyway, I really don't have to. The properties are selling themselves at the moment. Demand is massively outstripping supply." He sparks up another fag. "Frankly, people are offering on new homes out of panic of missing out. It's almost like we're auctioneers these days and not negotiators the way the market has gone." Auctioneers, he says...
Hayden is part of a new breed of estate agent. Fed up with university - and the annual fees of £9,500, which he describes as crippling - he quit his degree in 2012 after a year to chance his arm at selling houses. Doesn't he regret leaving... "Not for a second," he hits back before I'd finished my question. "I realised I wasn't getting anything out of it. Plus I'm extremely money motivated. I saw a window of opportunity. I've never regretted doing what I've done," he purrs.
I want to know more by what he means by money motivated. I cheekily ask what he made last year. He eyes me up. "About £45,000," he announces coolly, dragging on his cigarette. "But you have to remember that I changed companies in that time and had a couple of quiet months." I can't believe what I'm hearing. I contrast this with the pittance I eked out waiting tables at his age. I mask my covetous emotions with quips about how crap my wages were when I was his age and that what I did make went on trying hopelessly to pull the birds. Then I sink into my seat thinking how little my life has changed.
I question if that is one of the reasons why people might grimace at the thought of estate agents. He's earning significantly more than a nurse twice his age might be taking home. "If you enjoy what you do money shouldn't come into the equation. Nurses help cure people. If you love being a teacher and helping mould young minds then it shouldn't matter about the cash.
"We get our kicks from buying nice cars, nice watches, nice suits and houses. The money helps but If you don't get a buzz from what you do there's no point doing it." It's a well worded answer. He's outfoxing me. I glimpse his blingy power watch peaking out from his cuff. "It's a Panerai," he informs me. Favourite of footballers and film stars. How much did he pay? He grins shyly. "I'd prefer not to say." What other toys can he splash out on? "Well, I've bought a brand new Audi A3. Plus I went to Las Vegas for my 21st birthday last summer." I offer, patronisingly, that he is simply frittering away his salary. "No, not really." He counters. "I still bank half." Fuck.
I shift uncomfortably in my seat and realise, without thinking, I have been defensively pinching the end of my penis through the pocket of my jeans as he tells me about the boys' toys he owns that I can in no way afford. It crosses my mind that I really need to get on - or get off - the housing ladder soon for the sake of my mental health.
Perhaps he senses my discomfort and changes tack. "It's not easy money though." he insists. "I take calls on my mobile until midnight when we are closing a deal. I sometimes write emails at two in the morning. Trust me, a lot of legwork goes into buying and selling a house.
"Remember, for people of my generation, we were always told to be careful with money. It was something drummed into us growing up in the recession. It's not about the degree so much any more - it's about how hard you work." The modern spirit of Thatcherism is alive and well in this pocket of north-west London at least.
We fall into silence and both check our mobiles. Hayden seems to encapsulate a lot about modern London. He's bullish, ambitious and armed with a sharp mind and articulate tongue. You can't blame him for turning his back on student halls, freshers' fairs and eye-popping uni fees.
We make to leave. As a final thought I ask him what message he would give to those (like me) who traditionally are not predisposed to feeling the estate agent love? "It's tough because everyone likes a common enemy. Perhaps that's why some people sometimes don't like us. But if I can make one buyer say: some might be bad, but I've been amazing! I'd love that. With my generation of agent, it's just not worth being a wheeler-dealer. We have to be businessmen now. Remember; your buyer today is your vendor tomorrow!"
We depart shaking hands and he snakes off down the high road, mobile phone sutured to his ear. I walk off perplexed and a little vexed. I wanted to loathe this kid but couldn't. The opposite; his answers were never wide of the mark. The thought comes into my head that I should quit my job and become an estate agent. After all Hayden's protestations, I really can't help but think it's easy money...
Related