Those of you who have been following my story know it is not a short journey, I have a long way to go. This weekend I got to achieve a major milestone on my journey, but so much more than that.
I live in Oldham on the outskirts of the great city of Manchester. I moved here 21 years ago with my then boyfriend (now my hubby). I will always say "barth" and "grarse" but other than that I pretty much fit in and I am proud to call this my home. The events of last Monday in Manchester sent shock waves that were felt across the world. As a mum of two girls (9yo and 15yo) we try and find a balance between giving them space to spread their wings and keeping them close and safe. But we are always their free taxi and chaperone when they need it. Hundreds of people's lives changed that night forever, Manchester changed.
When I drove into Manchester the next morning for work, I didn't have the radio on. I just drove in quiet not knowing what it would look and feel like in the city. Whilst the streets of Manchester were sombre, all I saw was people being kind to one another across all communities and offering love and support to those struggling to come to terms with their feelings, worries and tears. I felt proud of my city and its people.
This weekend was always set to be an epic one for Manchester. On the Sunday was the Great Manchester Run. Thousands of runners and supporters flock into the city for the half marathon or the 10km. For one day of the year, the roads are closed to cars and you get to run through the streets of Manchester. The decision was made by the powers that be, after the events of last week that the runs would go ahead.
I signed up for the 10km some time ago and trained to lift my very slow 5km to get to a very slow 10km. Anyone who knows me knows that this year I have agreed to some things that would have previously been seemingly impossible due to being shy and low in self-confidence - so far I've been on TV and radio and in the newspaper once or twice. So when I was asked if I would consider live streaming my 1st 10km at the Great Manchester Run on Facebook live for BBC Sport, I thought "why not?". That would help more people see my story and what you can set out to achieve if you just make that first step. I didn't give an awful lot of thought at that point of the backpack I would need to carry for 10km with the technical equipment or the rather fetching head camera on a band that would make my already sweaty head feel even hotter and heavier.
Even though the decision had been made for the runs to go ahead, each individual runner had their own decision make, one that only they could make and was down to their own personal reasons. I know some people did not come into Manchester that day and I totally understand that - they needed to do what was right for them. I decided I would run. I decided that this was my plan to run, this was part of my plan for my happier and healthier and more fulfilled life, I wasn't going to let that be taken away. I was going to run and live my life. Don't get me wrong as I set off from home early on race day I hugged my girls tight and told them how much I loved them, but then I set off to live my life.
My amazing friend Mel has been running with me recently. She is a much faster runner than me and done many runs before, but we run together, for us it's not about speed, it's about the friendship and time together. Finish lines not finish times! She signed up for the 10km too so we could run together. I could not have imagined how much I would need her that day.
On Sunday this 41 year old over weight lass ran 10km though the streets of Manchester. Yes I was so proud of myself for what I had set out to achieve and that I got there. But I felt responsibility way beyond that of just to get myself over the line. By wearing the headcam, anyone across the world that wanted to be part of Manchester that day got to watch it through my eyes. They got to see the streets of Manchester and its amazing landmarks, but more than that they got to see the fighting spirit of this powerful city, families cheering together for friends and total strangers, cheering every runner. They got to see runners determined to turn up and run with pride. I got to share it with my beautiful friend who kept me going the whole way. That camera on my head was the gateway for them to experience this. We had viewers from Australia, Spain, Indonesia, France, Chad, so many places across the world sharing the strength of Manchester through my life. My run and Manchester had over 96,000 views.
So that was why my weekend was amazing!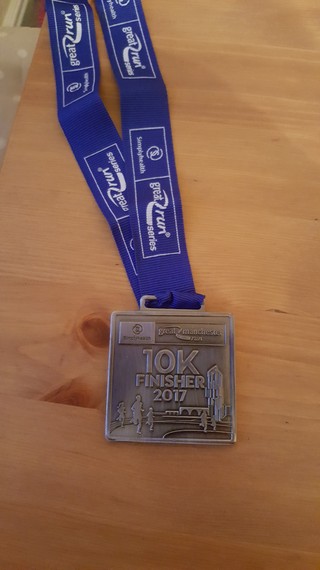 Image authors own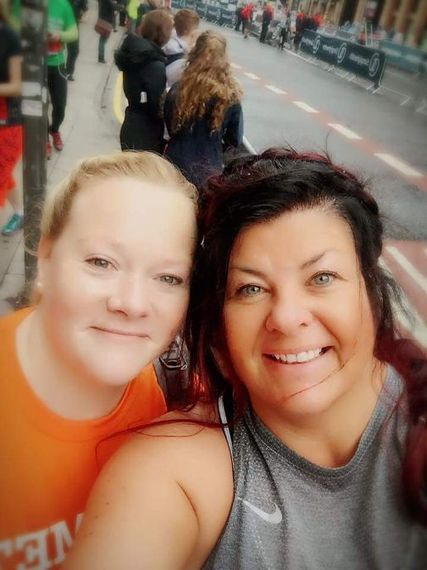 Image authors own