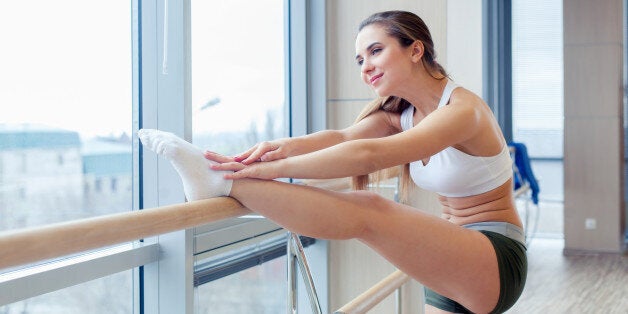 We're facing into nice long evenings and sunny days to come (well we can dream can't we) so it's as good as time as any to get out there and get moving. Squats, lunges, treadmill - boring!
I always find it's easier to start a health kick in the summer, so I've checked out what's on offer if you are looking to get fit but are not a fan of the gym or pounding the pavements at 6am.
Aerial and acrobatics sounds like an exciting way to improve flexibility but it is definitely not for the faint hearted. It involves you dangling from fabric or a trapeze hoop mid air while performing yoga type movements. It claims to give you a total body workout, improve balance, define muscles and even relax your mind. This may sound like a challenge but the benefits do sound promising.
A fun catch-up with the girls once a week or go along by yourself and imagine you are in training for a hip-hop video. But this type of dance also has some serious benefits. Flexibility, improved strength and body conditioning are all positive side effects of this fitness craze.
Pointe and Pre-Pointe Ballet
Great for strength and poise, foot strength and coordination. I feel graceful just thinking about it! This is a great fitness regime for anyone who loved ballet as a child and wants to get back into the discipline or those of us who always felt like there was a prima donna trapped inside just waiting for this opportunity.
Climbing the walls at work? Live in a city but want to climb? No problem. Indoor rock climbing solves all these issues while improving your strength. And the great thing is anyone can do this regardless of age or fitness level. This workout proves a physical and mental challenge and for can give you a real adrenaline rush when you reach the top.
Really let lose and enjoy working out to some great tunes. These classes are high energy so offer a great cardiovascular workout while you shake your booty.
Want to get fit but can't afford the gym right now? Well there are a world of fitness videos online; everything from legs, bums and tums to Pilates in your sitting room. Some are free and most subscriptions offer a plan tailored to your needs and even include diet and nutrition tips. This is a great way to get started if you are conscious of how unfit you are before joining a class. Be warned though you need to be super dedicated with this one as you have nobody to motivate you but yourself.
This form of dance improves posture, flexibility and gives well defined muscles - sounds like it's worth a go. It also increases body awareness - great for those of us who find sometimes our body doesn't do what we tell it to. If we can get fit while wearing a belly chain and learning how to work those hips, it's a winner in my eyes.
The key to long term fitness is enjoying something so it doesn't actually feel like work. Find something that clicks with you and you won't even notice your pedometer racking up the steps and your energy surging.
Let us know if you've tried any of these or some other form of fitness we may love by commenting below