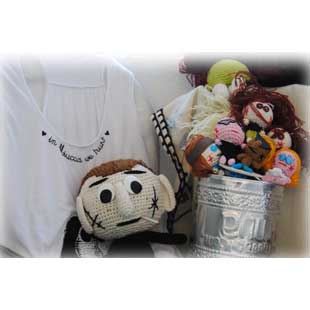 Interview with the creator of the Mua Mua celebrity dolls, Ludovica Virga. Ludovica is a young entrepreneur who did not set her girly side on mute when she became a Signorina. Full of dreams and packed with an incredible imagination, Luvilu (as everybody likes to call her), knows how to make her wishes come true.
From the small island of Bali where the dolls are hand knitted, to Milan-Paris and New York, Lulu has taken her dolls and presented them on the best stages. After a first successful shot, she has developed a range that is now starring Karl Lagerfeld, Lady Gaga or Anna Dello Russo to name a few. The "chosen" are utterly happy and the number of adepts grows every fashion week.
Indeed, the Mua Muas are somehow the raw side of the celebrity-fashion industry. Full of scars they pretend to protect their owner by transforming bad energy into positive vibrations. If you are a believer that dolls are for kids only you will have to review your judgement once you will have discovered the Mua Muas and what they have to tell you.
At first they make you laugh and then they make you realise that we live in a world of fantasy where gods and goddesses are trying desperately to reach a state of perfection from Hollywood to Bollywood. Mua Muas are a form of Pop art; they pop up and follow the celebrity stream. The future faces are unpredictable but from the current ones we can only get thrilled and be longing for more. Definitely not prescribed for child only, they are reminders that fairy tales do not have end dates.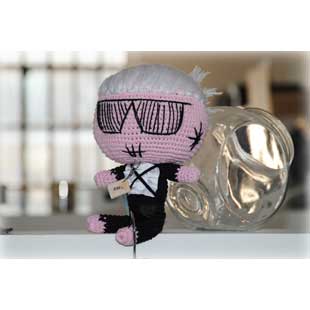 1. Can you please tell us why you called your doll collection "Mua Mua"?
LV: I call it "Mua Mua "because in Italian it is the onomatopoeia for a kiss. When the doll project started my boyfriend at that time did not have a lot to say so when he would send me some sms he would only write "muamuamuamua"-that is why I decided to call the dolls "Mua Mua".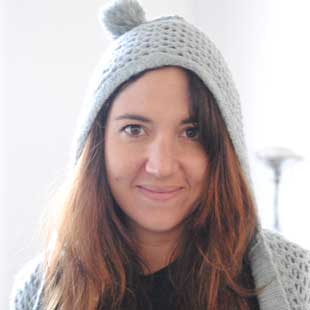 2. Why did you create dolls for adults/ adult dolls?
Fashion is not something that should be taken too seriously. My dolls are fun and pretty ironic. They come in various sizes, from decorative ones to key rings. When it comes to portray fashion or celebrity icons one should not be serious about it. The idea is to highlight their main features and imperfections, which are what make them so special.
3. How do you get ideas for new dolls?
LV: The people around me. It is about picking a friendly victim, find who is having an international momentum and is taking central stage in the events and party reports. In a word, whom people want to emulate or what generates controversy. This season, I have pointed my knitting needles at Beyoncé and her husband and endowed her dedicated Mua Mua with a gorgeous breast and a big bum.
4. Did you like dolls as a kid?
LV: I was not a big fan, Of course I owned Barbies like any girl of my age back then. The Mua Muas have nothing to do with Barbies and do not pretend to be an alternative. Barbies are too perfect and boring, they are not really telling you anything. On the contrary Mua Muas are full of scars and have a history, a proper reason to be and a reason to stay in someone's environment. Plus, you cannot make jokes about Barbies; Mua Muas are made to laugh about celebs with the celebs.
5. What is the dolls' mission then?
LV: My dolls are full of scars, which are testimonials of their daily job: transform bad energy into good vibrations. They are aesthetically speaking ugly in order to capture bad energy, which saves us from being harmed. I deeply believe that one cannot be totally hermetic to one's environment. The Mua Mua dolls help us by little means to live a better life and to smile every single day.
Love starts with a smile...
6. Can you tell us a bit more about the making of the dolls in Bali?
LV: Some local girls make the dolls in Bali in a small village; they get paid and save the money to go to university. The members of the Mua Mua team are very proud to support education. Two years ago one of our girls got a scholarship from a Japanese university and went to complete a PhD there.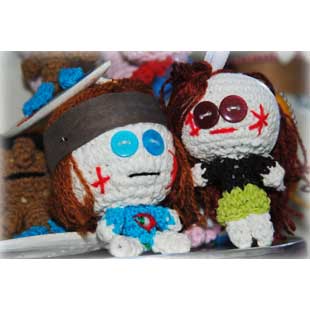 7. What would you like Mua Mua to be in 5 years?
LV: Mua Muas are a form of Pop art. I did not start with the celebrity dolls but with characters that I had invented, such as a cocaine addict elephant or an ugly mermaid... mini monsters with a giant heart. They make people happy because they make people laugh and turn bad energy into love. Where could they end? They could end in a McDonald happy meal but also become celebrities on their own. In the future, I would like to make a cartoon or a movie featuring the Mua Muas and to have them interacting, maybe using the real voice of the celebrities... why not?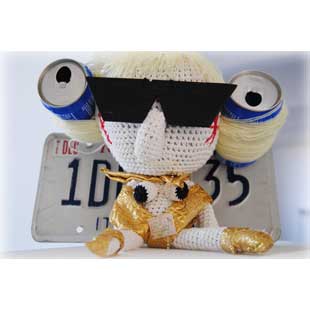 8. What makes you happy?
LV: A chocolate ice cream, Anna Della Russo posting her Mua Mua doll on her blog and everything in between...
9. What does a day in your life look like?
LV: It depends where I am. In Bali, I am running around on the island to get inspirations, in Paris it is very much about society life and public relations, and Milan is the office.
10. Will you settle down one day?
LV: No. I have friends everywhere so will always need to run around.
11. What turns you off in fashion?
LV: I have been very lucky. It is commonplace to hear people saying that everybody is selfish arrogant and egocentric... I have not experienced that as yet and have enjoyed it all up to now. To mention a recent example: Lady Gaga chose her Mua Mua doll to be part of her Barney's Workshop last autumn and it sold out within a few weeks.
It is more the commercial part of my Mua Mua story that I do not like. It is difficult for a creative mind to switch off and become 100% rational and practical. I live my Mua Mua experience as a fairy tale so fashion for me is a customised fairy tale.
12. What is your personal style?
LV: Romantic-eclectic. I am a girly clown;) I am not a minimal person at all.