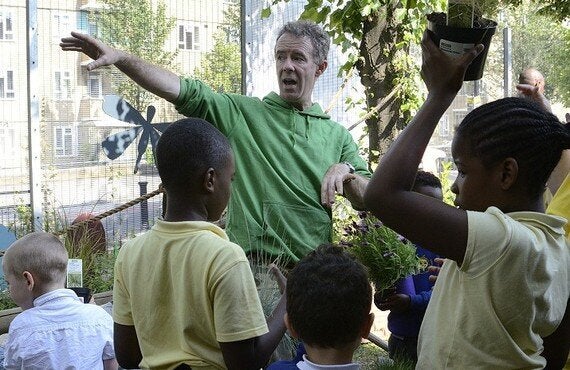 Crispin Swayne, has one of those faces that lets you know he spend a lot of time outside. Tanned, weather-beaten and full of energy, he leans forward with a broad smile.
"We have this pimped-up milk float," he says, "and for a week or so before we go into a school we park it outside. Everyone comes up and asks us what we are doing. So, when we start work everyone is involved: the kids, their parents and the teachers."
Crispin and his partner Paula Webb show me photos of some of the outdoor classrooms they have created. Lots of wood, plants, self-watering systems and pictures of enthusiastic children, thumbs up, hands muddy. It's a beautiful sight.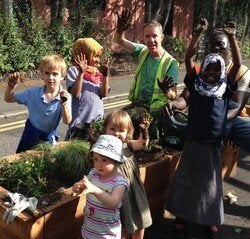 Father Nature operates in Lambeth and the neighbouring boroughs. Limited in geography by the reach of the milk float, they play this to their advantage, building strong links with schools, residents and the local authority who commission them to put planters on housing estates or build 'beds not bollards' to prevent fly-tipping and illegal parking.
It's all about making a difference to the people, especially the young people, who live in these urban environments, who have few chances to engage with nature.
"We know what a positive effect this has on their health and their learning," Paula says. "That's what motivates us. Many of these kids have little interaction with nature, but when they do they come to life."
Father Nature is currently working on their annual 'Big Park Sleepover' which gives these urban kids the chance to spend the night under canvas, possibly for the first time in their lives.
One hundred families (that's 2-250 people) get the chance to play outdoor games, listen to storytellers, have fun drumming and do workshops on gardening, cooking and firelighting as they camp. For some families, this is the only holiday they will have this year. For some, it's the first time they have been in the park even though it is right on their doorstep.
The videos of earlier Big Park Sleepovers shows happy faces, enthusiastic children building hay bale dens, toasting marshmallows, learning to put up tents. A 9 year old boy says: "we've made new friends, we've learned to put up tents, and we've got all these lovely people looking after us."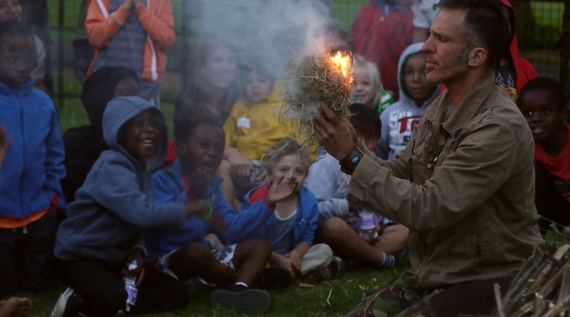 "It's the experience of coming together as a community," says one of the parents who participated in the Big Park Sleepover in 2013.
Father Nature is a social enterprise - a business with a social purpose at its heart. It's no surprise to be that they have recently been asked to build and maintain raised beds at Great Ormond Street Hospital.
"We called it Father Nature," says Paula, "because it came out of our work with 'at risk' young dads - getting them involved with planting and growing, often with their children too."
Crispin adds, "It's a really strong drive for a father to provide for his children, but these young men are often lacking in confidence and don't know how to do that. They don't believe they are capable. So, by giving them a chance to learn a new skill, especially something so physical, they gain their pride back. I think men respond really well to hands-on projects. It's easier to discuss parenting while working."
So, this gardening business is about growing people: children, their families and communities as much as it is about growing plants. Campers at the Big Park Sleepover seem to agree.
"As Londoners you're taught to protect yourself, keep everybody out, don't talk to anyone, everyone's a threat. And when you come here and you've got all these people around you and you're just interacting with everyone. You're talking with children. You're talking with adults. And you don't really have much of an opportunity to do that in today's London," says one young mum.
Her friend nods vigorously and adds, "Especially for the children, they wouldn't have this level of interaction. It's always very closed and very protected. As single parents, it's very difficult to get them to do things in London, because everything costs money, so things like this are just, really essential."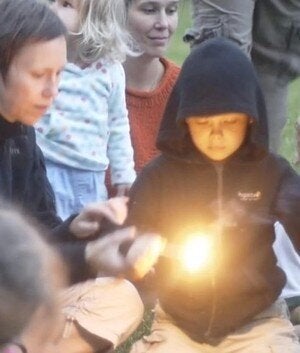 Though Father Nature is currently fundraising for one sleepover in one park, the dream is to expand to every park in London, and then to every city in the UK.
"The Big Park Sleepover is our voluntary project," says Paula. "We put a huge amount into it, but we get back much more. It's so much fun and we get to make a difference to hundreds of people in one go. But I love that everything we do, throughout the year in schools and on housing estates, helps kids and their families reap all the benefits of connecting with nature and growing."
Businesses can also support the sleepover with the offer of services and equipment. There is a 'wish list' on the crowdfunding page including everything from hay bales to portable loos!