When I was watching a TED Talk by Cesar Kuriyama: One second every day in 2013, I got really inspired by the simple idea to remember and appreciate the past. I knew it would be hard to get used to this new habit, but I was so determined to start this project at least for the year of 2014.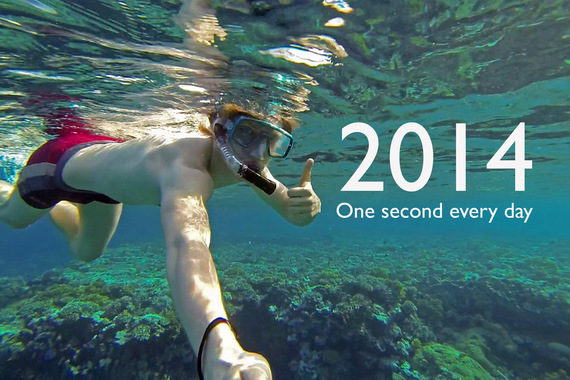 Besides, there were some questions I've been wondering for a while:
How do I measure a year in the life?
What do I remember from the past year?
Moreover, do I even remember what was happening during last week?
What do I want to remember in the upcoming months?
There are so many tiny, beautiful, funny, tragic moments in my life - how am I going to remember them all?
What do I want to be grateful for?
Who are the ones I would really like to appreciate for being a part of my experience?
14 countries, 2,5 Gb of video data on mobile phone, 365 days to record 365 seconds only.
And here we go! My attempt to shoot one second every day in 2014 as part of an ongoing project to collect all the special bits of my life.
There were so many great and inspiring people I was lucky to meet, friends and family I was blessed to spend precious time with. Unexpected meetups, long-awaited travel plans, places discovered for the first time and a few spots on this planet I feel like Home.
If I had to find only one word, it would be GRATEFULNESS.
I'm so grateful and plentiful for the inner abundance of warm feelings and emotions that caused after experiencing these moments once again and remembering them for the rest of my life.
If you feel inspired and grateful for your own past and present experience after watching the video, I'd just invite you to get in touch with those that have impacted your life and you simply want to appreciate them for that.
Authentic smile and "thank you" have no cost, but they create magic!
One Second a Day | 2014 from Dmitry Dmitriev on Vimeo.
And who knows, maybe you will start your own "One Second a Day" today? ;)