Mother's Day is soon approaching and with International Women's Day last Saturday, suddenly everything seems to be about women, and Mums, and how much we really do learn from them. The people I look to for inspiration are all women, every single one of them. Successful women in business are my rock stars and it's to them that I look to as I strive to achieve my own success in business. But in order to do that you need some tools. In honour of Mother's Day this month, here are a few lessons my own Mum taught me that I carry with me everywhere.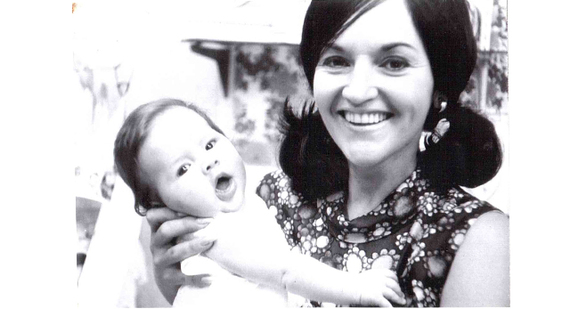 Donna Ida Thornton with her Mum
1) DON'T TALK TO ME ABOUT MONEY
When I was small I used to get into Mum and Dad's bed with them regularly if I couldn't sleep or was scared of the boogeyman (I had a clown on a chair in my room, so that's no real surprise), then in the morning after I had had a wonderful sleep and they were drooping with exhaustion I would go to Dad's dressing table and count his change. I thought it was very impressive that I could count and would make a big production of it. Mum watched me with interest but then finally one day she said 'you know, it's rude to count people's money in front of them'. You could have knocked me over with a feather. I can still remember reeling with surprise. Why would anyone care if I counted their money? Surely they'd be impressed with my counting skill and that's all that matters....no? Apparently not. I was miffed for a long time (in fact I might still be miffed now since I can recall the memory so clearly). This small tip off early on should have translated to a general message that discussing money isn't polite. Not so. I took the coin counting lesson as a specific no no and isolated, so when I was shopping with Mum in her favourite boutique one day, just hours before a big dinner party at our house, I was thrilled that she was going to town with what seemed to be a whole new wardrobe. I remember a dramatic chocolate coloured coat that cinched in at the waist with a big fur collar in particular, and a very sexy sheer black blouse that she wore that evening with just a black bra underneath. Maybe it was the fact that she wouldn't buy me the plastic brooch I wanted that day from the boutique (I wanted the key, she ended up buying me the hat which I thought was super dullsville) but that night just as the guests were arriving and one exclaimed how fabulous Mum looked in her new super expensive blouse that I dropped the bomb of how much the total bill came to that day. The horror! You could have heard a pin drop as a hush went over the room. I scampered off to bed and Mum wore that blouse a LOT in the coming years, frantically proving her price per wear point I'm sure.
2) THERE'S NO SUCH THING AS AN OLD WIVE'S TALE
In order to teach my sister and I lessons when we were younger Mum often resorted to veiled threats in the form of Old Wive's Tales. Here are a list of her greatest hits: If you look into the sun you'll go blind, if you pull a face and the wind changes you'll be frozen forever with a goofy expression, people go crazy when there's a full moon, the changing of the seasons is exhausting, vinegar will clean/fix anything (this one is true). Although I worked out early on that she was pulling my leg and I knew why, there are a few that I still believe in. I totally think that a full moon generates a weird energy. People tend to feel strange, and act crazy. I believe in this one. And I also believe that the changing of the seasons can make you feel tired. Could it be the tides pulling? I have no idea. These two I have passed onto the Donna Ida girls many times and have used them to explain anything from a bad day's trading to a strange customer request. But the big one is vinegar. This isn't really an old wive's tale, it's a fact. Vinegar is one of the best fluids known to man and is one lesson that Mum taught me that I will carry to my grave. Have vinegar, can fix.
3) DRESS FOR THE JOB YOU WANT, NOT THE JOB YOU'VE GOT
Way before Mum's overspend at the ritzy boutique before the dinner party, she was a woman of style and taste. I have photos of her arriving at hospital to give birth to me wearing a chic mini dress, cool and unflustered in the Australian heat. And then months later holding me at my Christening wearing yet another mini skirt teamed with white go-go boots. She never left the house without full hair and makeup, and in fact the full procedure is performed daily even if she is going no where, seeing no one. Appearances are everything. Look good, feel good, that's her mantra. In Mum's world, there is no such thing as a tracksuit. The closest she comes to leisurewear is wafting around the house in silk pyjamas. I am less stringent at home I have to admit, but day to day Mum's grooming rules are with me. Full makeup, hair blow dried, heels every day if you can possibly stand it. No matter what your job is or your position in life, the important thing is that you look like you're on the way up.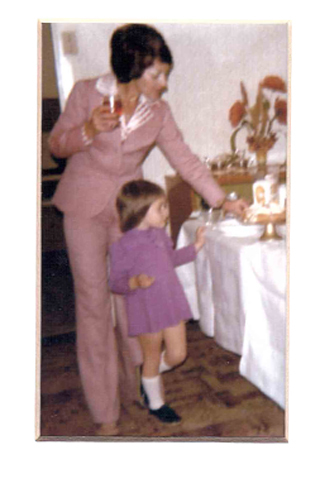 4) GOOD HAIR WILL TAKE YOU EVERYWHERE
My mother is obsessed with hair, specifically hers, mine and my sister's. No length of discussion is too long, too detailed, too boring, about her hair. She could discuss it for hours ad nauseam. As a result, my sister and I couldn't care less about our hair (but probably because we both have nice thick hair which I have realised is a plus). To terrorise my mother, I spent my teenage years trying to tame my ridiculously thick hair into beautiful sleek bouncing waves but frying it with perms, tongs and crimpers, my three weapons of choice during the 80s and early 90s. Finally my barnet started to 'calm down' in my late twenties and resemble more of what I was going for when I stopped trying to kill it with chemicals. During this time, Mum would shriek with despair, claiming I was 'ruined' time after time by trying a little hairdressing trickery. Shortly after moving to London, earning about £6 an hour, I went to one of the most expensive hairdressers in Mayfair to have my hair cut and coloured (I had started to gently veer towards blonde by adding a few highlights bit by bit). My hair was coloured the most beautiful shade of honey, and then hacked off. I was horrified! And then I paid nearly £300 for the pleasure. It was the start of a long traumatic period where I vowed to never cut my hair again. I now have long hair, simply cut, and coloured regularly. And all of a sudden, without thinking too much about it, everyone likes my hair. And guess who now loves it? Mum.
5) DON'T SWEAR IN GOOD COMPANY
Growing up in Sydney my sister and I went to a local Catholic school run by nuns. As you can imagine, it was strict and orderly. We came home from school to do our homework each day and were encouraged only to play with our next door neighbours who although went to the local state school, were pre-approved companions. It was through these two rascals that I discovered two other girls who lived a few doors down from us who also went to the local state school but their parents had split up, their mother worked all hours as a nurse, and they were largely left to their own devices. One day I wandered past our patch of grass at the front of the house to where they were sitting on the front ledge of their house, swinging their brown legs in the afternoon sun. They regaled me with stories of the cool people at their school and the teachers they hated. The headmaster was of particular interest to them because of his name. 'He's called Mr Hunt but we call him Mr C**t. Not having a clue what this meant but knowing it must be uber cool, I went home to dinner and repeated this at the table. Mum and Dad's heads spun on their shoulders a full 360 degrees. Quelle horreur!!! Years later when I finally understood the meaning of the C Bomb, my own head spun at the thought of uttering that in front of my parents. It hasn't deterred me from developing my own potty mouth though, but just not in their company. You can take the girl out of Australia, but you can't take the Australia out of the girl.
To celebrate Mother's Day I've asked my fashionable and influential friends what their Mother taught them. Click here to read their life lessons and join the conversation #MotherToldMe to enter Donna Ida's competition to win a pair of Mother Denim jeans.