If you asked me what I strive for, I would answer: beauty. And with beauty, I don't mean a set of standards and perfect proportions. With beauty, I mean the coming together of inspired creativity, innovation, skillful craftsmanship, integrity, commitment, and an open mind and heart. I find beauty in images, in music, in words, as well as in items of clothing, and I like to surround myself with what I find beautiful as it brings me in touch with the magical, mysterious and awe-inspiring experience that is life on our planet Earth.
I believe that real beauty has depth, it never exists on the surface level alone. And this is why I struggle with the state of the fashion industry and our current day consumer culture, and why it is important to me, as the founder of an ethical online magazine and fashion concept store (LISSOME), to make a difference: We are being overexposed to glossy imagery, to ever-changing trends and supposed objects of desire at an accelerated speed. But what is happening behind the façade, is being hidden away from us.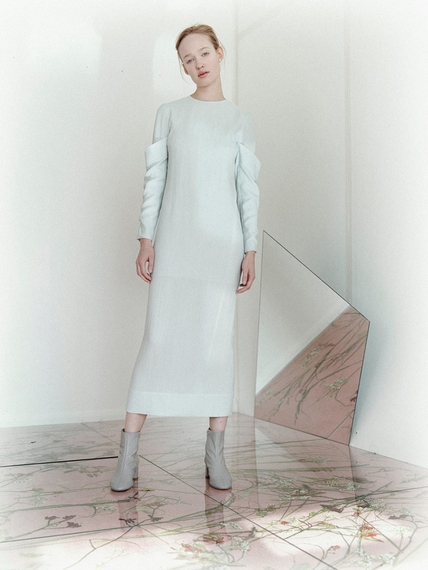 Photocredit: Martine Jarlgaard London
Dutch trend forecaster Lidewij Edelkoort raised a crucial question in her 2015 Anti-Fashion manifesto and industry wake-up call:
"How can a product that needs to be sown, grown, harvested, combed, spun, knitted, cut and stitched, finished, printed, labeled, packaged and transported cost a couple of Euros?" 
And she concluded:
"On the hunt for cheaper deals, volume companies, but also some luxury brands, have trusted the making of their wares to underpaid workers living in dire conditions. (...) What's more, these prices imply the clothes are to be thrown away, discarded like a condom before being loved and savoured, teaching young consumers that fashion has no value."
We have come to a point where, following the words of New York Times fashion director Vanessa Friedman:
"The driving force of fashion today is planned obsolescence - something is in, then it is out. Today fashion is disposable - and it is supposed to be."
Instant gratification and low prices have developed into new virtues, promising a fulfilled life. But ever since Marie Kondo's guide The Life-Changing Magic Of Tidying Up has turned into a bestseller, we sense that there is no redemption in the accumulation of meaningless clutter. Personally, I think it's a bit of a tragedy and it doesn't make sense. We work hard for our money and we spend it on objects that spark joy for only a brief moment of time. We use up valuable resources for items that essentially have no value for us. And we empower companies that are not worthy of our support.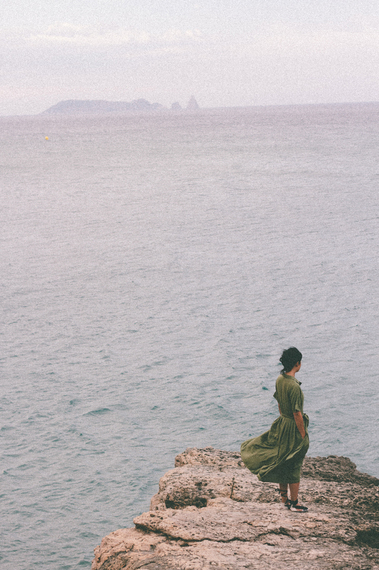 Photocredit: MATKA by Monica Bedmar
I might be a bit of a romantic but I get infinite pleasure from engaging with fashion brands and designers who are passionate about making products that are special - from the making to the materials - and the antipode of disposable. I love to hear their stories that are never short of challenges. I love to discover what drives them and why they care so deeply about their craft that they are willing to 'walk the road less traveled'. When I started LISSOME, I was in the wonderful position to meet many of these "new pioneers of mindful fashion" in person and to share their stories. After a year of publishing, I felt the wish to also champion their wonderful products and to initiate an online store of a new kind: a concept store exclusively dedicated to conscious fashion, offering an informed selection of unique, high-quality and fashion-forward items with an authentic story behind them.
When I decided to set up a store, I wanted it to follow my definition of beauty, and to be daring, committed and inspiring: a journey into retail innovation that is equally experimental and mindful, giving you access to hard-to-find and exclusive one-of-a-kind items, limited editions, and made-to-order designs of independent designers, alongside selected vintage pieces. My passion is to create a unique shopping experience that is based on human and environmental wellbeing, informed by transparency and guided by outstanding design.
I am a firm believer in buying less but buying better. Beautifully designed and well-made clothes make us feel good in our own skin. Knowing the stories behind our clothing empowers our decisions and enriches our lives. An item of clothing that we select carefully will give us lasting joy. The future of fashion is mindful.
Words: Dorte Lange via LISSOME