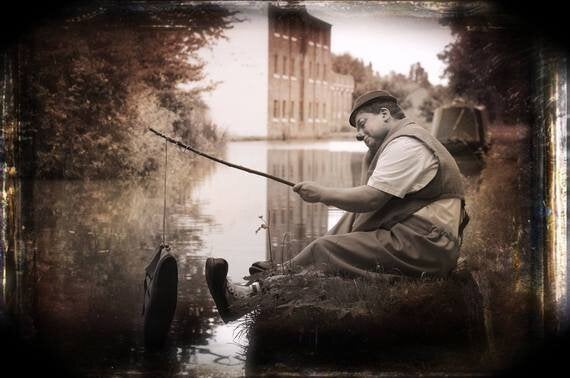 Bobbo by the river (Photo by Mike Brittain)
The most enjoyable part of writing Circus Mania, for me, was talking to the clowns, sword-swallowers and showmen who make their life in the big top. Every one of them had fascinating stories to tell about their unique vocation, informed as it is by years of tradition.
I never tire of meeting such performers and this week had the pleasure of talking to Bobbo Roberts, a clown who was born into one of the world's oldest circus families but combines a sense of tradition with an eye to the future. As well as circus rings, he's worked in burlesque clubs and next month will make a guest appearance in Simon Thompson's 'clown noir' adaptation of Shakespeare's Love's Labour Lost at the Britannia Panopticon in Glasgow.
In this first part of a two-part interview, he told me about his life as a clown.
Did you ever want to do a different circus act?
When I started in the business I had mentors in all of the circus arts willing to teach me. That's one of the advantages of being born into the profession. I tried presenting horses at first, but doing the same structured act every time wasn't for me and I started mucking about and milking laughs from the audience. I did a dog act with a little comedy in it, thinking that'd be enough but the act still required structure as you can't really go off script too far with dogs. They're very intelligent animals but aren't the best at improv comedy. I even tried a goose act at one point. One day my dad took me to one side and said "It's obvious you lack the discipline in the ring for these acts, if you really want to clown about and get laughs why don't you go talk to your uncle Jack (Fossett) and see if he can make a clown of you."
Who taught you the most about clowning?
From an early age I had a love of music hall as well as circus clowning and it's hard to pick one clown who influenced me. The Rastelli Clowns were the first to put me in makeup, Jacko Fossett took me under his wing and around the world, David Konyot helped me grow as a performer and develop a more subtle makeup. I worked with Karl Brenner for 2 seasons learning how to get maximum laughs out of a bucket of slosh. Alongside working with all these pros I kept researching all types of clowning, watching clowns from European circus, big American shows but also the clowns of the stage: George Carl, Ed Wynne, Harry Langdon; and the silent movie clowns, Buster Keaton, Stan Laurel, and Harold Lloyd. The thing about clowning is you have to be yourself, you can't be someone else. I've always believed if you do what makes you laugh and bring the audience along with you it's more true. So I seek out all comedy clowning and otherwise, and whilst I'm not a clone of anyone, everyone who has made me laugh has influenced me in some way.
How would you describe your look and style of clowning?
The look has changed a lot over the years. Most clowns start out with a full face of slap and as they grow as performers it become less of a mask and more of a window. My style has changed as my confidence grew, along with my make-up. Experience teaches you a lot. Yes, you can get a laugh from pouring a bucket of slosh down your trousers but you can get massive laughs from a well timed look once you can read your audience. My current look is referred to by some as European style auguste, personally I refer to him as Bobbo. My style is constantly growing as I grow. I'd say Bobbo is currently a clown out of his time, an innocent born of the 1930s era, equal parts music hall and circus. He's everybodys best mate and wants everyone to enjoy themselves as much as he does.
What do you most enjoy about clowning?
Making someone smile. It's corny but true. Clowning is a form of theatre where the fourth wall doesn't get broken; it's never built in the first place. You interact with your audience. You don't perform to them, you conspire with them. Not a lot of performers get that level of intimacy with their audiences. Most artists with a skill based act can repeat a fluffed move to rapturous applause, a clown gets one chance to get to the punch-line or he's blown the gag. The audience will really take you into their hearts and that's a lovely feeling.
Next week, we'll hear Bobbo's thoughts on what it takes to be a clown and how he sees the future of clowning in Britain.
This post originally appeared on the author's blog Circus Mania.
Popular in the Community