"Call me a sucker for Hollywood mythology," writes David H. Lewis. And if you feel the same way, you'll be charmed by Hopelessly Hollywood, his colourful memoir about a young man's efforts to make it big in Tinsel Town.
Just a flip through the photo selection drew me in. Who wouldn't be captivated by the sight of the Pan Pacific Auditorium - shaped like an ocean liner complete with funnels - where Lewis competed in a roller-skating tournament as a boy.
Growing up in the I Love Lucy era, Lewis says, "Hollywood cast a spell over me when I could barely walk." He lived fifty miles from San Francisco in Santa Rosa, an unspoilt piece of small town America that was often used for location filming, and the opportunity as a young man to be an extra in the Bette Davis film Storm Centre cemented the showbiz dream in his heart.
Before long, he was living in LA, where he paints a vivid picture of an aspiring acting community sweltering in the heat by day and chilling by evening in the cool breeze on the pier.
In the faded grandeur of the Halifax Apartments on Yucca Street, "once home to top line entertainers from silent film stars to opera queens" were now "hordes of aging holdouts and young blurry-eyed believers in great American dreams."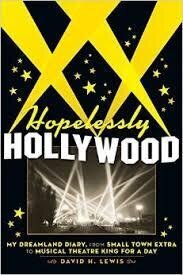 Despite Hollywood's association with the silver screen, Lewis' dreams weren't of movie stardom but of penning a Broadway musical. Los Angeles was also a theatre town. "There were dozens of small theatres, a good many in walking distance of where I lived." There was also a bottomless pool of acting, composing and producing talent with everyone desperate to be part of any show that might get a review and lead to bigger things - even if that meant working for free or paying for the privilege.
Lewis is also the author of Broadway Musicals: A Hundred Year History. But he's best known today as America's foremost commentator on the world of circus. He blogs on the subject as Showbiz David and has written several books on the big top including, most recently, Inside The Changing Circus (penned as David Lewis Hammarstrom).
So it's no surprise that he pinned his Broadway dreams to a show about the origins of the Ringling Brothers Circus called Those Ringlings.
Lewis takes us on a rollercoaster ride through the staging of his first show at the 58-seat Actor's Playhouse: the artistic differences, the thrill of a rave review in Variety - "Tears came streaming down my face" - and the subsequent come down of playing to empty seats.
"Have a good LA reality check laugh on me," he invites us, ruefully.
But in Hollywood, dreams never die; not completely. "You allow yourself another chance, it just keeps going."
Lewis is a prose stylist with a voice that sizzles on the page. His rich style is perfectly suited to the self-hyping world he describes and makes it easy to imagine how the dialogue in Those Ringlings must have danced. His song titles make me wish I'd been there on opening night.
I hope the show will one day find a commercial life. (See how easy it is to be caught up in the great Hollywood "maybe..."?)
Lewis is a Hollywood survivor. But woven through his book, and providing its real emotional punch, is a genuine Tinsel Town tragedy in the story of his early collaborator and lifelong friend Mike Kohl.
It's clear that Mike's problems were within himself. Hollywood was the backdrop to his downward spiral, not necessarily its cause. Mike's story nevertheless symbolises the fate of many Hollywood dreams.
Most showbiz memoirs focus on success stories, obscuring the fact that stardom is actually attained by very few. Lewis' book shows us the reality for the majority who reach for stars that appear closer than they are. Yet such is the passion of the author and the other characters in the tale that even the broken dreams and broken dreamers have a sheen of glamour.
Ultimately, Lewis' strength is his ability to see through the fantasy without losing sight of it. He's both clear-eyed cynic and starry-eyed believer, often in the same sentence. If you've ever dared to dream, you'll be with him all the way.
Hopelessly Hollywood by David H. Lewis is available from Amazon.