In just a few months' time, the world will agree on a new set of global development goals which are expected to be more ambitious, more rights-based and more sustainable than the preceding Millennium Development Goals (MDGs).
Proposed targets like "end the AIDS epidemic", "ensure universal access to sexual and reproductive health services" and "achieve universal health coverage", as well as a goal on reducing inequalities, give us a lot of reason for hope. Hope that this time we will get it right and not leave behind millions of people across the world who are marginalised, excluded, stigmatised or even criminalised. These include LGBTI people and other groups most at risk of HIV who can be denied access to life-saving health care for no other reason than their sexual orientation, gender identity, HIV status or trait that marks them as "different" from the majority.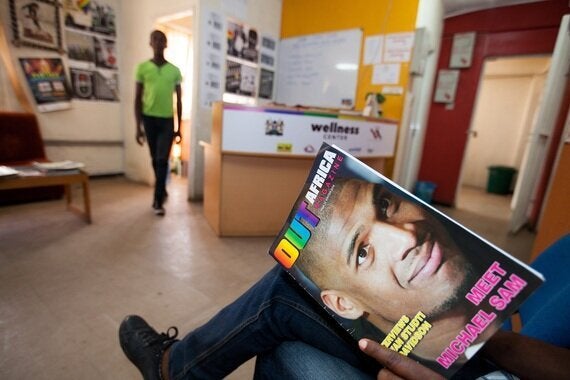 Corrie Wingate for the International HIV/AIDS Alliance
This year's World Health Assembly, taking place this week in Geneva, is a crucial one. It's the last one before the UN General Assembly in September when the new Sustainable Development Goals (SDGs) will be adopted and takes place amid intergovernmental negotiations on the post-2015 targets, indicators, and monitoring and accountability mechanisms.
Securing universal health coverage (UHC) is a key priority for the World Health Organisation as for the next few months it is working with the World Bank, the US government and other member states to develop indicators and a roadmap for health measurement and accountability. It's depressing to see that, despite the momentum that UHC has been gaining for a solid decade now, it's clear that it has not been reaching the most marginalised.
Limited capacity in healthcare settings to understand and serve the specialised needs of vulnerable populations and marginalised groups, as well as reconciling UHC with countries' policies or legislation which impedes people's right to health, will continue to prevent countries from achieving UHC and the associated health and economic benefits.
If legal frameworks continue to cultivate environments of discrimination, stigmatisation and criminalisation of people most affected by HIV, this will also seriously undermine being able to bring about an end to AIDS. Just consider these statistics: globally, gay men and other men who have sex with men are 19 times more likely to be living with HIV than the general population, while transgender women are up to 49 times more likely to acquire HIV than all adults of reproductive age.
We need to acknowledge that the current UHC target and indicators under the post-2015 goals are falling short of truly addressing the specific challenges and rights of LGBTI people and other key populations. A comprehensive approach to equity is key to the success of UHC, which goes beyond addressing inequalities related to income, expenditure or wealth, place of residence, and sex and takes into account all factors of marginalisation in UHC indicators and measurement.
Together with UNAIDS, we're hosting a side event at the World Health Assembly to try and hold member states to a fully inclusive health goal. A young LGBTI activist will be speaking there, from a country that refuses to acknowledge his sexual identity let alone respect and honour his human rights and right to health. He will be speaking of his individual battles, and those of his friends and peers, to access HIV services in a setting where they feel safe and equal. Universal health coverage is only universal if it provides them with quality healthcare that is appropriate to their specific health needs.
UHC is one of the biggest promises to realise access to health care for all and an end to AIDS. We have a window of opportunity to ensure that every one of us receives the healthcare we need, wherever we are, whoever we are. Let's not miss it and spend the next 15 years with regrets.
The International HIV/AIDS Alliance has launched Write Us In, a new global campaign to ensure equitable access to healthcare for LGBTI people.