It's often said that a picture paints a thousand words - something I am always reminded of when looking at the striking photos that Guardian photographer Graeme Robertson captured of the programmes Sightsavers supports in India and Uganda which are aiming to empower people with disabilities.
This week I had the privilege of visiting our Framing Perceptions exhibition, displayed in the Guardian's London offices, with Graeme and Baroness Verma, Parliamentary Under Secretary of State at the Department for International Development (DFID).
Graeme's passion for inspiring and engaging people through capturing the stories of people living with disabilities is clear, and comes to life in his photos. For me the photos give an insight into the challenges and struggles faced by the one billion people living with disabilities around the world, and the empowering difference the right support can make.
The exhibition really balances the stories of despair with those of hope. Dallu lost her sight when she was young - she believes this was after contracting smallpox. She lost her independence after her mother died. She now spends her days sitting at home. In contrast is Sohanlal, who is pictured proudly sitting in the small shop he now runs thanks to support from his local disabled people's organisation.
Baroness Verma, speaking at the exhibition opening, noted: "What's particularly powerful about these images, in my view, is that Graeme has given a voice to people who otherwise wouldn't have one."
This voice is particularly important right now. As world leaders come together in New York next month at the United Nations to agree a set of sustainable development goals (SDGs) for the next fifteen years, people with disabilities need their voices to be heard; they need to participate in these plans.
Organisations like Sightsavers have been campaigning hard over the past few years to ensure that this set of goals specifically includes people with disabilities. I'm really pleased that the UK government has played a leading role in the combined effort by championing the 'leave no one behind' agenda.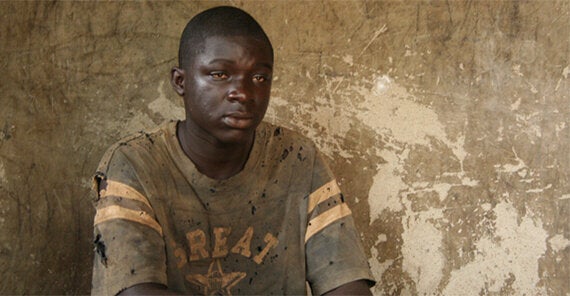 By ensuring people with disabilities are included in the SDGs we will be ensuring a brighter future for people like Hamza. 16 years old and born blind, Hamza used to attend Bishop Willis primary school in Uganda. He loved it, but had to drop out of school because it was too far to walk each day and boarding was unaffordable on top of books and uniform. "I feel bad being left behind. I want to go back, I want to learn more," Hamza told photographer Graeme when they met last year. "In the future I want to be a teacher." Although Uganda has universal free education, nearly half of all children with disabilities aren't in school because there just isn't the equipment and staffing needed to support them.
Hamza's story makes me angry. He's a bright, engaged teenager who desperately wants to gain an education and use it to inspire the next generation of children. But something as simple as attending school, which should be his right, is out of reach for him.
But there is reason for optimism. If the SDGs specifically reference people with disabilities then governments and those working in development will make sure they are included, and children like Hamza will have the chance of a better future, and of lifting themselves out of poverty.
The Framing Perceptions exhibition moves to the United Nations building in New York next month ahead of the UN Summit meeting where this momentous global plan of action will be agreed.
These captivating photos will ensure people with disabilities are front and centre of delegates' minds and remind them how important it is to include disability in plans to ensure greater development progress over the next 15 years.
Baroness Verma recognised this fact, urging those at Monday's exhibition opening who will be travelling to New York for the UN General Assembly: "If you can, help to give people like Hamza a voice that right now they cannot have without you. A voice so loud that countries have to pay attention. A voice so loud that countries have to think about how they support the 15 per cent of people with disability globally." Baroness Verma noted our responsibility to ensure people with disabilities begin to take back the choice and control over their own lives, adding: "My hope is that if we work together we can turn the Sustainable Development Goals into more than potential and into reality to truly ensure that no one is left behind."
Framing Perceptions will be on display from 25 August-13 September at the Guardian's offices in Kings Place, London. Admission is free and the exhibition will be open daily from 10am-6pm.