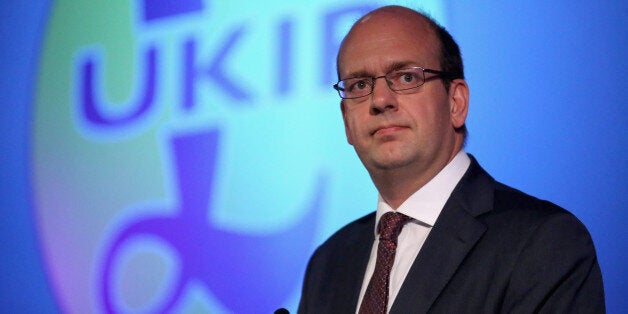 Ukip won their second Westminster seat in the early hours of Friday morning as Mark Reckless, who triggered a by-election in the Rochester and Strood constituency when he defected from the Conservatives to Ukip, withstood all the efforts of the Conservative election machine to record a victory by 2,920 votes. But how did the parties really fare? And what does it tell us (if anything) about what could happen in the 2015 General Election?
When Mark Reckless defected to Ukip, political commentators scoffed at his chances of holding the Rochester and Strood seat. It was widely reported that he did not have the personal vote enjoyed by Douglas Carswell in Clacton (another Conservative defector to Ukip) while David Cameron reacted to his defection by promising to 'throw the kitchen sink' at the Rochester and Strood campaign to defeat the former Conservative incumbent. But during the campaign, polling evidence consistently suggested Reckless (and Ukip) enjoyed a healthy lead. Part of his success was built on a strong local Ukip campaign. Ukip are learning fast about the importance of a well organised, targeted local campaign. The use of voter identification software to target voters placed it, for the first time, on a level playing field with the other main parties. And the active grassroots canvassing gave the party a personal, local touch which is so crucial in tight contests. Ukip as an effective campaigning outfit are clearly coming of age but they are not there yet. And whether they can replicate this intensity and tactical know-how across their 40 top target seats in the 2015 General Election also remains to be seen.
Despite this, the margin of victory was less than expected mainly because Ukip did not emerge from the by-election unscathed. Reckless himself faced accusations of using the language of forced repatriation when explaining Ukip's immigration policy and Farage was forced to distance himself from a video that showed him advocating an insurance based health system, albeit two years ago. Put simply, Ukip's success brings with it extra scrutiny. This is likely to ratchet up as we move closer to the general election and questions remain how it will cope when it is placed under intense fire. Will it be able to maintain its appeal to both disaffected Labour and Conservative voters under such circumstances? And can the party hold together given this coalition of views amongst its members and supporters?
For the Conservatives and Labour this was a hugely disappointing result. Both suffered at being painted as the establishment parties as Ukip was able to hoover up protest votes from both parties. The Conservatives poured everything into the contest but failed to make an impact. The increasingly negative tone and lurch to the right as the campaign progressed simply did not work (as has been proven at general elections prior to 2010) and the party needs to take some of the lessons from this, and quickly, if they are to learn about how to best combat the 'Ukip' problem.
The Labour campaign was at best 'half hearted' despite the efforts of a widely respected candidate. It is worth remembering that the old Medway constituency made up large parts of the Rochester and Strood constituency, which Labour held from 1997 up to 2010. On the face of it, if Labour had expectations of winning the next general election, it needed to perform much better here that it did. Once again Labour found it hard to hold onto its traditional core vote in the face of an intense Ukip campaign. The perception that Labour is out of touch with its core supporters was reinforced on polling day by the Emily Thornberry tweet. But the hard facts are there to be seen in numerous different election contests over the past two years be it local, European or Parliamentary by-elections. Labour is haemorrhaging its core vote to Ukip across England and Wales and even though it might not matter this time around in traditional Labour seats with large majorities, it could be decisive in marginal seats and where Ukip is a more potent threat.
Look away now if you are a Liberal Democrat supporter. Not only did they lose their deposit but this was the worst performance of a party in government in a by-election for generations. By contrast, the Greens not only pushed the Liberal Democrats into fifth place but their healthy vote (despite still losing their deposit) suggests that the party is becoming increasingly viable for disaffected left leaning voters who previously supported Labour and the Liberal Democrats. Their performance is a further illustration that they are likely to be highly competitive in a number of target seats come the 2015 general election.
But what about the 2015 General Election? Does this by-election result provide any indicators about how it will turn out? The simple answer is no. It is a by-election, effectively a snapshot of public opinion in one constituency, and presents an opportunity for disaffected voters to give established parties, particularly parties in government, a 'kicking'. But it does tell us a few things. Ukip is a threat to the two established parties. It might not win many seats in the 2015 general election but on its current national polling it could have significant impact on the final result. And as a consequence, both the Conservatives and Labour need to find answers to re-engage their disaffected traditional voters if they are to stem the Ukip tide. The Liberal Democrats face an uphill struggle but the key focus for them is the seats they currently hold. The results here will determine whether they retain credible levels of parliamentary representation or not. And don't discount the Greens. A lot is made about the revolt on the right, but increasingly there is a revolt on the left with the Greens the new home for those disaffected with the mainstream but loathe the policies of Ukip.