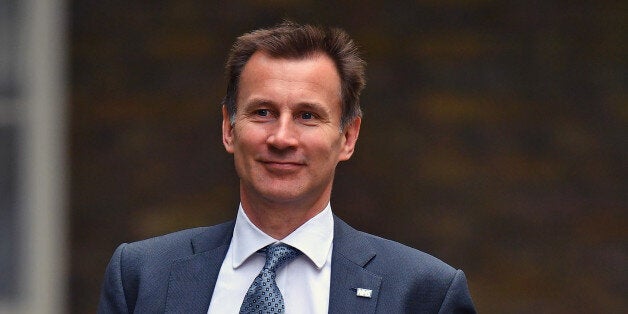 I am at the Conservative Party Conference today and shortly I'll be listening to Jeremy Hunt announce something that has been trailed widely in the news this morning - that he'll increase the number of medical school places by 25% from 2018 under plans to make England "self-sufficient" in training doctors.
Jeremy Hunt has now been health secretary for four years, and while it is welcome that he has finally admitted the government has failed to train enough doctors to meet rising demand, this announcement falls far short of what is needed to help address the real problems within the NHS.
Let's start by asking whether or not we actually need an NHS that is "self-sufficient". The government's poor workforce planning has meant that the health service is currently facing huge and predictable staff shortages. It's no secret that we desperately need more doctors, particularly with the government plans for further seven-day services, but it will take a decade for extra places at medical school to produce more qualified doctors. This initiative doesn't address the fact there is a shortage of doctors, and will not stop the NHS from needing to recruit overseas staff as it simply replaces those trained abroad with those trained in the UK.
I firmly believe that creating an NHS that is 100% self-sufficient, one that only trains home grown doctors and one that doesn't take people from overseas and vice versa, is bad for medicine and bad for patient care. Medicine is an international community of learning and it thrives on the interchange of experience, knowledge and training. It also thrives on British doctors being able to volunteer to go abroad and serve communities, and it thrives on overseas doctors being able to bring their learning from abroad over here. Yes, we absolutely need to make medical workforce planning better so that we don't have rota gaps or unfilled vacancies, but to simply close our borders would be terrible for patient care. International doctors bring great skill and expertise to the NHS. Without them, our health service would not be able to cope.
Of course extra medical places are a good thing, and the lifting of the cap is certainly welcome - at the very least it is recognition that workforce planning has been poor over the last few years. This poor planning has been bad for the NHS that we already have but it's also bad for the NHS that we know we will need over the next few years as patient demand rises. However it's crucial that this move is not seen as an alternative to recruiting highly skilled and expert overseas staff. These medical places won't produce doctors for another eight to ten years and won't mean the NHS is self-sufficient by 2025 as Jeremy Hunt has said.
Finally, I have real concerns over the decision to make medical students work for the NHS for at least four years. If they don't, they could face penalties that could include them having to repay the cost of their training, which currently stands at £220,000, to the taxpayer over the five-year degree. We should have a health service that doctors want to work in, not one they are being forced to work in. Over the past year, junior doctors across the country have raised concerns about the reality of working in an overstretched NHS and the impact that has on their morale and patient care. We know there are chronic staff shortages and rota gaps across the NHS, with major recruitment problems in areas such as emergency medicine and general practice.
It would be a travesty if these announcements have only been made to pander to a political audience rather than to solve the very real staffing problems within the NHS, or to improve patient care. The government must tackle the root causes of this workforce crisis and the reasons why so many UK-trained doctors are considering leaving the NHS rather than forcing doctors to stay in the health service. Demotivated, burnt-out doctors who don't want to be in their jobs, will not be good for patients.
Dr Mark Porter is the chair of the BMA council
Popular in the Community