"There are no two words in the English language more harmful than good job!" Says Terence Fletcher, the maniacal music teacher in 2015's Oscar contending film Whiplash.
As a Doctor who specialises in the analysis and the motivations of people - outside of work my favourite thing to do is to go to the cinema with my cousin (himself an award winning film maker) and then pouring over every detail of characters, story and plot lines.
Watching this year's Oscar nominated films I was struck by how many psychological themes were apparent to me as a jobbing psychiatrist. Even more so than usual.
In American Sniper the true story of Chris Kyle, the elite Navy Seal battles his own demons after he returns from Iraq and struggles to relate to modern life and his family in middle America.
Post Traumatic Stress is something I see very often in those returning from conflict zones around the world. They have been changed forever from what they have witnessed and with patience, medication and therapy we can thankfully help many.
Another true story skilfully shows a woman (played by Reese Witherspoon) dealing with her mother's death by bingeing on a sexual buffet of liaisons which results in the ultimate break up of her marriage.
Themes of bereavement and addiction remind me of my work on a weekly basis.
In the best film of the year Grand Budapest Hotel by Wes Anderson, there are deeply melancholic undertones when Zero finally reveals to the writer that he can't close the hotel. It's his link to his former love Agatha and to the best times of his life.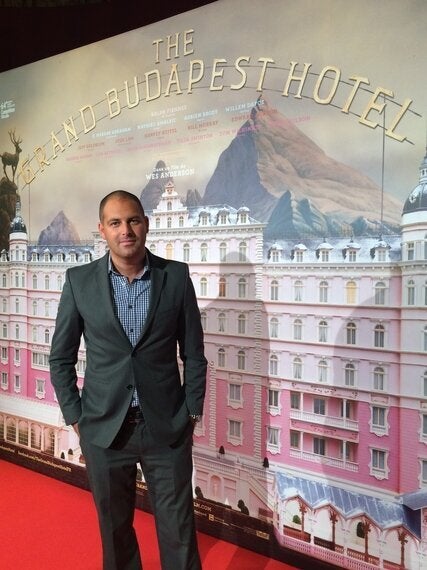 (Author at the Premiere of The Grand Budapest Hotel)
Many of my patients talk to me about their desire to turn back their own clocks when they are feeling uncertain of the future or suffering from depression.
Pills don't always cure their melancholy but we listen and we work a way through.
Andrew the young hopeful drummer in Whiplash shreds his hands to pieces as his mentor screams in his ear with anti-semitic fervour that he is a "worthless hymie fuck."
No matter how good he will be, whether he becomes Buddy Rich or not, no matter how much his father shows him love, nothing I assume can ever heal the pain of his mother abandoning him.
It's similar to the girls I see in my clinic suffering from anorexia, no matter how thin they get it's never good enough, even though the aetiology is different to Andrew's pain - the psychological outcome is similar, suffer until you feel you are perfect.
In Birdman we see Michael Keaton's character begged by his family to rise above his own insecurities - however nothing matters to him, nothing can heal the narcissistic wound that he is suffering from. Discovering that as a Broadway hopeful he is now just a shadow of his former incarnation as the adored star of Birdman that ruled Hollywood in his younger years.
An ambiguous ending leaves us wondering how he finally dealt with his inner turmoil.
In The Imitation Game a genius who saved millions of lives ends up by sadly taking his own life as a result of homophobia and stigma. This is the ultimate fear for a doctor such as myself when someone feels there is no other option but suicide.
I treat people every week at The Blue Tree Clinic - my patients are reflected in so many of these characters. They are smart, interesting, hard working and successful people and they are plagued by many of the themes above.
Good job is certainly not good enough for a lot of them.
They lay awake at night despite their high paying jobs, their academic achievements and other successes - the constant burden of not feeling good enough is pervasive for so many of us in today's highly pressured world.
And maybe that's why we feel so passionately about these films that won Oscars this February because we see parts of ourselves in so many of them...
Popular in the Community