We are constantly hearing stories about how mobile phones are revolutionising health and care, from tracking our daily steps to counting our calories. But they are also doing way more than that - today, thanks to an app, your mobile phone is a lifesaving tool capable of linking a network of trained Good Samaritans who will come to your aid in a life threatening emergency, like a cardiac arrest.
The greatest determinant of survival in cardiac arrest is time to quality CPR and defibrillation - for every minute that passes, the chances of survival fall by 10 per cent. Indeed, ambulance services have a target of 8 minutes to attend emergencies like these. But clearly survival would be much better if this life saving care could be provided within 1 minute.
In the same way that it is said that you ar never more than 5 metres from a spider, you're probably rarely more than 200m from an off duty doctor, nurse, paramedic, police/fireman or someone trained in life support. And the mobile phone revolution now enables this army of off-duty medical professionals to be mobilised in the event of a nearby emergency.
The GoodSAM App (www.goodsamapp.org) and platform has built a network of around 8000 such people across the UK and thousands more around the world. Using GPRS technology, they can be alerted via an alerter app or via 999 (or 112 or equivalent) in areas where the system is plugged into the ambulance service. For example, London Ambulance Service is plugged in and activates the system 20-30 times each day, alerting Good Samaritans who are within 200m of a cardiac arrest. Other ambulance services including North West and East Midlands are also coming online.
The platform has other benefits that also have the potential to revolutionise immediate care:
- There is an integrated video system so the call centre and other responders can see what is happening on scene
- There is an AED (defibrillator) registry with around 14,000 AEDs mapped across the UK
- The system has an inbuilt pulse and respiratory rate monitor (simply place your phone on the patient's chest).
GoodSAM shows how everyday technology can be harnessed so care can be delivered much more rapidly and have a greater impact on survival. GoodSAM is active globally and thanks to support from the innovation charity Nesta, it is also building a network of people across the UK that will help their community in times of life threatening emergencies.
Ultimately, we believe that the use of this kind of technology by our emergency services will provide a massive innovation in first aid and lives will be saved as a direct result.
Maybe you would like to join or the organisation you work with would like to get on board? (The platform is offered free to not-for-profit first aid organisations and hospital trusts). For more information visit www.goodsamapp.org. If you are trained and can upload certification (e.g. of being a doctor, nurse, police / fireman or having attended first aid training), then please download the responder app. If a member of the public, please download the alerter app and use it to trigger the platform and dial 999 if you come across a life threatening emergency.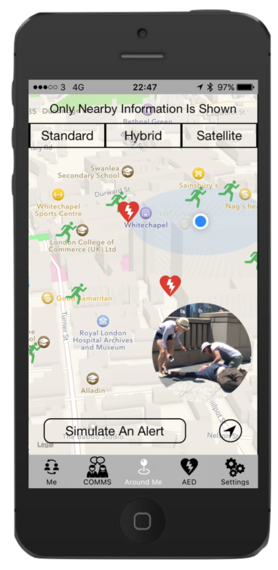 HuffPost UK Tech is running a two-week focus on our Tech For Good campaign, which aims to highlight the technology that is driving social change and making a positive, long-lasting difference to our world. If you'd like to blog on our platform around this topic, email ukblogteam@huffingtonpost.com with a summary of who you are and what you'd like to blog about.
Popular in the Community