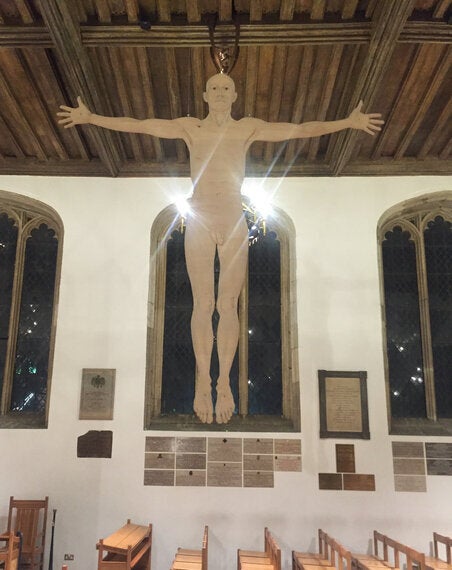 Perhaps the last thing a tourist would expect to find at the Tower of London is contemporary art. Red clad beefeaters, black ravens and a massive dry moat and of course much contested diamonds in the crown jewels figure high on what most of them want to see. History buffs might like going to the Royal chapel where several of Henry VIII's former wives are buried under the alter, and if you believe in such things, several saints. But a life sized naked man hanging in the chapel with his arms out wide, crucified as it were, is not what you would think likely.
Apparently many of the more conservative warders felt it should not be there at all. It was installed facing north so that the blank black back of the shallow wooden relief faced the nave, and therefore the many tourists would only see the front, were they to see the mysterious back and be tempted to explore the front. Artist Guy Reid asked that it be hung facing south, so that the light through the chapel windows fell onto the work's front illuminating the very beautiful carving, including the pubic hair. This caused a real throwing up of clerical skirts. So back it went facing north so that the sun now shines behind the figure, in a rather Bernini-like way. The rays of light actually help make the image look more Christ-like or perhaps holy.
I was invited to an artistic and philosophical discussion of the work headed by Mark Vernon. The talk addressed the work, its problems for the chapel, and how it might offend the faithful, the tourists and lovers of fine art. As with all C of E chats, everyone was very polite, or so it is often reported, even when African Bishops really want to call American ones faggots or worse. The talk was rather genteel and actually rather enlightening. I recently reported on Maciej Urbanek's work for another Anglican church and now Reid's work joins others to form a Stations of the Cross exhibition co-curated by the Jewish art historian Dr. Aaron Rosen in 14 locations across London. This is not to be confused with the Stations of the Cross exhibition in 2014 organised by Art Below at St. Marylebone Parish Church.
Reid's work Crucifixion, 2007 is also a one to one (183 cm x 180 cm) self-portrait, carved in lime wood, as were most of the painted Renaissance sculptures of saints and Christ figures. His work forms the Twelfth Station, know as the one where 'Jesus Dies on the Cross'. Bill Viola and Kira Perov's video installation Martyrs (Earth, Air, Fire, Water), 2014 is the eleventh and Guler Ates', Sea of Colour (in progress), 2016 is the tenth. There is a lot of very fine work in the project but I think it is Reid's own penis that will stand out, as it were. Historically it is correct, in that those who were crucified would have been stripped naked to add to their humiliation. They would not have had a dainty loincloth draped across their genitalia. In historic paintings the Christ figure always has such a white pubic veil which rather than quelling erotic thoughts, often generates them as viewers wonder how it stays on, and when it will fall off. The said Saint Teresa of Avila took matters even further and supposedly climbed life sized sculptures to kiss her husband, for Roman Catholic nuns actually marry Christ in their ordination and wear his ring.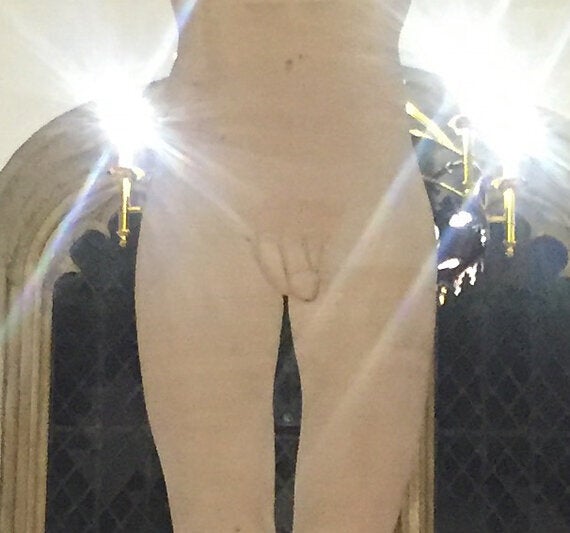 So what of Reid's penis? Well in the sculpture it is circumcised, though being a discussion amongst mainly British people and the Reverend Canon Roger Hall MBE - Chaplain to Her Majesty The Queen and the Tower of London, no one asked him if this was artistic licence or a true account of his own manhood (he might be uncut for all we know). Reid's image of the artist as Christ is rather striking and is also an art historically correct resemblance of other Christs. There are five wounds including one in each palm of the Christ's hands. Here the artistic depiction does not correlate with the historic, as the Roman's nailed victims through the wrist as the weight of their bodies would have ripped the nails through the palms. But such details matter to the faithful, be they faithful to a religion or an art history.
Reid gave a wonderfully concise answer to the open question concerning the use of his own image as the Christ. He said that from a theological point, Christ was a unique human man, as well as divine, and so carving him, meant he wanted his Christ to be a singular human, and if not himself, then all the secular issues would come into play. Should Christ have golden long hair and a Shoreditch beard, or possibly look like Mel Brooks? So he chose himself. I am really pleased he did, it is a remarkably brave thing for any artist to do, not to be naked, Tracey and an army of predecessors and followers have done that. But to place yourself as god, well that takes guts, and by the way Reid's six pack shows that he has no gut, perhaps that flat tummy made it an easier decision. In real life, fully clothed and with a beard (the Christ figure is clean shaven) he looked extremely fit, it must be all that carving. I do hope that the faithful of both camps will brave the depiction and enjoy the work, it is a marvel.
The Chapel Royal of St Peter-ad-Vincula, HM Tower of London
February free opening hours: 3.30pm-4.15pm. March free opening hours: 4.30pm-5.15pm.
10 February - 28 March, 2016
Related