The New Art Gallery Walsall has as many thin edges as their local councillors have thin skins. I say this from experience, which I have documented in Amy Levin's Gender, Sexuality, and Museums: a Routledge Reader. My essay Hidden Histories: The Experience of Curating a Male Same Sex Exhibition and the Problems Encountered documents the trouble the museum and I had mounting, what in retrospect is seen as an historic exhibition. But that is what Peter Jenkinson, The New Art Gallery Walsall's founding director, hoped it would be, and very importantly, the exhibition was not in London. Museum's like these are the building blocks of the Government's fictive drive for a Northern Powerhouse.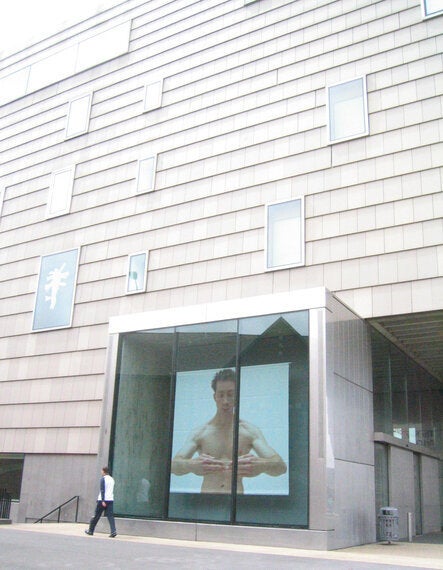 Per Barclay installation at the New Art Gallery Walsall for the Hidden Histories exhibition, 2004
I am as tired of weasel words as that little man Gove is of experts. Truth and facts are hard to sell to the public these days, as we see not only in the UK but in the US. The sight of Nigel Farage implying that women attacked by the self claimed sexual predator Trump are liars makes my stomach turn. The Walsall local council has become very anti art. Their threat to close the gallery can at best be seen as an initial posture in a grant dance with the Arts Council England and the Government. In many ways I hope it is a cynical gesture rather than a serious proposition in order to balance their budget.
But their folly is harming the gallery, its hard working staff and the public who love the building and the community that it has created in Walsall. Over 170,000 people a year visit the gallery in a town of only 68,000, so it can hardly be accused of elitism, the usual philistine trope thrown at cultural institutions by the Left. Not that the Right have valiantly defended the arts, and their striking Art History from A Levels is pure idiocy. The Right and Nicky Morgan seem to think that an arts degree is useless and leads to penury. While the cost of a BA is prohibitive for many working class kids (which is another huge tragedy for the arts) as I have recently pointed out, the arts in this country generate almost 6% of UK jobs. These are purely economic arguments, which do not of course take into account, as their accountants can not, or will not, factor in the social good of the arts, as well as their good in and of themselves.
Museums are good things. Period. Dance is a good thing. Period. Opera, Orchestras, and Brass Bands are good things. Period. It is only foolish people on the Left and the Right who do not seem to understand the value of culture in itself, and only think of it as a monetary drain. In an ideal world none such people would be elected to have say over these vital areas of our life. But then we know that, sadly, is not the real world. As the economic chaos of Brexit really starts to hit, and do not be fooled a second time I shout to those who bought the initial Brexit lies (hey Nigel where is that extra £350 million a week), we will see even greater strain on local budgets. Many Brexiteers say the massive devaluation of the pound is fine, as well as job losses, but we have seen our place as an economic powerhouse drop from from 5th to 6th and once we actually leave, it is most likely we will fall further. And for those Brexiteers who say it is the price we have to pay for control, I say, who has to pay that price?
It is not going to be Theresa May, or Boris, or Gove, who won't be able to afford the Opera at Covent Garden or attend a Tate opening. It will be the people of Walsall who will lose their cultural jewel. It will be the people of Edinburgh who will loose the Inverleith House gallery. As other local councils see these two get away with slashing their budgets for culture, they too will come under pressure to close the museums, sell off the libraries and provide no arts education where they can. Cassandra, the Brexiteers will call those of us who keep warning the public (and like her are ignored, but turn out to be right) of the short and long term costs they will have to pay for all this EU hating madness.
Image courtesy of the author