The Successful Woman Entrepreneurs Give Back article series focuses on women who have mastered the art of creating and maintaining a business that sustains and enriches every aspect of their lives. The fourth pillar of Arianna Huffington's Third Metric - Giving - figures prominently in their lives and is supported by their multi-million dollar businesses. In bringing you their stories, my intent is to provide you with information and inspiration for modeling your business to achieve your personal version of lifestyle, legacy, and leading by example.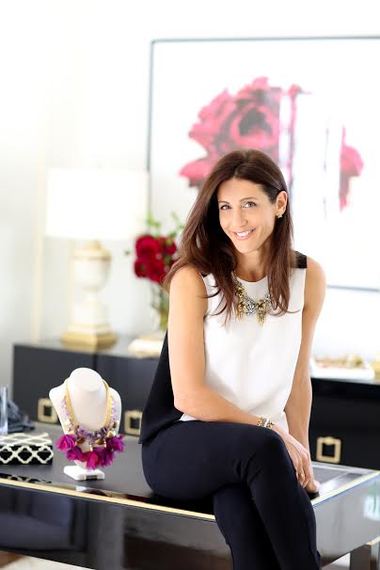 Jessica Herrin, Founder and CEO of Stella & Dot
Jessica Herrin's boutique-style accessories company, Stella & Dot, experienced phenomenal growth spurts in 2010 and 2012 that catapulted the business to the Inc. 500 list of Fastest Growing Private Companies in America during those years (No. 67 and No. 57, respectively). The business has paid out over $200 million in Stylist (sales representative) commissions to date and has over 30,000 Stylists across 6 countries. When I contacted her for this interview, Jessica was excited to share how she has built her company to support her passion for giving back to the women of the world and how she maintains a strong relationship with her children in the process.
Stella & Dot is what Jessica LOVES doing and she believes in the importance of what she is accomplishing through the business. She acknowledges that she makes trade-offs by choosing to pour her heart into the company every day, but she is so passionate about it that it doesn't feel like work:
Knowing that I've played a part in creating a company that has a positive impact on people's lives is the most amazing part of Stella & Dot. I am grateful to be here and feel like I'm doing my calling. I feel very lucky to say that!
Jessica is an active advocate for women entrepreneurs and philanthropy through Stella & Dot. The company's mission is to give every woman the means to style her own life - and giving back is an integral part of that mission.
Jessica's take on giving has always been "do as much as you can as soon as you can." She says the company's Stylists are a passionate group and they all believe small actions can make a big difference.
We created a business model that allows women to be entrepreneurs and philanthropists. It's not only empowering but rewarding on so many levels.
A large part of Stella & Dot's social consciousness is manifested through the Stella & Dot Foundation. It all began with a conversation with the Stylists at the company's 2010 leadership conference about the causes that mattered most to all of them:
We are more of a community than a company... As a community and an extension to our core business, we wanted to focus on educational and economic empowerment. We partnered with buildOn to accomplish our educational empowerment goal by funding after-school programs and building schools abroad. We also partnered with Girls Inc. to accomplish our economic empowerment goal by funding their economic literacy programs across the U. S. and Canada. Our Stylists have raised well over a million dollars, supporting these programs and others, and we've helped build several schools in Nicaragua.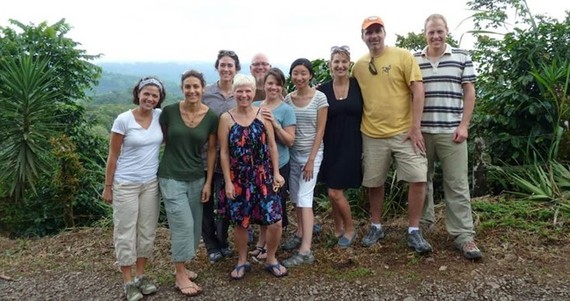 Stella & Dot Foundation Team in Nicaragua
When Jessica heard Christy Turlington Burns, founder of Every Mother Counts, speak about maternal health at a conference, she was moved and horrified that she had no idea maternal health was such an issue in the world. She was especially surprised to learn that the U. S. ranks 60th in the world for maternal health care! Because she realized that maternal health affects everyone, she was happy to have Stella & Dot Foundation collaborate with an organization that helps so many mothers across the globe - Every Mother Counts provides services in the U.S., Haiti, Uganda, Indonesia, India, Democratic Republic of Congo, and Malawi.
I love the idea that one Enlighten bracelet can help a pregnant mother get a ride to the maternity clinic for a prenatal checkup. I also love the long term impact of training a doula or midwife - you are supporting an education for a job that has a direct impact on not just one healthy birth, but thousands over the course of her life. Helping ensure that moms get the necessary care to deliver healthy babies is a cause we are proud to support and it's great to know we are doing just as much to help moms in our backyard as well as abroad.
The partnership, which was announced in July 2014, coincided with a relaunch of Stella & Dot Foundation. As of that time, the group had raised over $1.6 million for causes important to its community.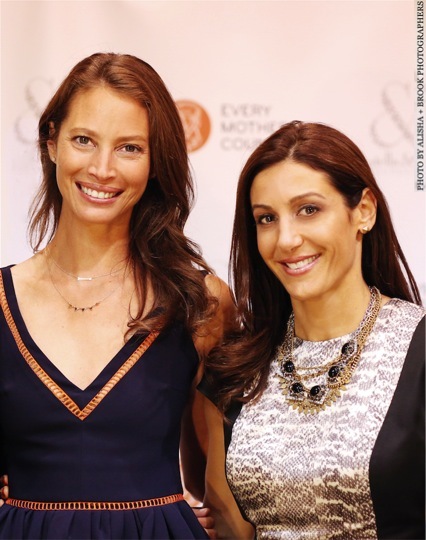 Christy Turlington Burns and Jessica Herrin
Jessica is just as passionate about preserving and protecting her home life as she is about the opportunities that Stella & Dot provides for its Stylists and the work that Stella & Dot Foundation is doing around the world. She fervently believes in work-life integration - her two girls travel with her during the summer and often come with her to trunk shows. In fact, they are with her more often than not these days and she is thrilled that they are learning valuable life lessons as they help operate the business.
She also restricts her travel and sets clear boundaries around family time. For example, the family dines together and no phones, TV, etc. are allowed at the table.
Jessica focuses her leisure activities on enjoying time with the family, whether that means going for a hike, a lunch date with one of her daughters, or a family art project:
I know there is always more I can get done at work, another event I could show up to or another phone call to make, but my daughters get bigger every day, and one day they'll move out. I'll never get that time back, so I won't let it pass me by. It's all about enjoying my free time with them.
To center herself and care for her mind, body, and spirit, she loves to run and do yoga. She says both keep her strong and energized while also allowing her to unplug.
When asked what she wants to achieve at this point in her life, Jessica emphatically stated the following:
Impact - I want to continue the conversation about women and work, success, and happiness. I want to create solutions and cultivate a joyous, supportive, and energizing community. I want to make as much of a positive difference in the lives of other women as possible during my own precious time on this planet.