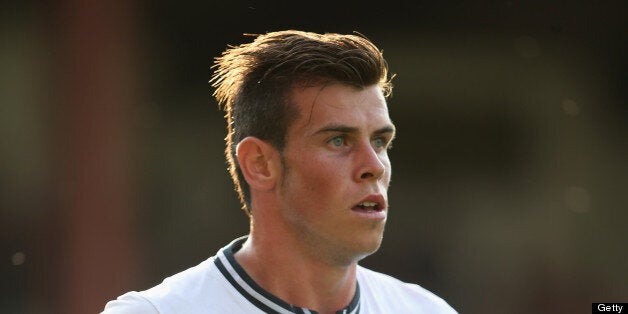 Players like Gareth Bale do not come around very often. Despite Real Madrid reportedly offering a world record transfer fee of around £86million, Tottenham Hotspur must do everything in their power to keep the powerful Welsh forward this summer.
Bale was named PFA Player of the Year in two of the last three seasons and scored 26 goals in all competitions for Spurs last year, often single-handedly dragging the side to victory with a last-minute, 30-yard screamer.
Without Bale's goals, Tottenham would not even have come close to a top-four finish. Simply put, he is unique and irreplaceable.
Even with a transfer budget of £100million, it is highly unlikely that Tottenham could adequately replace Bale. Several media outlets have touted a cash-plus-player exchange, with Spurs receiving Argentine winger Angel di Maria and Portuguese left-back Fabio Coentrao plus £51m, but it seems unlikely that the former would accept a move to Spurs, while both would probably have to take a significant pay cut for any deal to be agreed.
A sizeable chunk of any transfer fee would almost certainly go toward funding Spurs' new stadium, while there is no guarantee that Daniel Levy would reinvest the remainder into new signings.
Even if he did, with Spurs unable to offer Champions League football, they would never be able to recruit a player even close to Bale's quality. At best, Spurs would end up buying maybe three or four solid players, consolidating the club's position as the fifth best in the Premier League. Tottenham should be aiming higher than this.
Those who advocate a move for Bale cite Tottenham's lack of ambition in the transfer market as reason enough to seek pastures new; yet there is no stronger show of ambition than rejecting a world record fee from one of the biggest clubs on earth.
This is Daniel Levy's opportunity to stand firm and demonstrate Tottenham's ambition. In a year's time, Spurs may have little option but to sell before Bale's value begins to decrease as his contract runs down, but right now they would benefit more from one more season of his heroics.
Tottenham do not presently need to sell for several reasons: Bale signed a new contract just 12 months ago; he has an excellent relationship with head coach Andre Villas-Boas; he has never given any public indication that he wants to leave; and he does not seem the type of player to force through a transfer in the manner that Dimitar Berbatov and Luka Modric did in seasons gone by. Even if Bale is tempted by Madrid, if he still finds himself at Spurs on September 1 he will surely knuckle down and continue to give his best for the team.
Off the pitch, Bale is also worth a huge amount to Spurs economically, guaranteeing shirts sales and elevating the club's leverage in advertising negotiations. A giant billboard of Bale in his Spurs kit currently overlooks Times Square in New York; he is also the face of BT's Premier League coverage this season and appears beside Lionel Messi, the best player in the world, on the front cover of FIFA 14.
With global branding increasingly important to the revenue of football clubs today, such exposure is invaluable. Tottenham have never had such a mega star in the Premier League era; sell him and the club's global profile would shrink dramatically.
Furthermore, if Spurs sell Bale now it will only reinforce the impression that they are a mid-level club that will always sell its best players when the elite come calling. This will not help the club to attract the top talent necessary to break into that elite.
The rub is that Spurs are now so close to establishing themselves as a top four side, having come fourth twice in the last four years, and having finished last season with 72 points - a club record in the Premier League era.
With a world-class training facility opened last year and with a new stadium on the way, Tottenham also boast a talented young coach with great tactical awareness and a strong team with an excellent spine in Hugo Lloris, Jan Vertonghen, Sandro and, of course, Bale.
With the signing of Roberto Soldado seemingly on the verge of completion at the time of writing, plus the capture of Brazil midfielder Paulinho and promising Belgium international Nacer Chadli, Spurs finally have a squad with sufficient quality and depth to mount a successful top-four challenge while still competing for silverware in the cup competitions.
Spurs finished the last two seasons just a point or two away from the Champions League places and if Bale stays there is a great chance that it will be third time lucky. Champions League qualification would guarantee an extra £20million-to-£30million in revenue next season - more than the amount that Bale's value would depreciate by, as even if he does not sign a new deal he will still have two years remaining on his contract next summer.
Moreover, given that Bale's performances have improved every year since he made his breakthrough toward the end of the 2009-10 season, there is every chance that he will score even more goals this time around. He is already the best player in Britain, yet having only just turned 24 he is still several years away from reaching his peak and realising his full potential.
The likelihood is that Bale will be just as sought after next summer; he will be a more developed player ready to step up to the very highest level; and he will still have many years ahead of him to claim the kind of silverware that teams like Madrid can offer him. Bale has little to lose from staying at White Hart Lane for one more year, but for Tottenham it could make all the difference.
Related