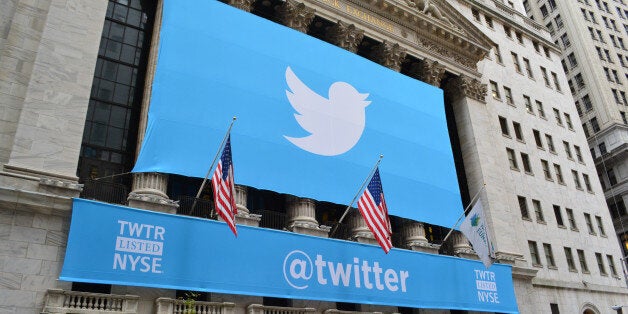 How does Twitter bring in money in a way that doesn't push people out? This is the central question the social media platform faces when its shareholders meet next week. The answer could be that we buy Twitter as a co-op. Millions of us.
Twitter is a phenomenal success story, a widely loved social media network. But it is on the cusp of becoming something rather different. The commercial challenge for the company has been one of finding ways to make money out of the incredible scale of its users worldwide. Google stumbled on online advertising and reinvented the market in the process. Facebook has found ways to 'monetise' its platform. But once it starts to clutter up people's Twitter feeds, or intrude on them in ways that they don't like, then Twitter risks losing what has made it so special. If Twitter can't solve this conundrum it will either lose its users or lose financial value for its investors.
Online platforms need to make money. They can delay making profits while they build the scale they need to succeed, assuming their investors can see the end-game, but they can't run as a loss-making business once they are there.
So, here comes the idea developed by US activist and Tweeter, Danny Spitzberg: turn Twitter into a co-operative.
Co-ops are businesses that have thrived all around the world - enterprises that succeed by being owned and controlled by members who participate in the business. When an enterprise exists to serve the interests of their members, as co-operatives are, they are strongly incentivised to provide them with the highest quality product, instead of being incentivised to turn over profits to shareholders.
There are more members of the celebrated soccer club, FC Barcelona in Spain, than can fit in their ground - and the interests of the fans as owners and the success of the club over time are aligned. The largest co-operative in India is co-owned by over five million farmers, giving a sense of how mass user ownership can work at scale. More than 42 million rural Americans get their electricity from co-ops that they own and control themselves. There are so many large, resilient and successful co-ops offering positive lessons for new, networked enterprises online.
As a "people's news network", Spitzberg says, Twitter has the opportunity to boost user loyalty and deliver shareholder value by studying options for a transition to user ownership. This idea, and this proposal, has now made it onto the formal agenda as a resolution for the Twitter shareholders Annual General Meeting in San Francisco next week, on May 22 2017.
Of course the financial bar is high, but if even 3% of Twitter's 100 million users were to invest, then the sums start to become competitive. We are doing some research now on the willingness of Twitter users to invest, in the run up to the AGM. Most transfers into employee ownership in the UK and USA attract finance to add to this, funded out of future profit streams. So, the key would be to convert mass user ownership into a business advantage, something value generating and different to the options on the table for now. As I see it, this might for example open the way for a premium user-owner offer, with ongoing subscription revenues.
The benefits of a co-operative Twitter would also be about the integrity and quality of the core service, in a world of many competitors and new micro-publishing kids on the block. There is a growing challenge in the Twittersphere, for example, of abuse and racism, where the company has been criticised for its approach. It is a balance, of course, because Twitter needs to remain as a critical, open medium for public debate and information-sharing. But for now the company's current policies towards abuse feel arbitrary to many, and do not in practice protect people enough from harassment. A Twitter owned by the people who actually tweet would be more likely to find the right balance between openness and the protection users want to expect.
How does the leadership of the company bring money in to Twitter, without doing so in ways that push people out? This is the central business question it faces.
It could be that the answer is that we buy Twitter. Millions of us.
The proposal to shareholders isn't that the company does this immediately, but that the Board looks at the options. That seems not unreasonable, if shareholders want to protect the value of their investment.
The world is changing, and the technologies that enabled the giants of social networking to emerge are the same technologies that can be used to democratise them. Time, perhaps, to go shopping.
Related