From cuts to social care to business closures to the rising gig economy, there are some huge issues facing the UK economy. Government and big business don't appear to have the answers, so a rising wave of entrepreneurs are taking matters into their own hands - by working together.
In Doncaster, for example, a group of micro-providers of social care have come together and formed Choices4doncaster, a co-op of small organanisations that can offer a personal and responsive service able to compete with larger players. In a chronically under-funded sector, it is creative and co-operative approaches to care such as this that can make all the difference.
For Martin Walker, one of the founding directors, the plan is to "establish a member organisation where a group of trusted providers can collaborate to provide personalised support and care. As a group, we stand more chance of being able to meet an individual's various care and support needs."
"We are will offer an alternative to more traditional forms of social support. One size does not fit all and Choices4doncaster, is able to be proactive, responsive and personalised."
Nearby, in Leeds, another group are further along the way. They formed Leeds Bread Co-op in 2012 as a worker owned business to create decent work and to provide people across the city with high quality bread. With just two members of staff five years ago, the co-op now employs 16 people, bakes over 5,000 loaves a week and delivers to more than 60 businesses around the Leeds area.
Zig Power, one of the two founders of Leeds Bread Co-op, said: "I didn't think I'd ever own my own business. There was so much support when we started out. It is eminently possible if you really are motivated. It's hard work but it's very rewarding.
"The one thing that blows me away is that there was nothing there to start with. It was a chance encounter and conversation. And so many years later you have generated, from absolutely nothing, livelihoods for 16 people, a product that we're all proud of, and that didn't exist in 2012."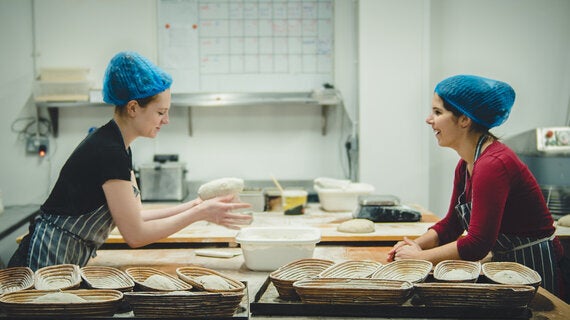 Another inspiring example we have just started working with is Harcourt Pre-School, a well-loved nursery in Bristol. When its owners decided to sell-up the staff feared their jobs and a valuable community resource was at risk and so, rather than waiting on the side-lines, set up a co-op in order to buy and run the nursery themselves together.
We are working with them through The Hive to ensure that everything is in place for the nursery to be transferred into co-operative ownership, safeguarding 10 jobs and pre-school provision for 40 children. For the nursery's manager, Veronique Blanc, the approach has meant continuity for staff and children alike.
"Our pre-school is at the heart of the local community and we have been able to stay open thanks through the transition to re-registering as a worker co-op and buying the business and its assets ourselves from the previous sole trader."
In Doncaster, in Leeds, in Bristol, people are forming co-ops in order to do things for themselves. They aren't waiting for government or employers or new business owners - they are tackling the biggest issues by just getting on and doing it themselves, together.