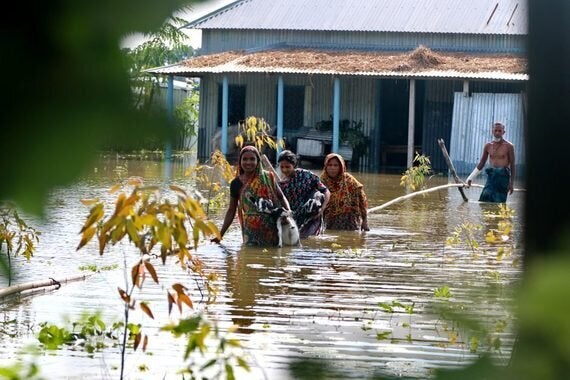 The last month has seen devastating floods in South Asia followed by hurricanes across the Caribbean. With livelihoods, buildings and in some cases whole areas destroyed, action needs to be taken for both short term relief and long-term reconstruction.
Charities like the Red Cross are stepping in to take immediate action and provide vital food, shelter and care. But reconstruction in what are already poor countries, like Cuba and Bangladesh, will take a long time. Once the initial surge of aid drops away there will remain a dire need to rebuild housing, hospitals and economies.
Co-operatives can play a key role in this economic development, as we have seen over the last two decades when reconstruction has been needed. When the media cameras leave and emergency relief dries up, it is local organisations like co-operatives and credit unions that are sustainable ways to meet people's needs. Co-ops can support new infrastructure, homes and livelihoods.
This is the story of how the UK co-operative sector has come together over the last few days to support communities in the affected regions. And why it can make a difference.
The weather doesn't work nine to five, so it was after 10pm last Friday when I received a short email from one of our members, the Southern Co-op that operates along the south coast of England. They had read of Hurricane Irma and the storms half way across the world: could we run an appeal to work through the many local co-operatives in the Caribbean and elsewhere?
Sometimes doing the right thing just takes a prompt. The weekend turned into a planning session, using every mean of communication available: a message on Twitter, a second by Facebook Messenger, a third by telephone. At the 65th minute, Saturday afternoon, I stepped out of my seat at the Valley, where Charlton Athletic were pressing Southend in League 1 soccer. Nil-all when I left, within a minute, and with colleagues on the line, a huge roar erupted. Two minutes of further planning - a further roar. Two nil, the appeal on and I stepped back buoyed up to watch the last twenty minutes of a two-one final result.
After gathering intelligence from across Asia and the Americas, with input from Brussels, where a global development partnership with co-operatives is run, we had received approval from the International Cooperative Alliance to channel funds we raised.
Next step was a phone conference late Sunday afternoon with the UK's largest consumer co-operative, the Co-op Group. It was good timing. We had run a business summit three days before for co-op and mutual businesses, from housing and social care to technology and farming. The Co-op CEO, Steve Murrells, had explained the business was healthy, had new ventures in mind and a renewed commitment to working in partnership with values was at the fore.
The final question was, why this cause? This was not an appeal launched by the Disasters Emergency Committee and of course there are other areas of need across the world. But we had evidence of immediate needs, not just from the media but also from co-operative colleagues in countries affected by hurricanes in the Americas and floods in South Asia.
The National Cooperative Federation of Nepal for example told us that 31 out of 77 districts in the country have been affected by the floods and landslides due to heavy monsoon rains over the last month. 123 people have lost their lives and thousands have been displaced from their homes.
Despite the biggest hurricane in 100 years, co-operatives in the islands of Puerto Rico and Dominican Republic, said that they had not suffered as much they had feared, but with dramatic rain and flooding, there were many areas without electricity and drinking water.
Paul Birch from Revolver Coffee, a UK based co-operative, who was out in the region at the time, reported the physical and economic destruction he was aware of across Cuba, a country in tough conditions but with a recent rise in the number of people coming together through co-operative ventures as the economy is opened up.
The business case was about values
The business case for making an appeal was not about money but about co-operative values, of solidarity. The Co-op Group helped kick off and lead the appeal the next day, with a generous contribution of £50,000.
As Steve Murrells, put it:
"The hurricanes and floods in the Caribbean and South-east Asia have been truly devastating, with millions of lives affected. Immediate aid will hopefully help in the short-term but lives will need rebuilding for the long term also. This is where the Co-op sector can assist by providing the support needed to create effective and sustainable Co-ops in those areas most heavily impacted and help re-build these devastated communities."
Since the launch of the appeal, we have been joined by new appeal partners, the Co-operative College and Co-op News. There have been contributions from some of the smallest co-ops in the country. Working themselves in areas of pressing need here, co-ops such as Leicester's economic development agency CASE and Unicorn Grocery have taken action. Retailers such as Heart of England Co-op has pledged support. And the Co-operative Bank, always the ethical pioneer, was one of the first to respond with a donation of £20,000.
Co-operatives have a long tradition of internationalism. This is not the first time we have worked together as a sector of 7,000 businesses in the UK to support action overseas, whether international campaigns on debt or climate change or modern slavery to the United Nations Sustainable Development Goals.
On 26 December 2004, a massive earthquake off the west coast of Northern Sumatra kicked off a series of tsunamis that killed around a quarter of a million people across 14 countries. In response, many co-operatives in the UK fundraised and donated to emergency appeals, channeled as disaster relief through United Nations and charities. Once that was done, a second decision was taken, to work through Co-operatives UK, to collect funds to provide long-term support and reconstruction through co-operatives in the region. Co-operatives in other countries - Canada, Italy, Germany, Japan, Singapore and Sweden - did the same.
Emergencies like the hurricanes in the Americas or the floods in South Asia are prompts not just for government action but also for a new spirit of self-help and mutual aid.