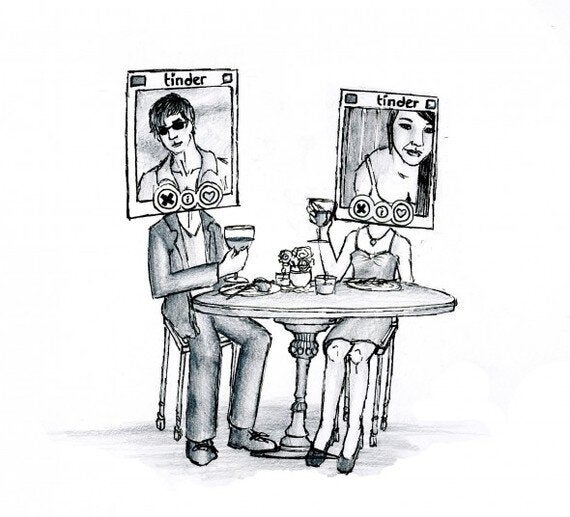 Image Source: http://elenarimeikaite.wordpress.com/
Those of us who have ever used dating sites will not be shocked to learn of another story centred around fake profiles breaking in the world of online dating - today it's Tinder under the uncomfortable spotlight. It seems Tinder (owned by InterActiveCorp who also own Match.com and OKCupid) have been hit by the bots, who in turn have been spamming as many Tinder profiles as they can; starting a chat and inviting anyone that'll talk to them to download a game app called Castle Clash (no, me neither...). Pretending to be 'real' people the bot starts a fairly basic 'hey!' conversation and then quickly suggests the recipient downloads the game, using the lure of potentially gaining their number if they do...pretty basic stuff for a bot I'm told.
I like Tinder. I've been on it and met a few girls I'd been matched with, so I'd describe myself as pro Tinder. I'm not sure if it's a dating or a hook up app, and neither do a lot of their members, but it's an interesting development in...well lets call it 'socialising'. It's been labelled as cold and shallow but it's unashamed as to what it does, that being a 'hot or not' swipe and if you get a pair of mutual 'hots' the rest is up to you. But what I've always questioned is its sole reliability on Facebook, one of the easiest and quickest platforms to create a fake profile, which is where the proposition of Tinder's 'hot or not' USP falls apart. How do you know who you see is genuine if the platform used to 'verify' a member is awash with fake profiles which in 2012 were put at 76million + (more recent estimates put those Facebook fakes at 140 million profiles!
However Tinder are not alone in putting their sole trust in Facebook; LoveStruck also claim to verify using not only Facebook but also Linked In or even Twitter (?!) to do so. As you'd imagine, results from these are at best, sketchy with a big blue 'VERIFIED' tick then placed against those profiles that have chosen to be verified by one of the 3 options. With a website split between apparent verified and non verified accounts Lovestruck's verification process is diluted by its means to verify, namely 3 very easily fake-able platforms as their checking format.
There are 1700 online dating sites alone in the UK and anyone is free to join whichever and as many as they wish, from the mainstream through to the niche sites, depending on what you are looking for. Being able to believe and trust that who you see is who'll you'll meet is, to my mind, a basic requirement for any online dater. Online dating and the growth of apps has seen a huge increase in singles meeting singles, and with everyone's time being precious the need to find that potential date needs to be fast and easy, not bogged down with the question of "is he/she real or not?". Until other sites believe this is a vital component for the 9 million plus online daters in the UK, I feel the pioneers of fully verified online dating will be seen as the next generation of online dating. Or as we like to put it at www.wouldliketomeet.me 'no fakes, just dates'.