"You've never ridden a bike?" my husband asked looking at me in astonishment. Growing up with Gaucher disease (a rare genetic disorder), meant I had many restrictions. No child wants to be different from other kids, but a chronic disease will impose rules of its own, and in my case, I wasn't allowed to ride a bike. This may sound odd, but little information about Gaucher disease was known back then, and doctors at the time feared that my fragile bones might break as I suffered severe bone involvement. As a child I watched with envy my friends energetically cycle here and there. They didn't understand why I couldn't join them.
Today things are very different and Gaucher patients are encouraged to exercise, (providing it's not to excess) in consultation with their doctor or physiotherapist. Regular exercise done in a safe and correct manner can strengthen bones, maintain range of mobility of joints plus improve posture and endurance. Looking back at 1968 when I was first diagnosed, being wrapped up in cotton wool and not allowed to ride a bike, perhaps were unnecessary measures. I can do a lot of things, but change the past, I cannot! So onward and upward, I find myself interested in those who run marathons, take part in triathlons, cycle or participate in other sporting events. I cannot participate, so have to be satisfied with being a spectator and writing about those who inspire me!
On 6 September, Madeleine Abramson participated in a yearly sponsored bike ride from London to Cambridge, again choosing to represent Gaucher disease in aid of raising funds and awareness of this rare disorder. As always, the race started from The Royal Free Hospital in Hampstead (London) and ended at Addenbrookes Hospital in Cambridge. A rather appropriate start and finish line as both hospitals have excellent Gaucher research centers.
There were a total of 76 riders, of which an impressive 69 were riding in aid of Gaucher disease and the remainder for various other charities. Amazingly two of the riders were Gaucher Type 1 patients who were accompanied by their proud families. What a great achievement for fellow sufferers to participate in such a ride. Someone must have had a word with the weatherman, for despite England's reputation the weather was perfect - and it turned out to be a sunny beautiful day. The 100 km route (63 miles) took the riders through some beautiful English villages such as Buntingford, Nuthampstead, Newton, Sheldon and Newgate Street.
Madeleine cycled part of the route by herself, which enabled her to cycle at her own comfortable pace. There were stretches where she joined other riders and companionably without realising found the miles quickly slipped by. With four designated stops, each offering wonderful refreshments, it took Madeleine seven hours to complete the ride. A grandmother and her daughter, kindly volunteered again this year to bake a delicious assortment of cakes which were served to the participants when they arrived at the finish line.
Congratulations to all those who took part in a united effort to make a difference. Thank you Madeleine on behalf of all Gaucher patients and their families for helping to raise funds and awareness of Gaucher disease - a cause that naturally lies close to my heart. It's not too late if you'd like to donate, so please go to the official "mydonate" site.
The 1st October is the beginning of Gaucher Awareness Month, but as you can see, some have made an early start this year. There are many ways to raise funds and awareness, so put on your thinking cap and see what unique ideas you can come up with.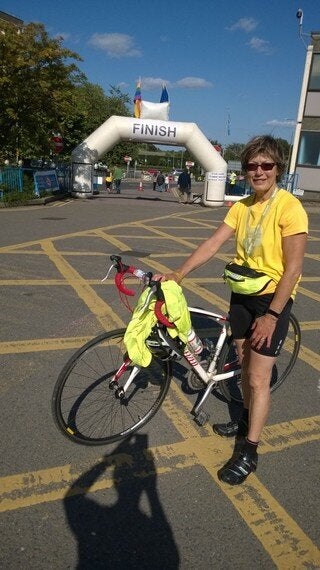 Photo: courtesy of Alex Ingram.