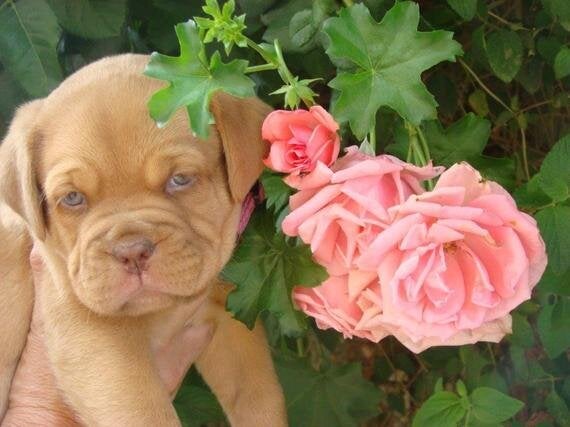 It was the unearthly hour of 06:00 and the day had barely begun. Still in my pyjamas and barefoot, I found myself rooted to the spot in our lounge surrounded by an array of chew toys scattered over the floor. As I surveyed the mess, I stepped forward and found I was standing in a small puddle of pee! It was at this point, I looked at my husband's amused expression and wondered what on earth had made us get another puppy! What a way to start the morning. Were we deranged or devout on making life living with Gaucher and Parkinson's disease as difficult as possible? Is it sensible for someone with two serious medical conditions to have a small puppy running under ones feet, not to mention the occasional little slippery puddle until house trained?
Any doubts or annoyance disappeared like a flash as I looked down into the dear little face of our sweet Dogue de Bordeaux puppy, full of energy and youthful enthusiasm, just waiting to play with someone. So this is where I find myself this week, taking care of a tiny bundle of fur, who is eager to please and quick to learn. Just in case you think I've lost all my marbles, let me assure you there is method to my madness.
Our last dog, who had been a wonderful companion for nearly ten years, sadly passed away, leaving a painful huge gap in our hearts and this house. When you've had a dog, it's hard to be without one, and so we decided to get a new puppy. Considering my physical condition, which being realistic may get worse with time, the idea of training a dog to be an assistance dog was born. Over the years, I've had experience with teaching dogs standard commands, but I'm not experienced to teach a dog how to become an assistance dog. This is where professional assistance comes into play. Finding an expert in this field, he appears more like a dog whisperer, with his magic way of handling and specialised training for various disabilities and conditions. He has been very successful in training dogs for Parkinson's patients who have specific requirements.
We have our work cut out for us working together with a professional trainer, and the next few months are not going to be easy, but in the long term we will end up with a well-trained companion/assistance dog who will hopefully enrich our lives, give me better quality of life and help me get through each day.
Life with a young puppy is exhausting at times but far from dull. I found ourselves the other evening sitting facing the television, yet our eyes were not focused on the screen, but rather on the antics of the adorable new addition to our family, we have named Rosie. Who needs a television when you have in-house live entertainment and can watch a curious, playful puppy? So despite living with two chronic diseases, the cure for which I don't see in the near foreseeable future, I strive to make the most of things and enjoy my life. I am smitten with our new darling pup and although Rosie is no cure, she most certainly takes my mind off a difficult situation and is a wonderful distraction. We've since had two consecutive dry nights, much to our relief. House training is going well, so things are looking up, life is looking Rosie!
Related