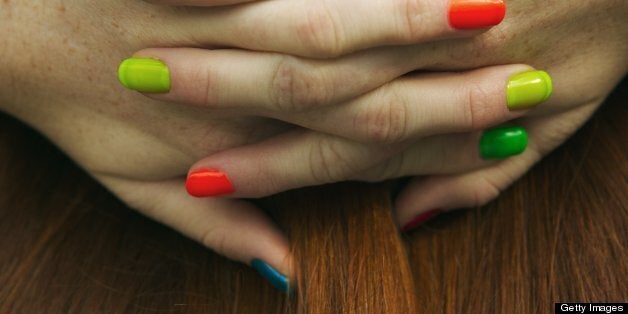 I am very bad at painting my nails. As far as I can tell, painting the dominant hand with the non-dominant hand is as tricky as finding the perfect lipstick, jean or bobble hat, all tasks I wouldn't wish on an enemy. But I am particularly inept. My hands shake, I gloop my precious varnish often all over myself and inevitably smudge it when trying to do something else for the immediately proceeding hour. It's not something you can do in a rush as many have learnt through disaster or something you should do first on a list of any length. Painting nails is a bottom of the to-do list job, post-kitchen clean and in front of the television. And no, as I learnt a few weeks ago, reading is not advised. The thought of Chanel 'May' on my Scott Fitzgerald is still a little haunting.
Rather more out of necessity than diva-status, I'm a fan of the manicure experience. Granted it's expensive and not something I'd advise on a regular basis unless money is of the unlimited variety, but a select time frame for pampering can really brighten a day. Maybe even a week.
My favourite time to go is a Sunday afternoon so my nails are lovely for the new Monday. It makes it all a little more tolerable. It's the best pick me up, especially if you plump for a divine shade that makes you happy just looking at it. Essie's 'where's my chauffeur?' is my favourite for the luxury experience. It's the nearly-but-not-quite Tiffany blue-green, and injects a little expense into any ensemble.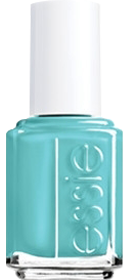 Essie 'Where's My Chaffeur?'
But if I actually have to do it myself - I know, poor me and the world - then more often than not, I'll plump for a nude shade. Sans manicurist, nude nails are for me what American tan tights are for the Duchess of Cambridge, essential. Uncompromisable, even. Some say this is cheating, but if that's the case, then I'm Tiger Woods. And why? Because a nude nail - like a nude heel in the summer - elongates, making your fingers seem endless and, if the shade is just right, delicate. I have searched high and low for the perfect nude nail; it is beauty's Holy Grail. Their various undertones move from mauve to gold, but come with the buyer's impulse purchase danger in which the exterior shade appears perfect, until it's on your nail. And, like lipstick because it has to complement your skin - it's no mean feat.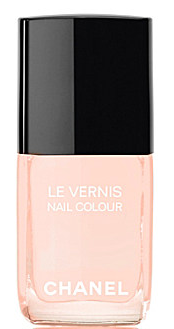 Chanel Le Vernis 'Frisson', £18, selfridges.com
If you're balking at spending close to twenty pounds on nail varnish, I'm right there with you. Sometimes cheap is cheerful, but experience dictates that the surrounding coats are crucially important. A good topcoat - I like Chanel's extra-shine - and a solid base coat should ensure whichever shade and price point you choose, it's going to work for you.
Just don't try and read the paper straight after.