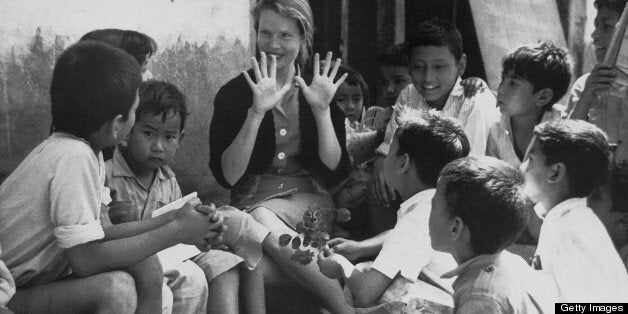 This is not going to be a "big society" rhetoric. Words are the x-rays of our thoughts, but sometimes it takes a whole lot more than that to make a difference; it takes actions. More than one third of the entire world population is under age 18 and these young people represent 100% of the future. In order to disrupt the status quo and build a healthier, smarter and more peaceful world, it is crucial to involve the younger generation into altruistic projects that benefit humanity as a whole.
Charity and volunteering begin at home. One value that needs to be sewn into the stitching of our character at a very young age has to do with our responsibility to help others. As a child, I was feeling overwhelmed with the global challenges we are facing like poverty, illness, climate change and so many more. Growing up, I realized that as I was wasting my breath complaining about life, someone out there is breathing there last; thus it was about time to learn to appreciate what I have and reach out to those in greater need.
Many of us may have participated in NGOs and volunteering groups, trying to change the world in smaller and bigger ways, from protecting the wild life, building playgrounds, teaching in orphanages, feeding the homeless, to protesting wars, combating human organ trafficking and ending legal segregation. As a volunteer, I rarely speak of the benefits of volunteering -- maybe it feels a bit too self-centered, or too far from the altruistic vision of the selfless volunteer. However, during the past decade, a multitude of reasons ranging from social fear, ignorance to technological alienation, have rendered our society into being apathetic and reluctant to communicate and provide for each other. Volunteering might not provide the social fabric of decent and safe society, but our everyday life could be significantly improved from a humanistic and financial standpoint. If you are passionate about a cause but still hesitant to commit, consider the benefits of activism for your personal development such as acquiring more skills, exploring new career options, making friends, garnering new professional contacts and just shaking up your routine. Beyond the obvious fruits of volunteering, what are the broader consequences for the participants, recipients of aid, and society as a whole? Why is it that many politicians and celebrities have turned to volunteering as a cure for society's ills? Can you imagine a world without any volunteers?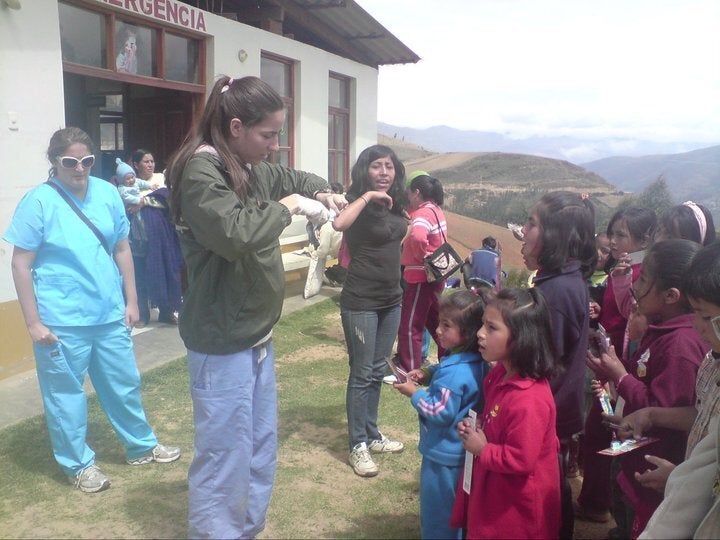 Eleni Antoniadou demonstrating dental hygiene techniques in Agua pampa, Peru
Claims about the positive impact of volunteering tend to be astronomical: equality will be established, the democratic spirit will be restored, it will make poverty history, and even prevent illness. On the other hand, many social functions rely heavily on volunteering such as libraries, schools provincial parks etc. But anyone who has experience in charity work knows that you cannot run the vital services they provide using volunteers alone, since volunteering cannot replace expertise. Raw enthusiasm and willingness to work for free is a great attitude that evolves into societal unity but shouldn't be compared with professional training and academic education. To this end, charities need to become more responsive to the service users with a combination of well-trained staff and groups of responsible volunteers in order to annihilate the bureaucracy in the quest for efficiency.
We need to allow our messages for a healthy and united society to be amplified by others; volunteering is the ultimate way to reinvent yourself and embrace the joy of giving. Even if at times volunteering is challenging, you will come to know that what appears today to be a sacrifice will prove instead to be the greatest investment that you will ever make in your life. After all, the smallest act of kindest is worth more than the grandest intention, don't you think?
Eleni Antoniadou is shortlisted for the 2013 First Women Awards.
The awards ceremony will take place on Wednesday 12 June and is hosted by Real Business in association with Lloyds Banking Group.
Follow Eleni Antoniadou on Twitter: www.twitter.com/eleni_nasa