Although this is certainly not the best steak to be found in London, it is very tasty and well cooked, and the fries (all hand chipped on premises) are some of the best in town. The £21 price-tag is money well spent, while you enjoy the ambience in this lively slice of Paris. The large embossed mirrors, closely rammed tables and enormous display of lilies set against the dark wooden surfaces are all reminiscent of any typical French bistro. The waitresses are consistently friendly and efficient, and they look adorable in their black and white classic frilly uniforms. Le Relais de Venise L'Entrecôte seems a popular choice with groups of young businessmen, and it is no wonder. Steak. Fries. Steak. Fries. Waitresses in cute outfits. £21. What is not to like?
Relais de Venise L'Entrecôte, once simply called L'Entrecôte, has been a Parisian institution in the 17th arrondissement for over 50 years. Now with locations in Marylebone, The City, Canary Wharf and Manchester and New York, it seems the formula for success is working better than ever. This quintessentially Parisian-style bistro offers only one main: entrecôte steak served with the famous sauce and frites, salad with walnuts. It has never changed, and I doubt it ever will. Entrecôte refers to the cut of the meat, which is rib, rib-eye, or scotch fillet depending on where you are from. It is served sliced with a huge pile of frites, and is smothered in the 'secret' green sauce. Sounds simple. It is, but it works.
No reservations are taken and so in peak times expect to wait for a table. Midweek, despite being busy, you can usually walk straight in to be seated. The waitress will ask if you want your steak medium or rare, there is nothing in between and nothing else on offer. They will then scribble either an M or an R on the paper tablecloth to indicate your choice and leave you to ponder the tiny wine-list.
Moments later, a small salad consisting only of lettuce and walnuts dressed in a tangy mustard vinaigrette arrives at the table with a bowl of soft French bread. The wine list offers eight choices to encompass red, white, rose and champagne with prices ranging from £16 to £55. It is unspired, but you are not here for the wine. You are here for the steak and frites, which arrive shortly after you have tried your wine.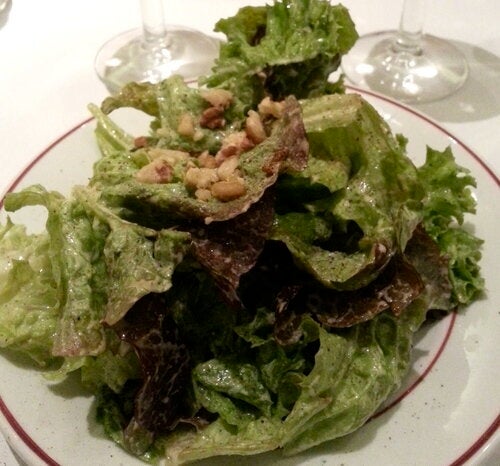 The secret sauce (reported by one French newspaper to be made from chicken livers, thyme, thyme flowers, butter and cream, although this was refuted) is green in colour and tastes somewhere between a béarnaise, a green peppercorn, and a Thai green curry. Creamy it is, and truthfully, I think it is even better with the fries than with the steak.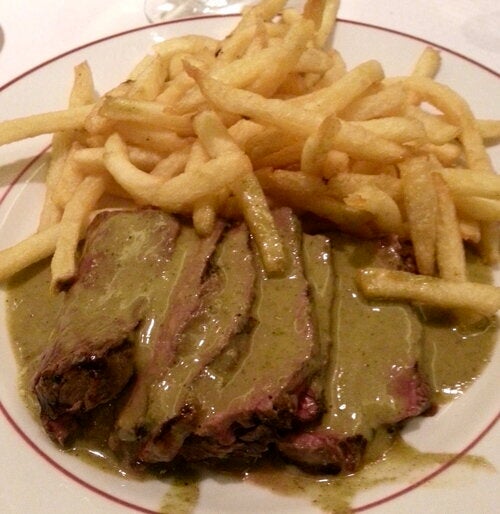 When your plate is empty and you are beginning to think, I could go "same again please" one of the waitresses will appear at your table and provide you with just that, serving you exactly the same thing all over again! The idea being, the rest of your meat is kept warm until you finish the first portion, and is then accompanied with freshly-cooked piping hot fries for the second round. No one likes lukewarm frites, so the second hot helping (although I am fighting a little nausea at this point from the richness of the sauce and deep-frying) is a welcome treat.
If you can muster room for dessert, which I could not, there is actually a menu of choices this time that include crème brûlée, profiteroles, lemon and chocolate tartes, icecream, and of course cheese.
The first time I dined at L'Entrecôte was about six years ago, before the current trend of offering a limited menu had taken hold of London (think Burger and Lobster, The Tramshed). Nothing has been lost in the years in between, however, and to be seated and offered no menu, in a city where you can eat anything your palate desires, is a welcome break from wondering what is the best dish of the house. I am a fussy diner when it comes to ordering. Truth be told, I will often change my mind about what I am having only once the waiter is at the table, and ask for variations on the menu regularly. To have all this taken out of my control is very refreshing.